​KNDS 96.3 FM moves downtown
by Chris Hennen | .(JavaScript must be enabled to view this email address) | Culture | May 15th, 2014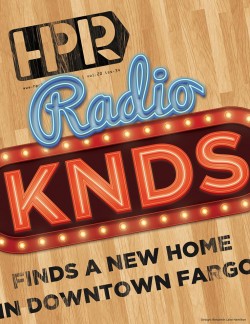 KNDS 96.3, a low power FM radio station, recently moved its broadcast studio from North Dakota State University campus to High Plains Reader's Brownstone office downtown on 8th Street. The move was made in part because NDSU is planning on demolishing the old studios to make from badly needed parking on campus.
KNDS is a partnership between NDSU and Radio Free Fargo, a nonprofit. As the station approaches its 10th anniversary in October, officials feel the move is a positive one that will bring them closer to their audience. NDSU already has a major off-campus presence downtown so it's not unusual the station joined in the expansion.
"It was time for us to grow up a little bit and get out in the world and get that visibility. You don't get community visibility on campus," said Mark Borchert, Radio Free Fargo Station manager.
Radio Free Fargo program director Randall Black said locating downtown was the right move for the station because it's where the station's listeners are.
"We've always kind of felt our radio and our format fit with the downtown scene," Black told HPR.
"The way we look at with this move -- yes it forced our hands and it's had its moments where there's been bumps in the road but inevitably we see this as a way for us to come into our own as a station within the community."
HPR publisher Raul Gomez feels KNDS fits well in the publication's building because the two media entities are so similar.
"There's a lot of media conglomerates in town. I see KNDS as independent like us," Gomez said. "There is nothing wrong with mainstream media. But there's a kind of budding community media scene out there now and we are both a part of that."
KNDS and HPR haven't fully mapped out what housing the two organizations in the same building may bring. But they plan to talk and have some definite ideas about what the future could bring.
"When we first talked about moving in together, we talked about doing the trifecta of the radio broadcast, the print media and joining forces together on the web side," Borchert said.
Borchert also noted that KNDS and HPR have very similar music coverage. So one idea would be to let the same artists who interview with HPR on print, also interview with KNDS on air.
The Radio Free Fargo side of KNDS recently achieved nonprofit status as a 501c3 organization in March allowing donations to the station over a certain amount to be written off during tax season. The FCC doesn't allow KNDS to run advertising but it can air underwriting sponsorships from businesses and organizations within programming. It's one of the things that sets KNDS apart from commercial radio stations.
"Sponsorship is different than advertising, so our rates are a lot more inexpensive than commercial radio," Black said. "So we feel that is a benefit to local businesses especially people that are just trying to start up local businesses."
The move downtown has brought some challenges. Expenses have risen for the station as NDSU provided a rent free building on campus as well as high-speed commercial internet service for broadcasting at no charge. Custom made furniture for one of its studios has taken longer than anticipated to arrive, so currently the station is operating with only one of its usual two studios.
However, station officials are not letting these challenges bring them down.
"We're just trying to do the best we can with what we have for now. We're just very happy to be still on the air," said Black, also noting that the studio has never been off air in its 10-year life span.
KNDS officials are planning some concerts and fundraisers to coincide with its 10th anniversary party in October. There even may be a co-celebration with the High Plains Reader for its 20th anniversary in September. Announcement are expected to begin this summer.
"I am finally seeing the station turn into the station I had always hoped it would become," Black said. "And I am really happy to be a part of that."
"The biggest thing is getting reconnected with the community. It's not like we ever lost our connection to the community, it's just that we're reconnecting in a different way. We're trying to reinvent that relationship with the community and that includes finally having a presence that the station hasn't done before. There's so much opportunity right now, I am ready for it."
[Editor's note: Chris Hennen hosts a weekend show on KNDS on Sunday evening from 5 to 7 p.m.]