​Laughter amid despair
by John Showalter | .(JavaScript must be enabled to view this email address) | Culture | December 8th, 2017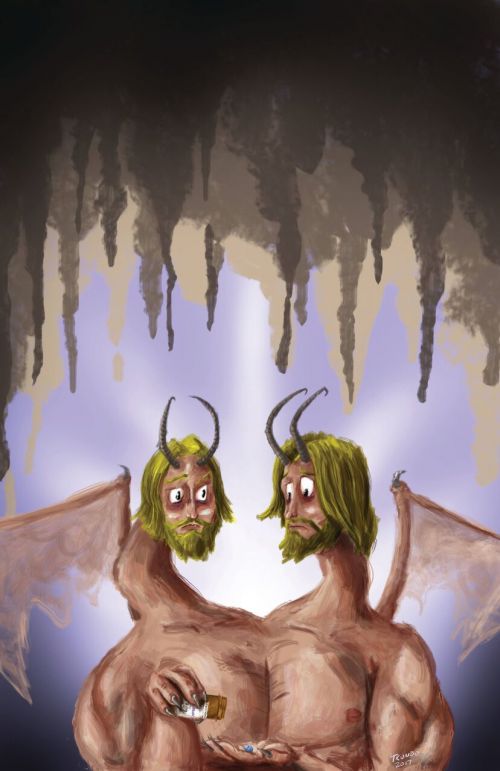 john.d.showalter@gmail.com
Stand-up comedian Adam Quesnell departed for greener pastures in Minneapolis, and surprisingly soon I found myself interviewing him about his upcoming return to Fargo to record his new album, "Despair 2," at the Red Raven.
The Red Raven only made sense as a stage for the recording of the follow-up to Quesnell's first popular "Can We Afford This Much Despair?" comedy album and his second full-length album with Stand Up! Records. After all, it has had one of the longest-lasting comedy open mics in the Fargo-Moorhead area, where plenty of other aspiring local comedians tested their comedy chops. One of the two opening comedians for Quesnell that night, Janna Raye Syverson, is a veteran of the Fargo comedy stage. Also opening will be Minneapolis-based comedian Robert Fones.
There are a couple of reasons for naming the new album "Despair 2."
"Partially, because I don't have a title for it," said Quesnell. Another is that he greatly enjoyed the visual aesthetic of the first "Despair" album. The first "Despair" was recorded at Convergence, a science fiction and comic book convention in Minneapolis, back in 2013. The show turned out to be a hit.
The album got its name from one of the jokes during the show regarding engagement rings and labor in diamond mines, where Quesnell quipped, "Can we afford this much despair?"
Quesnell's now-wife, Brittany Ordahl Quesnell, commissioned a talented artist by the name Terry Brown II to draw a "monster standup version" of Adam performing for an audience of cats. Naturally, that picture ended up being the cover for the album.
Quesnell's producer at Stand Up! Records, Dan Schlissel, has been very supportive of the album, as well as distributing rubber mini figures of the "Despair" monster to go along with the album, which were produced both for promotional purposes and out of Quesnell's love for collecting miniatures.

In a way, "Despair 2" has been four years in the making. "It has a good spread of stuff," said Quesnell. The show will including material from after the recording of the first "Despair" album in 2013, that he wrote before he left Fargo, as well as material he has written since he moved to Minneapolis.
All of it, of course, will be in his signature cynical and introspective style of observational humor. His first 2013 "Despair" album peaked at #13 on the iTunes Comedy charts, and in those four years since, he has continued to hone his craft and pursue his passion for comedy.
Fans of his previous work are bound to be entertained by the show, as well as newcomers who are just now being introduced to Quesnell's acerbic and humorous take on life. It's not every day you get the chance to see a live-recorded comedy show and even be preserved as part of the audience on the album itself.
Shake off those winter blues and collapse into Despair at the Red Raven.
IF YOU GO
Adam Quesnell records Despair 2 live
Saturday, December 9, 7:15pm
Red Raven Espresso Parlor, 916 Main Ave, Fargo