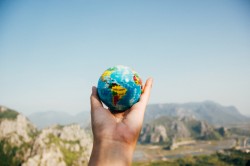 The first Earth Day was launched by U.S. Senator Gaylord Nelson of Wisconsin on April 22, 1970. His worries about the environment and the rate of industrialization created Earth Day for us to take green active actions to protect our planet.
Since then, this celebration day has become a worldwide event for all of us. It is not easy to take care of our Earth and we still have some careless attitudes towards our environment that are slowly killing our only home.
For example, riding a bike instead of driving would be one good way to protect the earth and save our planet, but since we are living in the Fargo-Moorhead area, which has a severe winter, we cannot easily go out into it.
For the above-mentioned reason, the cities of Fargo and Moorhead have invited us to a variety of events where we can figure out what we are able to do in protecting our surroundings and making things better rather than worse.
The mayors of Fargo and Moorhead and MinnKota Recycling will be kicking off single-stream recycling with a ribbon-cutting event with the Fargo-Moorhead-West Fargo Chamber of Commerce Ambassadors on April 17 at 9:30am at MinnKota, 809 4th Avenue North, Fargo.
During Earth Week, Clay County and the Cities of Moorhead and Fargo, along with MinnKota, encourage consumers to use reusable bags and recycle plastic bags because only a small percentage of plastic bags are recycled in the United States.
MinnKota's recycling campaign seeks to keep up with national standards and they offer premium prices for cans from April 17 through April 29. Several events have been scheduled in the Fargo-Moorhead community by local cities, counties, and organizations, with opportunities to learn more about how to protect our environment and live green.
MATBUS will be having the Get Your Can on the Bus promotion from April 17 through 22. Residents can get a free ride when they donate one aluminum can and simultaneously enter drawings for free MATBUS shirts. Registration is available on MATBUS buses and at the Ground Transportation Center at 502 NP Avenue in Fargo.
Public transportation is an essential part of protecting our environment. U.S. public transportation systems can save 4.2 billion gallons of gasoline every year, the same amount as 320 million cars filling up annually.
Moorhead Library is holding its 19th Annual Transformation Art Exhibition, sponsored by Clay County Solid Waste and the Moorhead Library from April 17 through 22.
The unique characteristic of the art exhibition is that any person, club, classroom, or organization is able to enter their craft or art projects made from materials that would enter the waste stream. All of the artworks will be displayed at the library and also judged and awarded in several age categories. We can enjoy fascinating artworks made from old materials and rubbish.
The Red River Zoo will have a "Party for the Planet" on Saturday, April 22, from 11am to 4pm. PFTP is the largest combined Earth Day celebration in North America, and there will be a variety of free conservation activity stations to increase public awareness of the conservation efforts of local organizations.
Please, join the Earth Week celebration events, participate in earth-friendly activities and be aware that irreversible changes may doom us to extinction.