​Monitors and preserving your sight
by Chuck Solly | .(JavaScript must be enabled to view this email address) | Culture | January 17th, 2018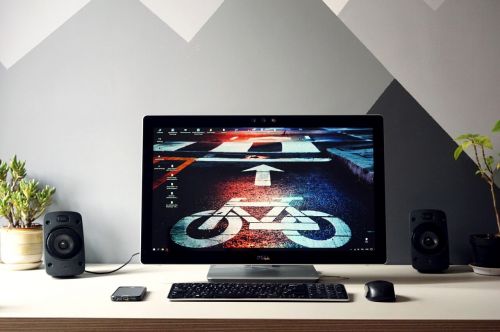 When I was a young boy of five I was lucky enough to have a black and white TV in our house. I had a lot of friends in those day because I let the whole neighborhood come over on Saturday morning to watch cartoons.
I distinctly remember those days because my mother was constantly yelling at me to not sit so close to the TV because "you'll ruin your eyesight." Well, she was right (as usual), but it wasn't the TV that did it, even though the resolution was horrible on those old CRTs (Cathode Ray Tubes). It was just plain old advanced age.
Now I have to sit close to the modern computer monitor, even with my glasses on. The question is which monitor should I choose for these old eyes.
The monitor is one of the most important components of any computer setup, especially if you spend more than an hour a day computing. Whether you're a casual user, an at-home professional, or a hardcore gamer, you'll probably use your monitor every day, so it's worth it to spend time picking out just the right one.
Selecting the right monitor is a careful balancing act between your ideal screen size, resolution, feature set, and cost. But it has been my experience that the more you spend, the more you get.
When you purchase a new monitor, plug it in immediately to make sure there are no dead pixels. Dead pixels will appear as black dots where there should be a color displayed. If you see any, exchange the monitor for a replacement immediately.
While most computer monitors are built around the industry-standard 16 x 9 widescreen format (the same dimensions as most TVs), there's also a new style: "ultrawide" monitors. Ultrawide feature 21 x 9 panels, and were built with gamers and office workers in mind: with an especially wide desktop, gaming landscapes appear especially vast, and for business, multiple documents can be compared side by side.
The choice you make should be based on how much screen real estate you need, and how you primarily use your computer. I use two 27" monitors side by side on my desk.
I found the monitors that I wanted at the resolution that I wanted on sale. So I bought two of them. Be aware that if you use two or more monitors side by side, you must have a video card that will support them. Once you have one large monitor or 2 monitors side by side you will never go back to a one standard monitor setup.
Computer monitors come in a variety of resolutions, that is, the number of pixels they can display, expressed as height by width, with a current maximum of 3840x2160, otherwise known as 4K.
And while more pixels mean more detail, picking the best screen resolution for yourself may be trickier than expected, because high-resolution screens can make text smaller and harder to read, depending on the size of the screen. To compensate for the smaller text, many software programs allow you to magnify their part of the screen.
Go to your favorite big box store and ask for a demonstration.
Most monitors can be easily mounted on the wall with a standard VESA television mount. Check your monitor's instructions to determine what size VESA mount it requires. There are several standard VESA (hole pattern size) mounting kits available, but keep in mind that your monitor will come with a stand to allow you to stand it on your desk.
I always recommend mounting the monitor on the wall if you can. It frees up a lot of desk space.
Comments? Email me.