​PB&J's Second Annual School Lunch Fundraiser
by Faye Seidler | .(JavaScript must be enabled to view this email address) | Culture | April 18th, 2018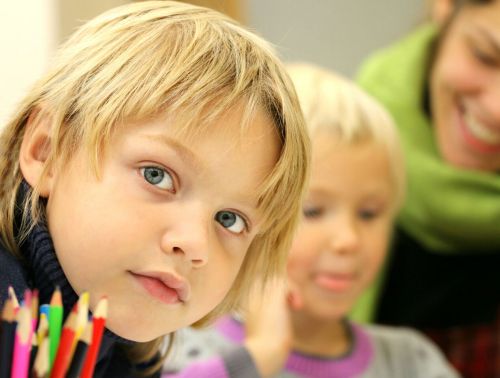 I had a chance to sit down with Moorhead school board member Kara Gloe about her fundraising event to help students in need. This is a project she has undertaken outside of her role on the school board because it's an issue that she deeply cares about. The money raised will support Moorhead schools and pay off lunch accounts with a negative balance. Personally, as a student who was impacted by this sort of thing growing up, I'm very grateful for events like these in our community.
High Plains Reader: So, what inspired the the PB&J Fundraiser?
Kara Gloe: Last year a friend and I had a conversation about a school lunch debt article that she had recently read. By the end of our conversation, she said, "Well, maybe you should hold a fundraiser, because it would feed your soul."
I hadn't read the article, so I went looking and ended up finding an older article from 2015. The article pointed out that Moorhead was the only school in the area not serving alternate meals, i.e. a cold sandwich and a cup of fruit, to students when they had a negative balance and as such incurred more lunch debt than the other schools were reporting. The frame of the article was very negative and the school was basically attacked for doing the right thing.
I couldn't let it stand. I couldn't let that be the last word on Moorhead Area Public Schools' (MAPS) lunch program. I wanted to make sure MAPS knew how grateful I was that they were putting students first. I wanted to make sure that they knew they had community support.
In addition to not serving alternate meals, our Superintendent, Brandon Lunak, has talked about the importance of building relationships with families first when it comes to addressing lunch debt. These are the philosophies and policies that help ensure students are ready to learn and reach their full potential. These are the philosophies and policies we want to lift up. Although the USDA recently changed their recommendations, meaning more area schools have ended their alternate lunch program, last year, Moorhead was the only area school not serving an alternate meal to students who had a negative lunch balance. For years, Moorhead students have received a hot lunch -- the same lunch as their classmates, no matter what. MAPS has a strict no lunch shaming policy that has been in place for as long as I've been involved with the district.
HPR: Who are some of the organizations or individuals who've made this project a reality?
KG: In the weeks that the fundraiser was percolating around my brain, I had many conversations where people mentioned their love for Junkyard Brewing Company. So many people were telling me how much they enjoyed the laid back atmosphere, where they felt welcomed and relaxed. It became clear to me, that Junkyard is really a shining Moorhead gem. So, when someone mentioned their PB&J beer, it felt like the stars aligned. I met with Aaron Juhnke, co-owner of Junkyard Brewing Company, to pitch the fundraiser and was prepared to deliver a hard sale. However, as soon as he heard my idea, he was in -- no hard sale required. Since the beginning, the folks at Junkyard have been wonderful to work with. They are truly dedicated to this cause and could not be better partners.
Armed with an idea and venue, the energy spread, and soon there was a team of parents and community members who wanted to celebrate MAPS' lunch program. This year's fabulous team is Heather Nesemeier, Tina Walker, Christopher Welle, Rachel Stone, and Keith Vogt.
HPR: Is this a family friendly event and what can people expect if they go?
KG: We are serving PB&J sandwiches and cartons of milk for a free will donation. These will pair nicely with one of Junkyard's famous peanut butter flavored beers. Junkyard will donate a portion of their proceeds. We will have raffle prizes and play bingo. It will be a really fun laid back way to spend time with your family, friends, and neighbors, while supporting a great cause.
The event is at a brewery. Children are allowed in the brewery with their parents, but there won't be children's programming available.
HPR: Will there more events like this in the future?
KG: We hope so! As long as the community is willing to support this event, we are willing to host it to support our schools.
HPR: Would you encourage other schools or communities to do similar things?
KG: We encourage people to find out about their school's lunch policies and lunch debt. When we started this event last year, we talked to a lot of folks who didn't realize lunch debt was even possible. There is a misconception that the federal free and reduced priced lunch program meets all the need, but unfortunately that is not true. It meets some of the need, but families still fall through the cracks. Being aware of your school's needs in terms of community support is incredibly important.
HPR: Any final thoughts you'd like to share?
KG: Last year, we raised just under $4,000. This year we are setting our goal to $8,000. That would enable us to give $1,000 to each school building in Moorhead. It's an ambitious goal, but this is an impressive community and people really show up for a good cause. Folks can donate online at https://fargo.fcsuite.com/erp/donate/create?funit_id=1562.
Making sure kids are fed and ready to learn, #ThatsOurJam
[Editor's note: Faye Seidler is the North Dakota Safe Zone Project spokeswoman]
IF YOU GO:
PB&J School Lunch Fundraiser
Saturday, April 28, 12pm-4pm
Junkyard Brewing Company, 1416 1st Ave. N Moorhead