Pride: a look at intersectionality
by Faye Seidler | .(JavaScript must be enabled to view this email address) | Culture | August 9th, 2017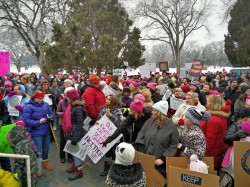 With Fargo-Moorhead Pride coming up this weekend, I was asked what I thought about the relationship between Pride, Black Lives Matter, and the Women's March.
This question was sparked by Minneapolis' Pride Parade being delayed a great deal by Black Lives Matter protesting the inclusion of uniformed LGBTQ+ officers.
Recently, we've also seen a call for an intersection between these communities, with Philadelphia adding a black and brown stripe to the rainbow flag, as well as the Women's March making racial inclusion a top priority.
There is a lot to unpack with all of this. Honestly, we're talking books worth of material and perspectives from a wide arrange of individuals to get any sort of good holistic grasp on these interacting social movements. So, I definitely can't speak to everything going on as a white trans woman from North Dakota. Nor can I really represent a group as diverse as the LGBTQ+ or trans community.
What I can do is share my perspective as an advocate and educator who understands intersectionality.
The Stonewall Riots are a good place to start when looking at the intersections of the LGBTQ+ community and people of color. The riots began in response to police harassment and brutality in an era where people were rounded up and arrested for being gay. The Stonewall Inn was a bar that served as a safe haven to the poorest and most marginalized of the LGBTQ+ community. The riot is believed to have been started by two trans women of color, Marsha Johnson and Sylvia Rivera.
Imagine the social tension of the time, imagine living in a world where you've been beaten and targeted because of your skin color, your gender, or the person you want to cuddle with at night. Imagine years of police harassing you, daily violence, routine discrimination, being rounded up, seeing your friends beaten, seeing young hopes crushed.
Now imagine looking at a desperate woman being taken away by the police because she has a girlfriend. Imagine she looks you dead in the eye. Now stop imagining, because here is what she actually said, "Why don't you guys do something!"
It seems pretty simple. As a writer, I'm not sure I'd have her saying something like that in a book. But somehow it feels real and it feels powerful. It is such a simple call to action against an absurd backdrop of injustice, and from that moment the LGBTQ+ community has fought tooth and nail to be where we are now.
We complain about the proposed military ban or states not having anti-discrimination laws, but the people involved in the Stonewall Riot never dreamed we'd get even this far. Make no mistake, we're still far from free of the experiences that led to Stonewall, especially for queer people of color.
That story about the riots is sadly pretty common. Research shows that out of nearly 100 racial riots across this country since 1935, the majority have started because of a police incident.
While not a riot, the Black Lives Matter protesters showed up at Twin City Pride because of justice denied to Philando Castile and a demand for solidarity with the LGBTQ+ community.
The LGBTQ+ flag in Philadelphia added black and brown to help create solidarity and awareness of the observable systematic oppression that disproportionately affects queer individuals of color. The reaction to both the protests and the colors added to the flag was unfortunately predictable: "All lives matter" and this isn't your flag.
Police officers in Minneapolis pressed for the right to march in the parade, downplaying concerns expressed by LGBTQ+ people of color and completely ignoring the greater social dynamic of what was going on, by insisting they were the good cops and should be allowed in uniform.
They justified the feelings found in online articles that were filled with comments stating that if LGBTQ+ people and Black Lives Matter want to be accepted they shouldn't be excluding people. Others went for the throat and wished violence on the march.
People didn't grasp the nuances of what was going on. It isn't that every single cop is bad, it is that the power dynamic that exists in police institutions has historically served to disenfranchise and commit violence on those in the LGBTQ+ community and people of color.
Individual police officers were more than welcome to attend, just not in uniform, because the issue is with the institution, and with good reason. The police department doesn't get a free pass; they don't get to celebrate with us until they systematically address and seek to change current outcomes.
I honestly don't know if it's because of our passive aggressive culture up here, but I get the sense some of us don't understand what protesting is meant to do. A protest that people can ignore is not an effective means of communicating injustice.
There is community trauma from the death of Philando Castile, there is confusion, anger, and pain. There is too much to process, too many emotions to remain indifferent, and too many things like this going on for people to stay quiet.
A protest is to shake someone up, get them out of the daily funk of cat videos, so that they can see the tragedy their neighbors wake up to, because we, as sentient beings, can do more. Acknowledging that and finding working solutions is what ends protests, not complaining about them or making laws to legally run over protesters - that's how you're going to get riots.
The women's march was meant to shake up an administration that didn't seem very friendly towards people of color, LGBTQ+ individuals, and reproductive health. It was fueled by the same desire and passion to want more for our country and the people in it.
Feminism has been historically pretty bad at serving anyone but middle class white women, but this march was more than that. It was designed with racial inclusion in mind, it was designed with an intersectional approach, because these issues affect all of us.
Kimberle Williams Crenshaw, who introduced and developed intersectional theory said, "When feminism does not explicitly oppose racism, and when anti-racism does not incorporate opposition to patriarchy, race and gender politics often end up being antagonistic to each other and both interests lose."
Intersectionality is more than just the call to unite the most marginalized among us. It is also about recognizing that privilege and oppression aren't binaries, they're a spectrum of intersecting issues. That cisgender men are being screwed over by toxic masculinity. That capitalism has been screwing over every poor or working class American, regardless of race, for decades. That straight people...umm...you guys seem pretty good?
Anyways, back to point, the pride flag is meant as a symbol for gender identity and sexual orientation, but it isn't a flag we wave for any other reason than to stand together proudly and unite ourselves against discrimination and oppression.
As long as our queer people of color experience those issues, we aren't free, we aren't done, and I think it's time we remember that. It's time to be uncomfortable and stop pretending racism or sexism goes away if we just stop talking about it.
We'll stop talking about when it goes away.
________
[Faye Seidler is North Dakota Safe Zone Project Spokeswoman]