​Printing importance
by Chuck Solly | .(JavaScript must be enabled to view this email address) | Culture | April 27th, 2017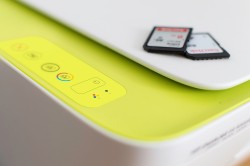 I have purchased many computer printers in my time, some good, some bad, some terrible! It has always been a necessary evil to have a printer on your desk.
Early dot matrix printers were a nightmare to keep running, keep the paper from jamming, keep the ink cartridges fresh and making sure you made the monthly payment after you charged the printer on your VISA card.
All of that is changed (except for paying for it). You still hear about the headaches caused by printers in the review section of Amazon but all in all, things have gotten much better.
It is now not necessary to scan through reviews of ALL of the printers on the market since there are about 2000 of them.
My recommendation is to determine the type and quantity of printing you do and then buy the most expensive one in that class that you can afford.
The printer market exists on ink sales. You can buy a very nice printer for as little as $69.00, but you might have to remortgage your house to buy the ink.
Try to find a compromise. Probably the most expensive type of printing is photography. If you are going to print out the pictures of your vacation to the beach last summer, be prepared to spend much more on ink than printing out one hundred pages of text.
Types of paper and style of printing also have an effect on ink usage. I have spoken to you before about doing your due diligence. Make sure you do some research before buying.
Don't rely strictly on your neighbor to help make the decision. If you ask him about his printer and he says "Oh that piece of junk has been nothing but trouble! I have called tech support 3 times to get it running. My paper keeps jamming, yada, yada, yada."
Sometimes you have to ask yourself "Is this guy really a computer printer expert?" Maybe he drives a road grader and just bought his system 3 months ago. Nothing against equipment operators, some of my best friends own road graders... Just be sure to check some more sources.
The most popular kind is the ink jet printer, followed closely by the laser printer. The third type is the Dot Matrix or serial Dot Matrix as mentioned above. These printers are still widely used in businesses that need a "carbon" or second copy of the document being printed. Dot matrix printers are impact printers which drive small pins into the paper through a carbon ribbon.
Thermal printers print more quietly and usually faster than impact dot matrix printers. They are also smaller, lighter and consume less power, making them ideal for portable and retail applications. Their efficiency is utilized in retail sectors.
Roll-based printers can be rapidly refilled.
Commercial applications of thermal printers include filling station pumps, information kiosks, point-of-sale systems, voucher printers in slot machines, print on demand labels for shipping and products, and for recording live rhythm strips on hospital cardiac monitors.
So, what have we learned today? You have probably learned that today's printer technology can be very confusing, and you would be right.
How about this for a compromise? If you are confused, go to your favorite magazine or website and lookup "printer reviews, "pick one of the printers the experts rate highly and go for it.
We'll talk about accessories, paper, and replacement ink cartridges next time.