​Shamrocks and leprechauns: The F-M St. Patrick's Parade Turns 21
by Brittney Goodman | .(JavaScript must be enabled to view this email address) | Culture | March 8th, 2017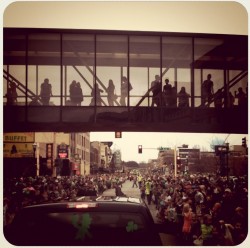 In its 21st year, the Fargo-Moorhead St. Patrick's Parade is set to bring lots of green downtown Fargo on Saturday, March 11th. This free parade will feature walking groups, Irish family clans, floats, and a replica Viking ship manned by the Sons of Norway. Yes, even the Norwegians get in on the fun.
I would guess that the actual amount of Irish-blooded participants is not that high, but it does not matter, as the saying goes, "Everyone is Irish on St. Patrick's Day." However, there is a significant contingency of families of Irish heritage who do march and ride on floats in the parade, such as clan floats from the Kelly, Hughes, Rasmussen-Brodigan , McCabe, Hudson families and others.
Most years the St. Patrick's Parade (notice it is NOT the St. Patrick's DAY Parade) is the Saturday before the actual holiday. This is done so that families can attend. This year the holiday is on Friday, March 17th. Next year, in 2018, it will be one of the perfect storms (hopefully with perfect weather) where both the holiday and the parade will coincide. I hope downtown is ready for it.
1996 was the first year the parade was supposed to happen on a Saturday but was postponed until the next day by the police, due to weather concerns. Since then, rain or freezing temperatures have occurred, but we have also had a fair share of warmth and sunshine. The first parade only had about 35 floats and marchers participating. The 2017 parade is anticipating at least 100 entries and thousands of watchers.
What should you expect as a parade watcher? Get there a bit early for a good viewing spot. Check the weather forecast and dress appropriately (in green, if possible). The parade starts at 1 pm with the kickoff of the St. Patrick's run put on by the Lake Agassiz Pacers. Cheer on these racers! A Kid's Fun Run happens right before the parade also.
Then, after the runners pass, you will see police and firefighters, military honor guards, and the Heather and Thistle bagpipers. If that does not get you in the mood, Irish dancing is usually involved, Irish music, and usually some humorous and unusual floats. Some interesting participant group names are "The Paddy-Whackers" and "Irish We Had a Theme."
This parade is put on by a group of volunteers. They include a radio personality, a city planner, a restaurateur and graphic designer, a marketer, a bar manager, an EMT and even a librarian. These volunteers work to put on the parade with essential help from the police department and others. The parade planners rotate their meetings in pubs who have donated to the parade.
That brings up the other thing that makes the parade possible – donations from sponsors. Each year, the sponsors vary, but many are the downtown area bars and restaurants on or near the parade route. Sponsorship has also made it possible to purchase the beautiful Irish flags along Broadway.
I spoke with two volunteers who have been there to help bring this grassroots, family-friendly parade to our community, year after year.
Brian Quigley, with Shamrock Marketing, has been with the parade since the beginning. You will likely see him with a green top hat and a green coat shaking hands and giving out candy, as well as helping with the variety of tasks that have to occur to make the parade happen, including putting up "do not park" signs and barricades, as well as clearing these items after the parade.
Brian describes the parade as "a celebration of spring as well as the Irish heritage. It is a fun and free event, with kids loving to see the interesting floats and scrambling to grab an array of free candy." For the adults, Brian loves seeing them marching with their family clans and "dressing up in interesting Irish attire." He adds, "Shamrock rule!"
Kim Mahli has been involved with the parade since the beginning, and even sees the courtship and eventual marriage to her husband as partially based on planning this Irish parade. Kim says, "I was dating this really cute guy and his family had helped form this group of folks that were interested in having a St. Patrick's Parade in Fargo-Moorhead. He took me to a parade committee meeting for one of our first 'real' dates. Twelve years of marriage and 4 kids later we are still on the committee and part of this wonderful tradition in downtown Fargo."
Kim says the F-M St. Patrick's Parade is "a delightful way to welcome the spring. People fill the streets with their laughter and smiles. I find so much enjoyment seeing all of the kids, tossing out candy, waving to friends. I never knew how much I loved parades until I became part of this group. Our kids have been in this parade since they were born. It is a community tradition that I hope that will continue as it is such a strong part of our family motto to have fun."
Kim emphasized that it is the parade's 21st year and that she is "always looking forward to seeing old friends and all of the new participants that have jumped on board. We have seen bands on flatbeds, silly-walkers, and even a Viking Ship."
She continues, "On a more personal note, helping is a family tradition and I love to see our kids pitching in and being not only participants, but also helping behind the scenes. They help with hanging flags, put up no parking signs and caution tape and clean up once the parade is done. They are a huge part of this operation and I am grateful that they can be a part of it. My husband, Dan, likes to see his mom smile. They carry the parade banner every year and her face just lights up Broadway."
Kim's enthusiasm shines through: "This is Fargo-Moorhead's oldest parade and downtown event. It is a great community tradition, 100% grassroots, volunteer driven, free, fun for families, and a great way to make memories. It is a time to break the cabin fever and enjoy downtown. No matter your heritage – let's go GREEN!!"
You do not have to register to be in the parade, but it helps for planning. To do so, go to http://fmstpats.com and click "Register." The lineup spot for the parade is in the city parking lot on NP Avenue behind the Old Broadway and people start lining up at 11 am on parade day. The parade proceeds north on Broadway from NP Avenue. Whether you walk or drive in the parade or cheer from the sidewalk, wear green and be ready for fun.
IF YOU GO
Fargo-Moorhead St. Patrick's Parade
Saturday, March 11, 1 pm
Broadway, Downtown Fargo