Smart and rural in North Dakota
by Dima Vitanova | .(JavaScript must be enabled to view this email address) | Culture | October 18th, 2017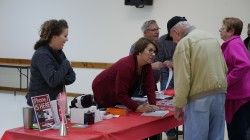 Like the many tiny towns that dot the vast expanse of North Dakota, Abercrombie, which rests some 40 minutes south of Fargo, appears quite ordinary.
In the north-eastern edge of Richland County, its flat streets rove among homes and local businesses that huddle in the center of large parcels, comfortably distant from each other. Under the broad sky, this community of several hundred presents the perfect snippet of small-town, rural America. Yet, Abercrombie holds a story that some may describe as unlikely.
At 510 Broadway sits Red River Communications, a high-tech telecommunications cooperative that, last month, earned the title Smart Rural Community for its service area in the county. Shared with 12 other small internet providers in the Midwest, the award, granted by NTCA-The Rural Broadband Association, honors Red River Communications' dedication to transform this otherwise unassuming corner of North Dakota into an internet-heavy hub.
"[NTCA] recognizes those companies that are pushing a technological boundary and helping make sure that there is no gap between the services – communications-wise – that an individual can get in a small town versus in a big city," said Dirk Monson, member support manager at Red River Communications.
A mere 25 areas in the U.S. boast the designation of Smart Rural Community, Monson said. It acknowledges what is unique about his company. "One of the commitments of a cooperative is that everything we do has to have the communities we serve at the heart," said Monson.
Adhering to this dictum, a few years ago, Red River Communications helped establish a pharmacy in a hamlet too small to afford one. When pharmacist Julie Falk of Hankinson Drug, in Hankinson, N.D., purchased a storefront in neighboring Lidgerwood, Red River Communications helped her resolve the conundrum of filling prescriptions without being there. It set up a high-speed internet between the two venues, so Falk could run, through video conferences, what is today Lidgerwood's telepharmacy.
Another large-scale project that embodies the implications of a smart rural community is Red River Communication's collaboration with Abercrombie's Richland 44 School District to deploy a novel WiFi connection in classrooms. "We had major issues with the internet in our elementary building, to the point that if we had more than a few devices connected at one time, we couldn't get through," said District Superintendent Tim Godfrey.
The high-speed connectivity buoys Richland 44's Project Space Learning. The initiative aims to equip every school kid with an internet-enabled device to access "learning materials that quite frankly wouldn't be available to a small rural school otherwise," said Monson, who, on several occasions, has taught students about the dangers lurking on the internet.
Aside from empowering its local partners, Red River Communications has ushered the "World Wide Web" into the abodes of its roughly 4000 customers. Only months before it received the Smart Rural Community accolade, the company completed a fiber-to-the-home network that required over a decade to blanket some 1,500 square miles across North Dakota and Minnesota with gigabit internet.
"We are one of the few providers that boast something like that, that we cover such a huge swath of area," said Monson.
The hurdles that stem from it, however, are many. There is the scarce population density in rural lands that sap resources much faster than packed cities. Across North Dakota, this challenge has befallen small internet providers like Red River Communications, which need to deploy thousands of more miles of fiber-optic cable than their urban counterparts.
Monson's comparison: "Look at how much more fiber-optic cable and infrastructure it takes to get folks connected, compared to an apartment building in Fargo with 36 units, with more people living in them than many whole communities that we serve. That scale is so much different for us."
Then, mirroring the work-force dynamic that characterizes North Dakota, rural companies struggle to attract skilled engineers and technicians and sales representatives to take on jobs in towns they might have never heard of. It is tough to convince them, said Monson, who, himself, first learned about Red River Communications shortly before joining it in 2015.
Yet, despite the setbacks, it is such independent, rural telecommunications ventures that have lunged North Dakota to the fore of internet access in the country. Some 15 of them constitute the Dakota Carrier Network, which, with the support of the USDA Rural Utilities Services, has spent $1.3 billion in the last 10 years to foster high-speed broadband capabilities across the state.
"North Dakota sometimes, I think, gets unfairly portrayed as having bad internet connectivity," said Monson. "The fact that I can be in a cornfield, 45 or 50 minutes south of Fargo, and have gigabit internet is really interesting. It is quite amazing. It is remarkable."