​Spay-ghetti and no balls with a side of kindness
by Särah Nour | .(JavaScript must be enabled to view this email address) | Culture | April 19th, 2017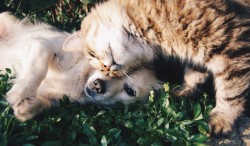 This Thursday, Fargo's Holiday Inn will once again host Homeward Animal Shelter's Annual Spay-ghetti and No Balls Lunch. The general public is welcome anytime from 11:00 AM to 2:00 PM to come enjoy a spaghetti lunch, along with breadsticks, salad, and lemonade, with dessert served by Gigi's Cupcakes.
For the shelter staff, the Holiday Inn was a tried-and-true choice for a venue.
"It provides a warm, inviting environment and is a great central location for a lunch event," says PR coordinator Heather Klefstad. "The Holiday Inn has been a great supporter of the shelter animals of Homeward and we are happy to partner with them again for this fun event."
The only price of admission is a free-will donation which will go toward the shelter's spay and neuter fund. A raffle will take place at 1:30 PM, with prizes including shelter merchandise, gift cards, Valley Fair tickets, and a Stay & Play Package for the Mall of America. Raffle tickets will be $10 for one person or $25 for three people. You do not need to be present to win.
Last year, the lunch drew about 250 people and raised $4,600 for the shelter's spay-and-neuter fund.
"We hope to raise over $5000 at this year's event," Klefstad says. "The main goal for this event is to bring awareness to the community on the importance of spaying and neutering your pets."
As always, the event will feature a slideshow of animal photos and spay-and-neuter facts and statistics. Adoptable cats and dogs will also be available for the public to meet. For this reason, participants are asked not to bring their own pets, though service animals are welcome.
"We hope everyone enjoys their meal and has a great time while supporting the shelter animals of Homeward Animal Shelter. It's our hope that it's a fun way to bring attention to the importance of spaying and neutering your pets. Millions of animals become homeless each year because there simply aren't enough homes for them."
IF YOU GO:
Spay-ghetti and no balls dinner
Thursday, April 20, 11am-2pm
Holiday Inn Fargo, 3803 13th Ave. S