​The Best of the Best: HPR seeks local heroes
by Sabrina Hornung | .(JavaScript must be enabled to view this email address) | Culture | May 4th, 2017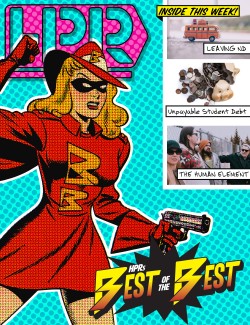 Each week we do our best to set the scene and let you know the whos and whats of Fargo-Moorhead. Once a year we reach out to you, our readers, to put in your two cents for the HPR's Best of the Best, the area's longest-running media poll, with over 20 years on the scene.
The voting will all be done online at http://botb2017.hpr1.com/ or via our Facebook page. We set up an online poll in which you nominate your favorite local heroes in the community and tell us where the action is, so we can find out the best of the best in Fargo/Moorhead and give them due credit.
The survey is broken down into four parts: "People and Places," "Arts and Entertainment," "Food" and "Drink."
Needless to say we want you to set the scene. Tell us about the top eats, the coolest digs, best gigs, top bands, artists and performers in Fargo-Moorhead.
For the first part of our survey, we really want to get to know you better (but not in a weird way)...so we collect some demographic information. This consists of your age, sex,gender identity, where and when you pick up HPR.
The Best of the Best starts out in two phases. Balloting starts on May 4 and ends on May 18. This is where we ask our readers to nominate their hometown heroes and establishments.
From that point on we get down to business and the real voting begins during the second phase of voting on May 18. The awards ceremony will be held the last week in June. Details and location will be announced at a later date.
Winners are top secret until the night of the awards. High Plains Reader personnel are not allowed to compete and nominations need to be local. We are aiming to be as transparent as possible during this process and urge voters to keep small businesses in mind--it's no secret that we love our mom and pop shops!
Sound like a plan? Now ready, set, VOTE!