​The Dark Net
by Chuck Solly | .(JavaScript must be enabled to view this email address) | Culture | July 26th, 2017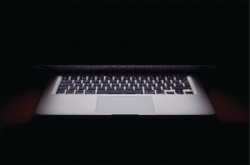 Did you know that there is a backside to the Internet? I guess we all have backsides, don't we? The backside of the Internet has many functions, none of which you can access from Google.
Dark Net sites are just like normal web sites, it is just the getting there that is different. You must use a browser designed specifically for these sites.
The files that you send or receive over the internet are sent in "packets". More correctly they are called TCP/IP packets, Transmission Control Protocol/Internet Protocol, the basic communication language or protocol of the Internet. It defines the details of how data is sent and received through network adapters, hubs, switches, routers and other network communications hardware. It has your location and many other details about you written all over the packets. This is normally not a problem for you because most of the files we send every day are not important to anyone but us.
It can also be used as a communications protocol in a private network.I explain this to you because there are bad guys on the Dark Net so the folks at TOR have provided a browser that will hide your identity. It is called a TOR browser and you can find it at www.torproject.org.
Now that I have told you exactly how to get onto the Dark Net, I will tell you why you shouldn't go there, so pay attention to this part.
First, there are many people on the Dark Net who are there specifically to steal your personal information. They use "packet sniffers" to find out who you are and then watch your data stream. This, by the way, is what the NSA does to monitor all of us.
Second, the TOR browser is not foolproof and doesn't protect you against all threats. There are many sites that are specifically set up to fool you into downloading their information. They will then place malware, trojans or viruses on your machine.
Third, you cannot locate any of these sites or servers because they keep moving. The TOR browser assigns these sites a new web address (URL) every time they move.
Fourth, if you are a normal computer user, there is nothing on the Dark Net that you need. DON'T go there. If you are new to computing, DON'T go there.
If you are curious about the Dark Net, go to YouTube and search Dark Net. Listen to the people who have made videos about it. Unless you have many years of education and experience, do not go there! Be satisfied that you have learned today that there is a Dark Net.
A related subject
A Virtual Private Network (VPN) is a piece of software that will protect you and your data very well. Your data is encrypted and sent in a "tunnel" to it's destination. If you have data that you must protect (business documents, logins, etc.) You should consider a VPN. It stops packet sniffing.
As with any other piece of software, you must do your due diligence. There are many types and prices. I have heard many experts say that the VPN providers who are giving the software away (free!) don't provide as good a product in terms of the speed of delivery.
Compute carefully...