The difference between drag and transgender
by Faye Seidler | .(JavaScript must be enabled to view this email address) | Culture | February 8th, 2017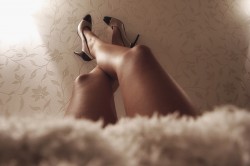 During the early days of my transition, I came out to a friend of mine as transgender. His reaction to that was asking "Do you mean like RuPaul?" I didn't know how to answer that question because, at the time, I had no idea who RuPaul was.
So, later that night, I did some research on RuPaul and started to get really offended because I realized my friend was comparing my transition to the life of a drag queen.
I was offended because that comparison amounted to calling my identity a performance. It said that I wasn't actually a woman, but rather I just put on clothes and pretended. Needless to say, the implications hurt, but the thing was, my friend wasn't trying to hurt me. He just didn't understand the difference or what those labels implied and at the time, neither did I.
The easy answer to the difference is that drag is a performance and trans is an identity. In drag, someone puts on an avatar of hyperbolized femininity or masculinity. In a trans person's life, they are always how they identify: male, female, or non-binary in some way. Drag is a choice, whereas being trans is something we're born into.
Now, drag focuses primarily on our cultural understanding of gender norms and turns the knob to eleven. In the case of drag queens, that could mean insane hair, flamboyant makeup, and gaudy dresses that scream glamour.
But drag is an art, and as an art it can mean different things to different people. It can be a form of empowerment, a means of self expression, or just a way to entertain others. But no matter why someone chooses to perform drag, at some point their costumes come off, and they go back to being whoever they are.
A trans person doesn't put on an identity. A trans woman is always a woman, regardless of how she dresses, presents, or performs. In many ways, drag doesn't really have anything to do with being a man or a woman, but rather the performances we demand of those genders. That's why both men and women can perform as drag queens. That's why you do see contestants from RuPauls' Drag Show come out as being trans and actually transition.
The great thing about drag is that it allows people to explore their gender through performance in a safe way. The process of coming out as trans, going through a transition, and presenting oneself as a preferred gender takes a long time, is often hard, and can really hurt. There is no telling how a person will feel going through that process and many individuals are afraid they're making the wrong choice.
So, with drag, a trans person gets an opportunity to stand in front of a crowd presenting as their preferred gender. They get to see how that feels for them and if it's something they still want when the performance ends.
Another way to think of it is to compare it to conventional theater. Nobody would call a woman playing a male part in a play a trans man. It is understood that the person is playing a part, she's following a script, and when the play ends she'll go back to being herself.
Where do crossdressers fit in all of this? The major difference is that a person performs drag to entertain, while a crossdresser puts on the clothes associated with their opposite sex for their own enjoyment, often only in their own home. A crossdresser typically gets some emotional benefit from engaging in crossdressing, such as stress relief.
While there are many misconceptions about crossdressing, the majority of crossdressers tend to be straight and cisgender. A crossdresser isn't trans, because they go back to being whoever they are when the clothes come off.
There is a saying that sexuality is who we go to bed with and gender is who we are in bed. Taking that further, our gender is who we are when everything else is gone. It isn't defined by how we act, what clothes we put on, or what our genitals happen to be. It is defined by our neural anatomy and experienced through our body and interpreted through our culture on a deeply profound and personal level.
At the end of the day, trans is mostly just a modifier to indicate that a person has had a slightly different journey or body than standard. Drag is a form of art that plays with our notions of gender, often by turning them up to the max, while crossdressing is a means to play with gender in a emotionally soothing or expressive way.
[Faye Seidler is the North Dakota Safe Zone Project Spokeswoman]