Tristate Transgender
by Faye Seidler | .(JavaScript must be enabled to view this email address) | Culture | September 1st, 2017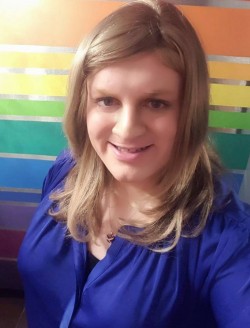 Tristate Transgender (TSTG) is a support group that meets at the pride center from 3 to 5pm every third Saturday of the month. This group is open to anyone under the gender umbrella, people who are questioning their gender and allies who support them.
Beyond just providing a safe space for trans individuals to receive emotional support, Tristate Transgender also serves to provide a wealth of trans-related information resources and also advocates for trans rights in North Dakota.
While this group has been around for years, it is now under entirely new direction. Rebel Marie, this year's Pride Parade Grand Marshal, serves as president and has an exciting board filled with new and passionate faces to take Tristate to the next level. I was honored to sit down and ask her a few questions about their vision and what they hope TSTG can be for people.
High Plains Reader: Where can we learn more about the new board members?
Rebel Marie: Going to our new website would be the best place to start. We are currently building our website and transferring some of the old data to the new website, which is http://tristatetransgender.weebly.com/. They can also reach out to us on Facebook at https://www.facebook.com/TristateTrans/. I am hoping to have an about me section filled about each one of our newly put together board.
HPR: What new things are being planned or implemented for TSTG?
RM: In October we are planning for an officer from the Fargo Police to come and discuss what's going on within the police force to help transgender people. As well as what to do when a transgender person needs legal help or how to report crimes that impact transgender people and what we can do as a community to stay safe.
We are currently planning on having our very first Transpride Day during the weekend of Winter LGBT+ Pride. We have lots of "t's" to cross and "i's" to dot. We are also going to have a stylist come sometime this winter to do airbrush makeup for anyone looking to get female makeup. This is highly important because many trans-feminine people don't know where to start with makeup, and going into a store can induce a lot of anxiety. We're also hoping to help transmasculine members find a style that fits their identity, as it can be difficult to add masculine features to what may have been a largely feminine wardrobe
HPR: Where do you see TSTG going in the next five years?
RM: I see us needing our own space outside of the Pride Collective to provide services that the infrastructure is just not able to provide. If the Pride Collective is willing to move locations or remodel, I could see us remaining there indefinitely, but that is a really tall order for a community with a long history connected to the space.
I see myself not being the president because my time is limited, and I want more people to step in. Katrina K has been doing an amazing job stepping up and I see her as a great future leader.
We also want to make sure that TSTG isn't looked at just as a male-to-female group. We're here for everyone of any or no gender identity and want to be one of the many resources in the community for anyone outside the gender norm.
HPR: What would you say to someone who's nervous about contacting TSTG or going to the monthly meeting?
RM: It can be overwhelming and I would totally understand if they reached out to speak with us in a one-to-one setting or if they needed to bring an ally with them. I would really only recommend one ally per trans person because we need to remember to be sensitive that this group serves a purpose to build community for trans people.
Groups are not for everyone and I could understand people wanting to meet in a private setting. They could also find me at the Counseling Outreach Center at MSUM if they want to talk with me one-to-one.
HPR: How can the community or individuals help TSTG?
RM: We need services and we need funding to do some of our services. How a person or community can help can vary widely. We need to know safe places for our shopping, work, and play. I encourage people to reach out to us to explore ways to help or donate. In general, we're just a group of awesome people looking to carve out a safe space in our small community. Come help us!
How do we contact TSTG?
RM: Please send us a facebook message or email us Tristatetransgender701@gmail.com and again please check out our website http://tristatetransgender.weebly.com/.
[Faye Seidler is North Dakota Safe Zone Project Spokeswoman]