​Turning the Tables
by Ben Haugmo | .(JavaScript must be enabled to view this email address) | Culture | April 5th, 2017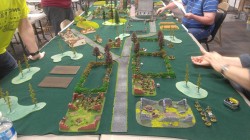 Photos courtesy of Steve Maul of Little Big Wars
Across Fargo-Moorhead, an invisible conflict plays out. Wars between great armies, both familiar and fantastic, are waged across well-worn battlefields. Noble knights and cunning mages plunder the depths of the world's hidden places for untold treasures. Strategists and conjurers pit their monstrous servants against one another in a bid for supremacy.
These fearsome clashes between warlords and adventurers take place, not where bystanders are put at risk, but in the vistas of the mind. The battlefield is not strewn with the bones of the fallen, but with dice, and soaked, not with blood, but with maybe a spilled soda or beer.
Tabletop gaming, be it a roleplaying game ala Dungeons and Dragons, or a tile-based board game like Settlers of Catan, allows players to experience the sense of escape that video games provide while allowing for greater chances to interact with other people. Gone are the days when groups would have to congregate in isolated pockets at their respective kitchen tables. The gaming venues in Fargo-Moorhead provide spaces for gamers to gather while nurturing a sense of community.
Growing a community was exactly what Steve Maul had in mind when he took his store, Little Big Wars, off of the web and into a physical storefront in North Fargo. From the beginning, Maul's mission has been to not only sell games, but also to give players the room they need to participate in the games they enjoy.
"Back when I was a kid, or even a young adult, there really was no place to game. My goal in opening the store was to dedicate half of the space to game tables, and not just be another retail store, but to be more of a community for gamers to come together."
Little Big Wars' focus is largely on miniature war games, which involve painted figurine armies controlled by players.
"We primarily have a pretty active group in miniature gaming," said Maul. "There's lots of genres to choose from: You can be the general of a fantasy army, a Star Wars army in science fiction -- or a historical army, if you want to run Romans, Civil War, or tanks. We offer all that stuff in miniature."
It's not just about the fighting, however. Maul says that some of his patrons like miniatures for the artistic aspect.
"There's people that don't really play a lot but they love painting the models and building and collecting the art. I've got one guy who comes in all the time, he's a great painter, and he hardly ever puts his figures on the table."
Little Big Wars features card games as well, including popular titles like Magic: The Gathering and Yu-Gi-Oh. New games are being demoed and previewed all the time, too. For example, Maul recently got a chance to learn the Lord of the Rings card game.
Little Big Wars also has a Dungeons and Dragons night every Wednesday, which offers a casual, accessible environment for those who want to get a couple hours of adventuring in.
Maul has also begun an initiative called Little Big Wars Gamers Connect, which allows gamers to discuss the tabletop games they're playing and more easily find groups in the area. The group can be found on Facebook at https://www.facebook.com/groups/735331559973173/
Another choice for gamers is Paradox Comics-N-Cards in downtown Fargo. Richard Early began by selling comics at conventions, but leapt at the opportunity to establish a store of his own. The summer that Paradox opened, Magic: The Gathering was released, and it's been a key feature of the store ever since. Paradox also features demos and events for different games every day of the week.
Anyone new to a game who stops by Paradox will find that the community is willing to help them learn.
"At monthly tabletop night," said Early, "we demo 3 games as part of the action. For something like Magic or Pokemon, players are usually expected to arrive with a working knowledge of the games. We are always happy to teach and inform and usually a Youtube search will find demos by the games manufacturers.
"Our community here locally is actually quite special. It's filled with leaders and great people." Paradox's community also gives back to the wider community by raising money for Sanford Children's Hospital during their gaming marathon, Extra Life.
"We game for 24 hours," said Early, "livestream, giveaway games, provide food, and generally make this event the center of the gaming world for one great day. That's the ultimate place for people to experience what tabletop gaming is and give to a great cause."
Anyone looking for a more casual experience can find it at Front Street Taproom. Not only do they offer thirty locally brewed beers, but they also provide games for patrons to enjoy. Aaron Templin has been gaming for much of his life, and considered it important to incorporate that in the Front Street Taproom.
"We have had a couple of board game tournaments, and they've been somewhat successful, some more than others. Those happen kind of sporadically as time goes on. We've done a Carcassonne tournament, and Settlers of Catan. We also did a Scrabble tournament. Things like that, games that people are familiar with. Nothing too intense."
Front Street Taproom also offers a card game meet-up, where players can enjoy traditional playing-card games like hearts, pinochle, spades, whist, and poker.
Whatever your play style, whether you prefer to arm yourself with sword and sorcery, or to have an army at your beck and call, the Fargo-Moorhead area has ample accommodations for tabletop gamers of all types.