​Underwear & Underwrite Luncheon: protection, education, and empowerment
by Hee Han | .(JavaScript must be enabled to view this email address) | Culture | November 1st, 2017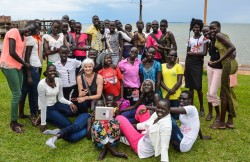 African Soul, American Heart (ASAH) is a nonprofit organization in Fargo to protect, educate, and empower orphans in from the Republic of South Sudan through primary school, secondary school, and beyond.
After the civil war in South Sudan, ASAH relocated to northern Uganda to protect their students from the civil war, forced and early marriage, malnutrition, and diseases. ASAH has also been educating their students to prepare to support themselves and their families in the future, and empowers them to be future leaders and to give back to their communities.
To support the students, ASAH is holding an event on November 4, Saturday, called "Underwear and Underwrite Luncheon" at Zero Gravity Alternative Fitness.
The event gives the community an opportunity to empower ASAH students, who are now in Uganda due to the civil war, to stay in school by providing panties and washable sanitary pads in refugee camps. The lack of these supplies is the primary reason that girls drop out of school at puberty, and are often forced to marry.
The event features a delicious lunch and Deb Dawson, the president of ASAH, will be speaking, with entertainment featuring pole exercise demonstrations, a silent auction, and live music by D Mills.
The lunch catering is by Deb's Corner Foods and Catering, Milk Made, and Nichole's Fine Pastry. The items and gift cards at the silent auction are donated by local artists and shops.
Dawson will bring the panties and washable pads to be donated to Uganda in January, and is planning to collect more of those supplies until then.
Monetary donations are also needed to support the ASAH students in school and for school fees, books, supplies, and uniforms, and also to cover the costs of transporting the supplies to the camps.
Please, bring new panties (refugees are generally skinny) in girls' sizes 4 – 12 and women's sizes 2 – 8. ASAH will provide patterns as well to make washable pads. For your information, there will be plenty of time after the event to get together a sewing group that could help the students avoid potential embarrassment and attend school.
Dawson commented, "African Soul, American Heart has been grateful for the many people who generously donated to our past efforts to 'get your panties in a bunch' and we hope to attract some new people to learn about our work in this fun environment."
Underwear and Underwrite Luncheon will be an opportunity to learn why teenage female refugees need the most basic of supplies -- underwear and sanitary pads -- in Uganda where those basic supplies are unavailable, to help them out in the midst of the horror of civil war.
African Soul, American Heart, website www.aficansoulamericanheart.org
IF YOU GO
Underwear & Underwrite Luncheon
Saturday, November 4, noon to 1:30pm
Zero Gravity Alternative Fitness, 3350 35th Avenue South, Fargo, ND Tickets are available at www.asahinsudan.org/tickets