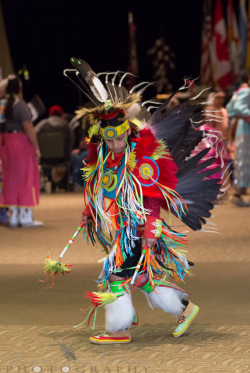 Photo by Dreamcatcher Photography by Amber Mattson
Starting a new month is exciting and we're also getting closer to spring. To make it a great start with a meaningful moment in 2017, Woodlands and High Plains Powwow (WHPP) will be held on April 1.
WHPP selected this year's theme as "Mni Wiconi (Water is Life): Standing Together." This theme, the Lakota phrase Mni Wiconi, is chosen by students to show their support and unity for the water protectors who aim to preserve and protect the waters that give life to all of us.
The WHPP is an annual event that celebrates and renews friendships. It also celebrates the educational experiences of American Indian students in higher education and the sharing of tribal cultures in the Fargo-Moorhead area.
WHPP has been around for 28 years and it has changed with new dance specials, a silent auction, and a hand-game Competition. WHPP will have a variety of styles of dance and drum songs from the area tribes. There will also be entertainment to enjoy the overall cultural experience, dance specials, hand-game competition, Fry Bread Taco Concessions, silent auction, a community meal, and vendors selling their arts and crafts.
The dance special includes a Women's 55+ Old Style Jingle Dance, a Warhoop, and the Potato Dance competition where two dancers follow commands with a potato between their foreheads.
This year, MSUM American Indian Student Association (AISA) is hosting the 3rd annual hand-games as an inter-tribal style tournament. The hand-game is a Native American guessing game and it is played by two teams with sticks and bones. The game rules are simple. Using hand signals, each team will take turns to hide the bones and the other team will guess who has them.
"The annual Woodlands and High Plains Powwow celebrates the educational experiences of American Indian students from each of the four sponsoring colleges: MSUM, NDSU, MState, and Concordia; and brings together students, staff and faculty, and the community to celebrate and share the culture," the WHPP interviewee said. "The powwow continues the rich cultural tradition and gives spectators the opportunity to learn about the Native American culture through traditional dances and drum performance." The WHPP interviewee goes on to say, "Spectators attending the powwow will be immersed in the rich Native American culture through dance and music. Everyone is considered a participant even if all you do is lend your presence."
Before you attend this meaningful and rich cultural event, there are several etiquette rules that you should know. First, everyone can take part and you do not need to be in regalia; you can dance in your own clothes.
Secondly, listen carefully to the announcer. Announcers will request silence, ask people to stand and remove hats, and to not take pictures at certain times during the event. You should also not photograph participants close up without asking permission. Introduce yourself first and get to know the person and listen to the announcer for the appropriate time to take pictures. Remember, it is impolite behavior to bother the performers while they are singing and dancing.
Thirdly, do not touch a dancer's regalia or pick up feathers that have fallen off of it. Feathers need to be returned promptly to their owner.
Finally, everyone should stand and remove caps or hats during the Grand Entry, Flag Songs and Invocations.
Admission fee is free for 5 and under, $3 for youth aged 6 to 18, and $5 for adults aged 19 to 54. If you are over 55 or a student with a valid ID from one of the three universities mentioned above, the event is free. The event starts at noon and goes to 10 pm.
IF YOU GO:
28th Annual Woodlands and High Plains Powwow
Saturday, April 1, 12pm-10pm
MSUM Alex Nemzek Hall, Moorhead