​Breast milk donations
by Katelyn Kasella | .(JavaScript must be enabled to view this email address) | News | June 14th, 2017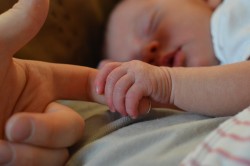 A one-day old infant lies in her mother's arms at the Neonatal Intensive Care Unit (NICU) at St. Mary's Children's hospital in Duluth, Minn. The mother, still recovering from an emergency C-section, feeds the child a bottle.
However, the infant is not drinking her mother's breast milk from the bottle. Nor is she drinking formula. The infant is drinking the breast milk of a stranger.
Jaclyn Haak, a lactation consultant at Sanford Health, said in her experience, donated breast milk is used multiple times in the NICU for multiple infants on any given day.
"If mom is working on establishing her supply but baby is in the NICU needing more food than she is able to provide, we use donor milk," Haak said. "Breast milk is much easier for infants to digest, specifically with the premature population as their intestines are incredibly fragile."
Haak explained that using breast milk instead of formula also drastically decreases the chances of an infant getting necrotizing enterocolitis, a disease that can be fatal for infants.
Milk is usually donated by women who have more milk than their baby needs, or women who lost their babies, Haak said.
For Kayla Torgerson, a mother from Beulah, N.D., it was because she was producing more than her daughter needed.
"Lots of moms for many reasons want to provide their child with breast milk, but aren't able to, so why wouldn't I want to help out?," Torgerson said.
Togerson donated with her first child, and is currently donating again.
Women who choose to donate breast milk can either donate directly to other women or go through a milk bank of her choice, Haak said.
There are currently 18 milk banks in the United State, and the closest one to Minnesotais in Iowa. However, one is in the process of being formed in Rogers, Minn.
If going through a milk bank, a woman has lab work drawn to prove she doesn't have any communicable diseases or is taking any medication that can affect the milk, Haak said.
The woman will then ship the milk to a milk bank, where it will be pooled with milk from five different donors, pasteurized, then packaged into bottles. Milk coming from mothers with premature babies is put into two-ounce bottles, while milk coming from mothers of full-term infants is placed into four-ounce bottles.
"The milk is held at the milk bank until an order is placed," Haak said. "Typically, a hospital NICU would be ordering, but individuals can order if they have a physician prescription."
The process of donating directly to another woman is done frequently through Facebook groups like "Eats on Feets" and "Human Milk 4 Human Babies." Like many women, Kayla Torgerson chose to donate directly for the convenience. However, direct donation does not come without risks.
"With informal milk sharing, there is no screening in place," Haak said.
Whichever route a woman takes, her milk is stored in sterilized plastic bags in a freezer before being distributed.
If given directly to another woman, self-distribution is the end of the milk-sharing journey. If the milk is at a milk bank, it is shipped to the individual or facility that needs it and sells for approximately $4 an ounce, Haak said. The cost of the milk does not compensate the donor, but covers shipping and lab work.
Whichever way of donating that a woman may choose to do, it is undoubtedly appreciated by mothers throughout the country.
"The need for donated breast milk is high, and it continues to rise," Haak said.