​Brooke Lynn Crews Guilty
by C.S. Hagen | .(JavaScript must be enabled to view this email address) | News | December 11th, 2017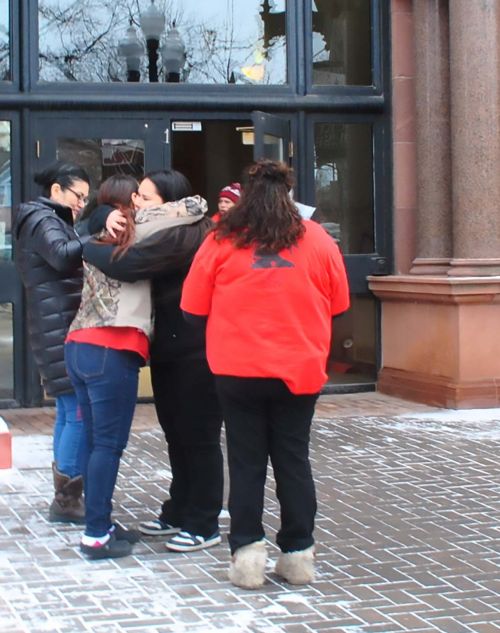 FARGO – Heavy sighs filled the courtroom Monday morning when Brooke Lynn Crews entered, shackled and dressed in prison orange. Minutes later, she pled guilty to killing Savanna Lafontaine-Greywind and kidnapping her then unborn child.
Crews, 38, pled not guilty in Cass County District Court on September 27 after she was charged with conspiracy to murder Greywind, conspiracy to kidnap her child, and lying to police. She conspired with William Henry Hoehn, her live-in boyfriend, the Cass County State's Attorney's office claims. Hoehn, 32, appeared in court last week and retained his original plea of not guilty.
Crews could be sentenced to life in prison without the possibility of parole, Cass County District Court Judge Frank L. Racek said.
"Are your pleas made voluntarily?" Racek asked Crews. Her lawyer, Steven D. Mottinger, of Johnson, Mottinger & Greenwood, PLLP, sat next to her.
"Yes, sir," Crews said.
"Do you understand that by pleading guilty that you are waiving your right to a trial?"
"Yes, sir."
Assistant State's Attorney Tanya Martinez asked for Crews' $2 million bond to be revoked, and that Crews be held without bail until sentencing, which was tentatively set for Tuesday, January 16, 2018. Racek complied.

Martinez gave a short description of Crews' crimes, which the state claims was committed with Hoehn.
"On August 19, 2017 the defendant lured Savanna Lafontaine-Greywind, who was eight months pregnant, up to her apartment as part of a conspiracy to murder Savanna and steal her unborn baby," Martinez said. "Savanna's body was found in the Red River on August 27, 2017. The baby was not with her.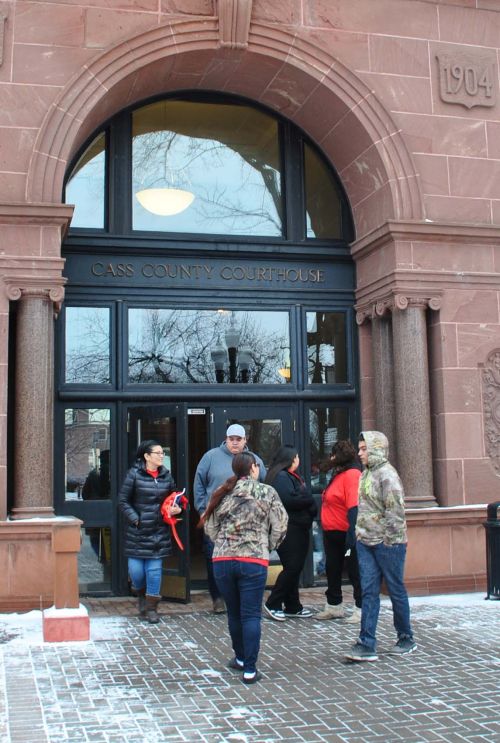 "Savanna had died as a result of homicidal violence, which had been inflicted upon her by the defendant and the co-defendant. The baby was found in the defendant's apartment on August 24, 2017, which was later determined to be the biological child of Savanna Lafontaine-Greywind and Ashton Matheny. The defendant had conspired with William Hoehn to raise to raise the child as their own biological child, and to raise the child as her own."
She also gave multiple false statements to law enforcement, which misled their investigation, Martinez said.
Crews wrote letters to the court recently, Racek said, expressing concern about not being able to go through discovery during a lengthy trial period.
Joe Greywind, Savanna Lafontaine-Greywind's father, appeared somewhat relieved after the change of plea, but declined to comment.
Both suspects appeared pale. During Hoehn's court proceedings last week, he appeared shaken, his beard was fuller, and he made eye contact with Greywind's family. On Monday morning, Crews, two thin braids tucked into a ponytail, did not look at the crowd gathered. Her voice broke slightly when she said guilty for the second time.
Questions about Crews' sanity had emerged before the change of plea, but neither the prosecution or the defense made any references to Crews' state of mind. According to Crews' journals found earlier last month she was studying for a doctorate's degree in psychology.