​Cormorant has gone to the dogs
by John Showalter | .(JavaScript must be enabled to view this email address) | News | March 8th, 2017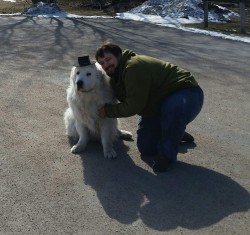 Cormorant is one of many small lakeside townships in the Land of Ten Thousand Lakes. With a population barely exceeding one thousand, the town may seem rather unremarkable if it weren't for the beautiful view of the lake. There is something else that sets Cormorant apart from other small towns in Minnesota however, its mayor.
To explain, their mayor has four legs, a wet nose, and is covered with fur. That's right, the mayor of Cormorant, Minnesota since 2014 has been Duke, a currently ten year-old Great Pyrenees dog. This otherwise small-town dog has made it big with the help of television and the internet, and this is the story of my little adventure to meet the canine mayor.
Anyone who knows me personally knows that I absolutely love man's best friend. My Facebook wall is largely dog memes at any given time. Since I currently don't live in an apartment where I can keep a pet, I get my fix of furry friends by volunteering every weekend at a local animal shelter.
Duke the mayor dog had been on my radar for a little while. However, it was only recently that I found out from a coworker that it was rather easy to meet this dog and that Cormorant is not even an hour's drive out of Fargo. With that knowledge, I knew I had to meet Duke.
Admittedly, I came to Cormorant with not much of a game plan in mind (how does one set up a meeting with a dog?), figuring I'd rely on my modest journalistic skills to figure out how to track down the mutt mayor. Arriving in the middle of the day, a stop at a steakhouse on the way into town led to me being directed to Cormorant Pub. There I came across one of the kindly owners of the establishment named Trish, who made a call to Duke's owner and invited me to sit down and eat while I waited.
This was, of course, after excitedly showing me the large photographic portrait of Duke grinning at the camera with a mayoral sash around his neck and the bulletin boards full of news clippings about the dog's adventures. When Duke's owner, a farmer named Dave Rick arrived, he was all too willing to share an excerpt from a soon-to-be-published book about extraordinary dogs that mentions Mayor Duke and tell me his story.
This pooch has gotten around, I tell you. After being elected, the sheer novelty of a canine mayor spread his story rapidly. Duke's owner Dave started getting calls for radio interviews and features with news outlets like Huffington Post, Star Tribune, Chicago Times, and New York Daily.
A local restaurant owner named Richard got a call from an Australian news outlet. Dave told me about a French tourist in a rental car who stopped by his farm, just to meet Duke. Summer is a popular season for tourists to visit Duke, I'm told.
Duke made a trip to appear on the Steve Harvey Show, but after the clip was replaced by Dr. Phil at the last minute it was still broadcast online. Not only that, but Duke also went to the World Dog Awards Show in Santa Monica, California where he had received a nomination. Unfortunately, he did not win, but Duke is an individual of simple wants and needs, who doesn't let these things go to his head.
Dave added something else he thought helped spread word of Duke. "People get so sick of seeing all the killing and stuff on the news. They want to see something happy." He had a really good point. I challenge you to feel glum when you think about a dog being mayor.
So what led to Duke rising to his auspicious position? He came from rather humble beginnings. Dave told me that ten years ago he was looking for a good dog to keep around the farm. He happened upon a breeder with Great Pyrenees puppies and bought a little male puppy who had just been returned to the breeder. That puppy, of course, was Duke. He grew up on Dave's farm, keeping him company and repelling the raccoons, deer, rabbits that besieged his gardens. When he wasn't doing that he would chum around with the townsfolk and became a furry friend of the community.
"Nobody thought about it, it just happened," said Dave, referring to Duke's election. In 2014, the Cormorant community was brainstorming ways to raise money for the annual Cormorant Crazy Days. He told me that Trish and another local lady named Tammy suggested that townsfolk pay a dollar each to write in a vote for an honorary mayor. The rest, as they say, is history, as Duke became Mayor Duke and has won the election every year since.
Being a dog, Duke is rather humble about his accomplishments. When he isn't showing up at local events and fundraisers and making the odd appearance on TV or the news, he splits his time between Dave's farm and the house of Dave's close friend, Karen Nelson.
After our interview the time I had waited for finally arrived. Dave brought the dog himself out of his truck and granted me a photo op with the political pooch. The dog was a gentle giant, covered with cloudlike white fur and about the size of a small bear. I'm sure this was the thousandth time Duke has been in front of the camera but he was polite enough to be in a photo with me and let me run my hands through his soft, pillowy fur.
So ended my little adventure, where I got to meet my first canine celebrity. Between the natural goodwill of man's best friend and the hospitality of the townsfolk who Duke continues to bring cheer and smiles to every day he's in office, it was a day to remember.