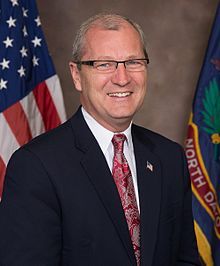 BISMARCK – Claiming the state's only congressman uses campaign funds as a personal cash cow, fueling nepotism, and now using taxpayer-funded Congressional resources to further a possible bid for the Senate, the North Dakota Democratic-NPL has requested the Office of Congressional Ethics to investigate Congressman Kevin Cramer.
"Congressman Cramer has a clear pattern of unethical behavior – ranging from paying himself to essentially running a family business through his campaign committee – but now he's taken his swampy behavior to a whole new level by using taxpayer dollars to boost his own campaign," Democratic-NPL Executive Director Scott McNeil said.
"To hold Congressman Cramer accountable for his misuse of taxpayer dollars, the non-partisan, independent Office of Congressional Ethics needs to get to the bottom of just how excessively Congressman Cramer disrespected hard-working North Dakota taxpayers by using the Congressional office they fund for his own political gain."
The allegations stem from Cramer's response to a tweet posted by Mike McFeely, a North Dakota columnist and radio host, which stated "I find this hard to believe, that @RepKevinCramer leads @SenatorHeitkamp in polling. I'd like to see Cramer's and Heitkamp's internal polling."
Cramer's reply sent from his official site: "It would break your heart to see our polling @MikeMcFeelyWDAY," Cramer wrote a minute after McFeely's first post.
"In direct violation of federal law and the Rules of the House of Representatives (the 'House Rules'), on December 30, 2017, Representative Cramer tweeted about political polling numbers, apparently to promote bid for the United States Senate, using what appears to be his official House Twitter account," a letter from McNeil to the Chief Counsel and Staff Director, Omar Ashmawy, of the Office of Congressional Ethics, stated.
The Office of Congressional Ethics was established by the House of Representatives in 2008, and is an independent, non-partisan organization charged with reviewing allegations of misconduct concerning House members, staff, and refers matters to the Committee on Ethics, according to the Office of Congressional Ethics website.
"Members of Congress are clearly prohibited from using official resources for campaign and political purposes. Federal law states that official funds are to be used only for the purposes for which appropriated, which does not include campaign purposes. The laws and rules that prohibit the use of official resources for campaign purposes reflect 'the basic principle that government funds should not be spent to help incumbents gain reelection."
A member of Congress is also not allowed to use official government websites, including Twitter accounts, or Facebook accounts, to promote a bid for office, or discuss campaign issues, according to the "House Administration's Handbook for Members of Congress." All official sites and social media accounts are restricted to "profiles, pages, channels or any similar presence on third-party sites that allow individuals or organizations to offer information about themselves to the public."
The @RepKevinCramer Twitter account is clear that the account is managed by Cramer's official office stating that Cramer is "representing the great people of North Dakota in the United States House of Representatives, and includes a link to Cramer's official website, cramer.house.gov.
Cramer was asked about his plans for running against Senator Heidi Heitkamp D-ND, but his office did not reply.
Cramer is widely known for not paying his interns, but has paid himself and his family more than $350,000 from his political campaign, according to the Democratic-NPL.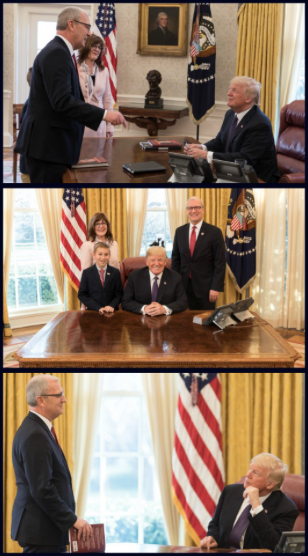 Some of the payments include $18,000 with an additional $827 in reimbursements to Cramer's wife, Kris, in 2017, according tostatisticsfiled by the Federal Election Commission of the United States of America. She received $23,000 in 2016, and was reimbursed $6,157.31 by Cramer's office. In 2014, Cramer's wife's salary was higher, with $1,500 per payment adding up to a total of $31,500, with reimbursements of $4,188.50.
Cramer reimbursed himself $16,697 in 2017, $34,439.35 in 2016, including paying himself for a fundraising breakfast costing $2,500. According to the FEC, Cramer has reimbursed his family members more than $150,000, and himself more than $200,000.
Cramer's daughter, Rachel Wegner, is listed as an administrative consultant, and received $1,100 in 2017, and $2,340 in 2016. In 2014, Wegner is listed as a salaried employee and received a total of $5,392.56. Other family members have received approximately $12,000, including $327 for babysitting to one of Cramer's daughters.
Cramer's son Isaac received $802.50 in 2016. Cramer's daughter Anne Senne, co-owner of family-owned video production company, Reel Love Videos, or Reel Love Films according to the company's Facebook page, received $2,265 in 2016 and 2017. Reel Love Videos has received $11,334.45 since 2014, according to the FEC.
According to Federal Election Commission of the United States of America statistics, Cramer spends an average of $17.50 a meal.
"Congressman Cramer, who habitually skirts the lines of ethical behavior – including not only routinely paying himself but also his family members and their businesses more than $350,000 over the years from his campaign account – last year voted behind closed doors to gut the Office of Congressional Ethics and remove Congress from any independent oversight that could hold him accountable for the behavior he's demonstrated," the North Dakota Democratic-NPL stated in a press release.
Cramer was contacted for comment, but did not reply.
Cramer's annual salary is $174,000, according to Ballotpedia. A Republican, he's in his third term as the state's only congressman. Donations for his campaigns have fattened his wallet, as he's solicited more than $4.6 million, mostly from lobbyists of large corporations, according to FollowtheMoney.org.
Cramer's largest contributor this year is Energy Transfer Partners, the oil company behind the controversial Dakota Access Pipeline, with a donation of $31,050. Cramer also received a $20,000 donation from the Freedom Project during his reelection campaign in 2016. The Freedom Project is an affiliate of the John Birch Society, and calls Common Core an "absolute appropriation of Soviet ideology and propaganda," and that it is "mainstreaming homosexuality, promiscuity, and other practices," according to The Washington Post.
The Freedom Project is also the educational arm of the American Opinion Foundation, a nonprofit created by the John Birch Society, according to the Southern Poverty Law Center. On the Freedom Project's website, it declares itself as a fully accredited online academy for churches to private schools – a Common Core free curriculum deeply rooted in Judeo-Christianity. Enrollment costs $2,000 a year for full time students.
Arms giant, Northrop Grumman, produces missile systems and military drones, and is a major sponsor of Cramer's donating a total of $20,000 in 2016. Northrop Grumman is also a sponsor of conferences intent on replacing mental health care with SWAT teams in police departments across the United States, and is intent on exacerbating Islamophobia, according to VICE News.
Cramer is also financially supported by Syngenta, a Swiss agribusiness giant, which was cited by the United Nations for influencing policy makers, obstructing reform, and in some cases "deliberately manufacturing evidence to infuse scientific uncertainty and delay restrictions." Syngenta gave Cramer $5,000 in 2016.