​'Entrapped' during Nobel panel
by C.S. Hagen | .(JavaScript must be enabled to view this email address) | News | December 24th, 2017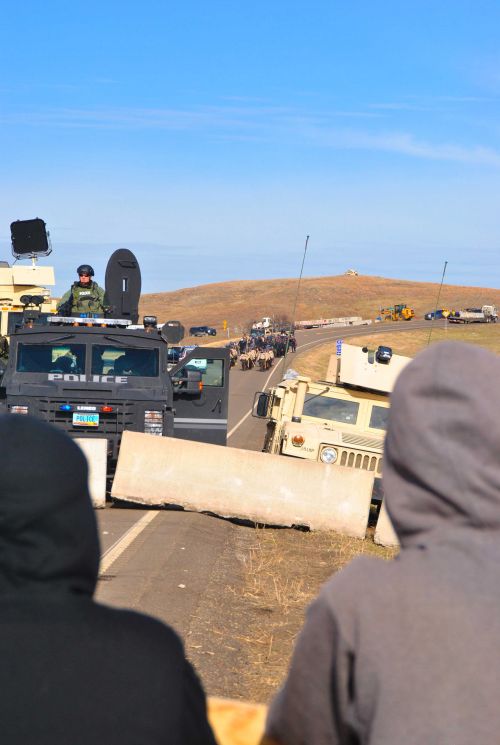 OSLO, NORWAY – American Indigenous leaders took insult this week during a Nobel Peace Prize forum, after a Morton County leader addressed issues pertaining to the Dakota Access Pipeline controversy.
Morton County Commissioner Cody Schultz, an outspoken proponent of the Dakota Access Pipeline, was one of 500 "ticketed guests," and was invited by event contractor Stephanie Hope Smith of the Nobel Institute to speak during the "Across Dividing Lines: Indigenous People's Rights Within the Context of Social Justice and Environmental Protection" forum, according to an "Oceti Sakowin Nobel Peace Prize Forum Attendees Speak Out" press release. The discussion followed this year's Nobel Peace Prize to ICAN, the International Campaign to Abolish Nuclear Weapons.
HolyElk Lafferty, MniCoujou, Oglala and Sicangu Lakota; Tim Mentz, Pa Baksa Dakota and Hunkpapa Lakota member of the Standing Rock Sioux Tribe of Makoche Wowapi, Mentz-Wilson Consultants, LLC; and Angela Bibens, Esq., Santee Dakota, of Red Owl Law participated in three days of Nobel Institute events.
"The fact that we had not been informed of Mr. Schulz' invitation prior to this event makes it apparent to me that this was an intentional attempt to entrap us in an uncomfortable space with a high-level representative from the opposing side of the fight for our sacred water in Standing Rock," Lafferty said.
"What Ms. Smith had hoped for anyone to gain from such a setup is beyond my comprehension. Had I known in advance that her intention was to force such an inappropriate dialogue, I would have declined the invitation, as it puts me in a vulnerable and potentially dangerous position legally and emotionally. I still have pending charges in Morton County after being arrested while in prayer, as well as active daily trauma that is a direct result of the inhumane actions of Morton County."
"I was led to believe that my role at the forum was to talk about the destruction of sacred sites along the Dakota Access Pipeline corridor," Mentz said. "That was why I came. I said I would refuse to participate on day two with Mr. Schulz present because I am not in a position to engage in high level dialogue with Morton County."
"The Morton County government in North Dakota is responsible for committing thousands of human rights violations through their oversight of the Morton County Sheriff's Office," a press release from Bibens, an attorney with Red Owl Law stated. With more than 300 criminal cases still pending, these violations are ongoing, Bibens said.
Schultz, who is also the disaster relief chief for the North Dakota Department of Emergency Services, attended the Nobel Peace Prize panel to offer information from the government's perspective during Norway's Copper Mine controversy, according to media reports.
Chief Arvol Looking Horse, a spiritual leader for the Sioux, also expressed his disappointment with Schultz's invitation to speak at the Nobel Peace Prize forum.
"My understanding was that there was going to be dialogue concerning sacred sites and a panel discussion on human rights," Looking Horse stated. "Upon return of the delegation it was brought to my attention that the Chair of the Morton County Commission, Cody Schultz, had been invited by Stephanie to attend this conference. I feel responsible for putting my friends and relatives in a situation where they were unaware of the commissioner's attendance because I asked them to attend on my behalf. This uncomfortable situation has jeopardized the reputation and safety of my friends and relatives that attended, as well as myself.
"The media has portrayed the situation to look as if this meeting in Oslo had been planned with all parties in agreement and with prior knowledge, when that was not the case. I have been informed by the delegates that they were taken by surprise at the announcement of his presence. I am very disappointed that the event was not what I had been informed it would be."
Schultz was present during the first day of panel participation, but was absent on the second day, the press release stated.