​Fargo Police Arrest Native American From Sweat Lodge
by C.S. Hagen | .(JavaScript must be enabled to view this email address) | News | February 24th, 2017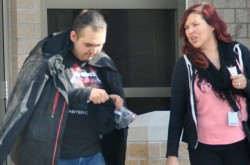 FARGO - Fargo Police pulled Native Americans out of a sweat lodge during a spiritual ceremony Thursday night, and took one to jail wearing nothing but undershorts for resisting arrest.
The resisting arrest charge was dropped for insufficient evidence by the city early Friday, but Zebediah Gartner, an Anishinaabe, pled guilty to a class B misdemeanor for theft of property, which stemmed from a January 24 incident involving a disputed two or three pieces of chicken taken from Cashwise Foods, according to court proceedings.
He pled guilty to the charge in Fargo City Municipal Court, and was fined $400.
"Four hundred dollars for a piece of chicken," Gartner's mother, Monica Gartner said.
"I did take the chicken but I didn't eat it, I threw it away because the guy told me I could only have one, so I threw it away and walked out of the store," Gartner said during televised court proceedings. "So I guess I plead guilty, your Honor."
The city recommended a deferred sentence of 11 months, which means Gartner must steer clear of the law in order for the guilty plea to be withdrawn and the file to be sealed. Gartner has no criminal record or prior convictions, according to the city prosecutor.
Monica was visibly relieved when the judge announced the charges had been dropped in court, but couldn't believe two pieces, or as the city states, three pieces of chicken could be worth $400.
For police to drag people from a Native American sweat lodge is the same as dragging people away from church, Monica said.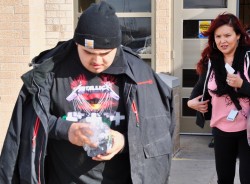 "They were in the sacred lodge, they heard yelling, and opened up the door," Monica said. "There were more than five police cars and a fire truck."
Gartner was released from Cass County Jail at 2:45 p.m. He said the incident was traumatizing.
"We were in the sweat lodge, basically a Native American church, and we were just finishing up," Gartner said. "I opened the door and a cop flashed a light on us."
The police officer asked for identification, to which Gartner replied he didn't have to comply as he had not committed any crime.
"He grabbed my arm, and kneed me," Gartner said. Then he was pushed to the ground and handcuffed.
Wet with sweat from the lodge, police led him over frozen ground and snow toward police vehicles in sub-freezing temperatures, without shoes, and nothing but trunks on, Gartner said.
"The handcuffs were so tight that my fingers were swelling up," he said. He revealed minor injuries around his wrists from where the handcuffs were clamped.
Native American Commissioner Maylynn Warne said Gartner's arrest was disrespectful of Native American traditions and unwarranted. The sweat lodge located off 38th Street in South Fargo has been used for many years.
Sweat lodges are a place where people can go to re-purify themselves and find their path back to traditional ways. Traditionally, the lodges are circular, and are formed from saplings. The sweat ceremony includes the chanunpa or the peace pipe, prayers, offerings of tobacco, sage, cedar, or sweetgrass in a sacred fire. Red hot stones are later brought into the lodge and placed into a pit. Much like saunas, water is poured over the stones to induce steam and heat.
"This is like a church, a sacred ceremony," Warne said. "If something like this happened at a church, it wouldn't be this way. This shows how they're treating American Indians here, and what's happening out in Standing Rock is playing itself out here."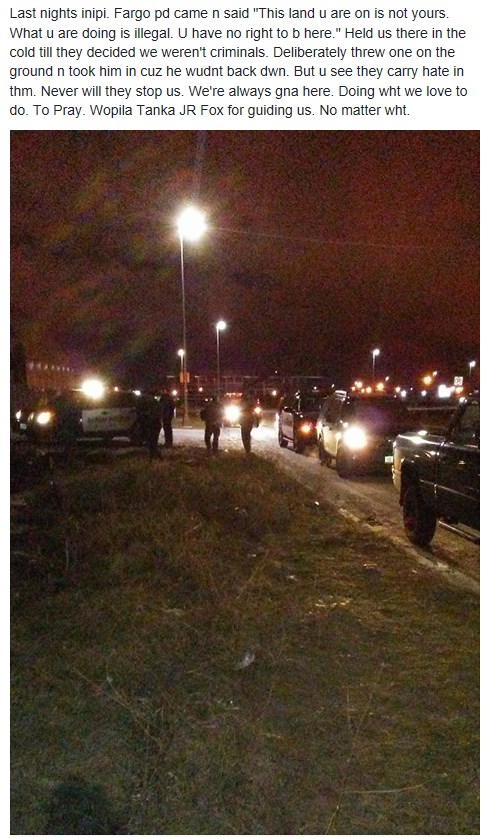 Law enforcement from across the state and Wisconsin finished evicting the main camps outside of Standing Rock Sioux Reservation on Thursday afternoon, the North Dakota Joint Information Center reported. Since August, law enforcement has spent more than $32 million and have arrested nearly 750 people during Standing Rock's fight against the Dakota Access Pipeline. Tensions were high this week at the former Oceti Sakowin camps as the U.S. Army Corps of Engineers' deadline to empty the camps was resisted by more than 100 people.
"He was dragged out in his undershorts, into the cold, and marched to waiting police cars," Monica said. "He tried to reason with them, and Zeb is really outspoken, he was standing up for our culture."
In a post on Facebook related to the incident, Ashley Maye said she was at the sweat lodge when police arrived.
"It was ridiculous," Maye wrote. "They tried saying they've been patrolling this area for a few years and they weren't aware of it. I said that's hard to believe as it's been operating and running for years. They also tried to allege that it was illegal to burn the fire. The arresting officer was being rude, sarcastic, and snide, and purposely was trying to rile Zeb up. Six squad cars showed up as backup."
"Being removed, and thrown on the ground when you are fresh out of lodge and have nothing on but trunks and its cold out, poor discretion to say the least," Lissa Yellow Bird-Chase, founder at Sahnish Scouts of ND, a missing persons advocate, said in a Facebook post. "I have been told before there has been questionable behavior on police's part, just another example of North Dakota not so nice."'
Fargo Police Officer J. Rued is listed as the arresting officer. Fargo Police Officer Cultural Liaison Vince Kempf visited Gartner while in jail, asking him if he needed a ride home, Gartner said.
Warne said the Fargo Police Department does far too little to educate its officers on Native American traditions, and Thursday night's arrest was little more than institutional racism.
"We just didn't show up here, we've been here," Warne said. "The only way to solve this is through education."
Mayor Tim Mahoney said the incident was a misunderstanding. Police officers saw an unattended fire in a field, and because of a lack of training, and because the arresting officer was new to the force, made a mistake.
The area also needs fixing up, which Mahoney said will occur during the upcoming weeks. In the meantime he said the sweat lodge will have to be closed until the repairs can be made. Additionally, cultural training courses pertaining to Native American traditions will begin soon for the Fargo Police Department and fire departments, Mahoney said.
"The police department wants to work with Native American Commission on cultural competency training for all their officers so this doesn't happen again," Willard Yellow Bird, cultural planner for Fargo, said in a Facebook post.
Gartner plans to look into filing a lawsuit against the Fargo Police Department he said, but is unsure how to begin.