F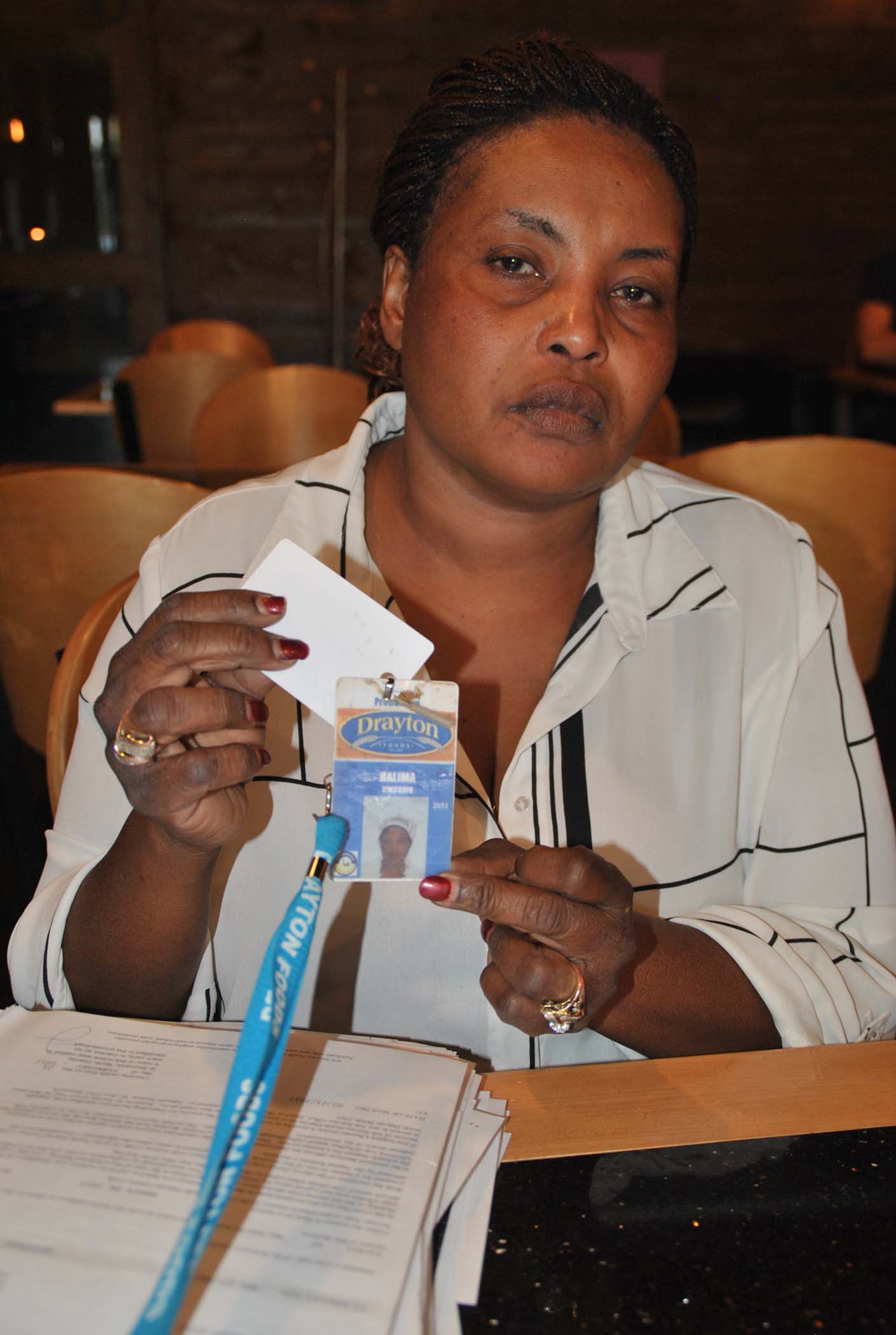 ARGO – A former Drayton Foods, LLC employee filed a complaint against the frozen pizza and bread dough company claiming she was fired unjustly and sexually harassed after repeated injuries.
Halima Kwcrwb, 49, of Fargo, who worked for Drayton Foods, LLC for five years, claimed she was hurt twice while on the job, and filed twice for workers' compensation with North Dakota Workforce Safety & Insurance, but was denied for wage loss benefits.
Similar petitions for assistance to Job Service North Dakota were also denied, because doctors said she was fit for general work, employment paperwork Kwcrwb provided stated.
Drayton Foods, LLC personnel records given by Kwcrwb indicate she quit, citing "self resignation due to job abandonment," after a Last Chance Agreement was signed, and she had two consecutive no shows on December 15 and December 16, 2016.
"She was told by the doctor she was able to work," company personnel paperwork stated. "Did not show up."
"I was fired," Kwcrwb said. Her first injury, which occurred after boxes of breadsticks fell on her left arm in August 2016, never truly healed, she said, and disagreements between company-appointed doctors and a doctor she saw on her own dime differ. She worked as a line operator and was paid $10.30 an hour.
"I loved my job, but my first injury happened in August, and I work with broken arm," Kwcrwb said. "Even doctor gave me restriction to go to work, which I did. My world turned upside down when I was injured, not once, but twice at this company."
The pain after her first injury became intolerable, but she said she continued to work as best she could with her arm in a sling. Hospital reports she provided report her arm was sprained. Some days the pain, which shot into her back and neck, was too much for her to go to work.
According to company paperwork provided by Kwcrwb, she was warned and then signed a Last Chance Agreement on October 25, 2016. Kwcrwb, who is originally from Sudan, speaks limited English, and has difficulty reading and writing. She said she did not understand what she signed, and that company personnel tricked her.
"You don't sign it we're sending you home," Kwcrwb said.
Hospital records provided by Kwcrwb from September 8, 2016 reveal she was still in pain, but could return to general work and be "active as tolerated."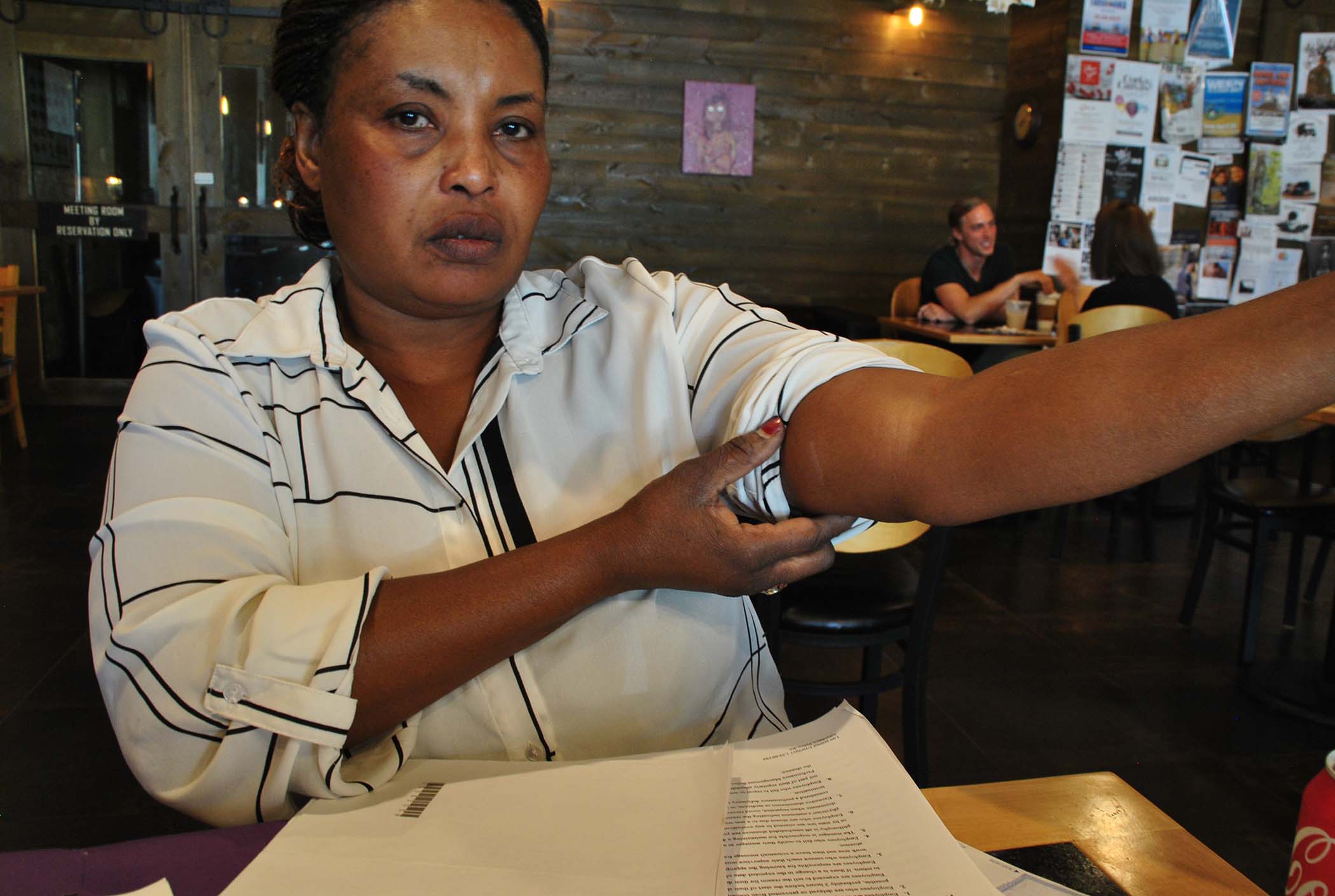 Three months later on December 13, 2016, around 9:45 p.m., Kwcrwb fell while climbing a step at work, injuring her back and pelvic region. She said she lay flat, bleeding from a cut she received on her hip on the company floor for three hours before being taken to the emergency room.
Hospital records provided by Kwcrwb show that Kwcrwb was later prescribed Hydrocodone-Acetaminophen, a highly addictive pain reliever, Ondansetron, a nausea preventative medicine, Prednisone, an anti-inflammatory drug, and Topiramate, which helps prevent seizures, among other medicines and heat wraps.
Paperwork follow up examinations on December 15 and December 20, 2016, indicate Kwcrwb was to be put on restricted duty, limiting her movement and workload to lifting 10 pounds or less, due to a contusion to her lower back and pelvis.
Kwcrwb continued therapy until just before the New Years, according to hospital records provided by Kwcrwb.
Additional mistreatment included managerial staff allegedly asking her to trade sexual favors for lighter workload while recuperating, Kwcrwb claimed. Both times she was injured managerial staff told her to come back to work, and she was fired after her second injury on January 6, which she also claimed was a direct result of the first mishap.
"The manager asked if I would have boom-boom with him, or sex, and he would give me an easy job," Kwcrwb said. "And I said, 'I will never have sex with you.'"
"This accident was a direct result of not being able to properly perform my job due to my previous injury," Kwcrwb said. "This company knows how to manipulate everything to find you at fault. When my doctor recommended further restrictions, my fear of losing my job was realized. Drayton wanted me to come back to work the day after being released from an overnight stay at the hospital following my second injury. When I refused, they told me I was fired."
"There is a claim and it is open and active," Clare Carlson, deputy director of WSI, or the North Dakota Workforce Safety & Insurance, said.
North Dakota Workforce Safety & Insurance is an employer financed insurance state fund covering workplace injuries and deaths, and is the sole provider and administrator of workers' compensation including wage loss and medical benefits for injuries in the state.
Drayton Foods, LLC is listed as a foreign limited liability company in good standing registered in Delaware in December 1995, according to the North Dakota Secretary of State. The company has approximately 220 employees, according to business directory Buzzfile.
Schwan's Co. acquired Drayton Foods, LLC in July in order to increase its US pizza market capabilities, according to media outlet Food Business News. Drayton Foods, LLC has estimated annual revenue of $ 10 million, and primarily makes pizza crusts, dough balls, breadsticks, and dinner rolls, according to media outlet The Business Journals.
K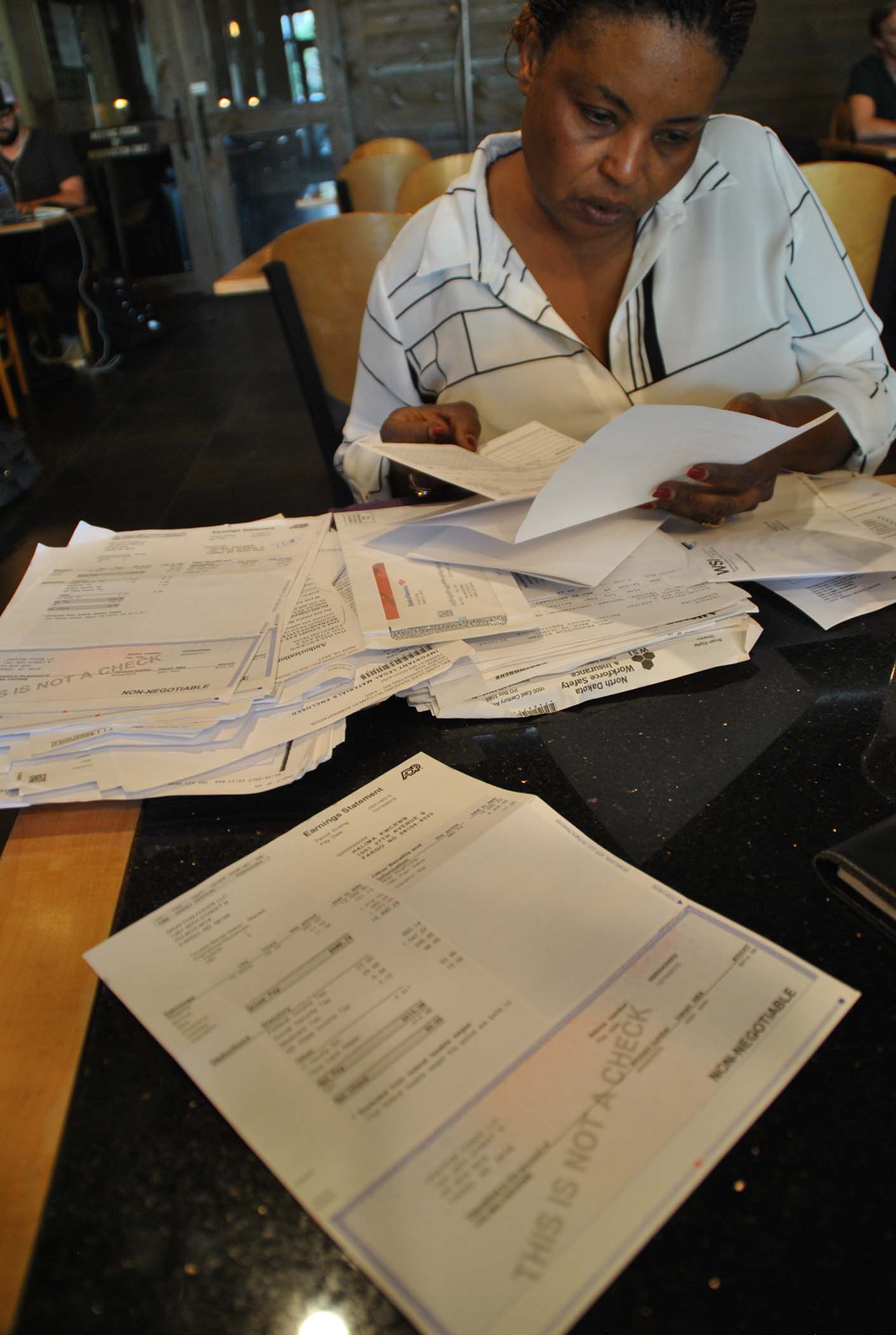 wcrwb is the mother of eight children, five of whom are either in college or have joined the Army. Today, she is a citizen of the United States – a New American – after escaping a war zone in her homeland nearly two decades ago. She said she never had issues at the company before, and rarely took a day off, working seven days a week while at Drayton Foods, LLC.
After a company manager suggested trading sex for a lighter workload, friends interceded with the manager on her behalf, and she was offered a raise, which she didn't take, Kwcrwb said. Drayton Foods, LLC hired Kwcrwb on September 26, 2011, according to employment paperwork provided by Kwcrwb.
Kwcrwb made several reports to the company's human resources department, but nothing was done, she said.
"In this company 90 percent of the employees are New Americans, most of whom cannot speak or write English well, which makes it difficult for them to understand the regulations. Drayton Foods takes advantage of this and abuses their employees."
A coworker who spoke on the condition of anonymity said he approached the manager after Kwcrwb told him what happened. "She told me that the manager came to her and say, 'Hey if you need an easy job at least you can sleep with me,'" the coworker said.
"I said 'Okay, calm down,' and I went to talk to the manager, but didn't talk to the president." The manager denied the accusation, the coworker said. "He said he never did that to her. Sometimes they joke around with women, and if you are one of the employees and you do that you can be terminated immediately."
The coworker also believes Kwcrwb was fired unfairly, adding that now she is having a difficult time paying bills.
"And that's how they've been doing, as long as you're injured they don't consider you employed to them, you are nothing to them," the coworker, who is from Moorhead, said.
In addition to her claims of being unjustly fired and sexually harassed, she said a company manager tried to intimidate her into working her normal job along as a line operator.
"He told me since I was hurt I would not last three days at the company," Kwcrwb said. "He told me that no one would do anything about it because this is North Dakota law. He told me Job Service, WSI, and North Dakota labor enforcement would never do anything about it."
Now, Kwcrwb said she is in danger of losing her home.
"I'm sharing my story now, because I know there are many others who have gone through what I've gone through," Kwcrwb said. "I know my rights have been violated. I will take this case to court for everything Drayton has put me through."
According to laws stipulated in the North Dakota Century Code, all employers, with limited exceptions, must cover workers – full-time, part-time, seasonal, or occasional – against injuries with WSI. Failure to comply could result in penalties and workers can sue an uninsured employer for damages caused. General liability, health, and accident insurance are not substitutes for workers' compensation insurance, and employers must file applications with the WSI.
When an employer hires in the Peace Garden State, however, a bargain is legally struck with the employee, stipulating that an employee cannot sue an employer for injuries incurred on the job if the company has filed with WSI, a Fargo attorney said.
If, however, an employee is fired because the employer discovered he or she was seeking workers' compensation benefits, such actions would be illegal and could be considered improper retaliation, the attorney said.
Additionally, if someone is hurt at work, an employer cannot simply fire the employee, rather the employer must interact with the employee in good faith, allowing the employee to maintain employment.
Multiple attempts to contact Drayton Foods, LLC management were made, but no one returned telephone calls for a response to the allegations.