​From the U.S. to India: emancipating women
by Dima Vitanova | .(JavaScript must be enabled to view this email address) | News | November 1st, 2017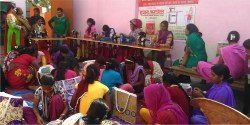 Over 7,000 miles yawn between Comstock, Minnesota, where the Begunahi Foundation is based, and Uttar Pradesh, the state in northern India, which Preeti Varma calls home. Yet, the charity has made higher education a reality for the young woman, who is now pursuing a master's degree in history in her home country. She aspires to, one day, stand on the opposite side of the classroom, teaching university students.
On the backdrop of grim statistics, Varma is an exception. At 1.3 billion people, India is the world's second most populous nation, rapidly swelling to bust ahead of China in less than a decade, according to the UN. When it comes to illiteracy, though, the subcontinent leads China – and the globe, for that matter, by an overwhelming margin. Some 265 million Indians – over half of whom are women – cannot read or write, UNESCO's Global Education Monitoring Report indicated this year.
Although a relatively tiny, grass-roots operation, the Begunahi Foundation strives to improve the figures. Varma is among the inaugural class of women it put through college with donations, mainly trickling in from the US.
"They can create the next Google, the next Facebook, the next Yahoo if they have those economic opportunities to do that," said Riaz A. Aziz, co-founder and CEO of the non-profit. "With 50 percent of the population being women, that is a huge resource that is not reaching its full potential."
Aziz, who teaches economics at North Dakota State University, and his wife DeLana started the Begunahi Foundation in 2013, after a trip to India to celebrate their 30th wedding anniversary. In New Delhi, they befriended the manager of the hotel they were staying at.
Aziz, who was born in a town on the east coast of India but left for the U.S. at the age of 11, says she "opened his eyes" to the everyday plight of poverty and injustices that smother vast swaths of the country.
Upon returning home, the urge to make a difference crystalized, but how to go about it remained a fuzzy concept until word-of-mouth prompted them to action. The foundation did not even have a name yet when Aziz heard from a friend of a friend, asking him to help take four young girls off the streets in the state of Manipur, a region plagued by human trafficking.
"You want to do something, but you do not know what to do," Aziz said. "And, then, someone makes a suggestion and you go for it. That gave us a starting point and gave us something to think about what our mission and our goals are."
Since then, Begunahi (denoting "innocence" in Hindi) has funded the studies of several dozen women in the Indian states of Uttar Pradesh, Manipur, and Orissa, who otherwise would not have had the means to attend university.
Relative to the U.S., obtaining a college degree in India, which takes only three years, is cheap. Regional disparities and dormitory fees aside, it annually costs between $1,500 (some 97,000 Indian rupees) and $1,800. This is an exorbitant expense, however, for households who cope on $1,000 a year. Those are the families, whose daughters the foundation assists in ways that transcend financial aid.
"During the time they are in our program, we take care of a 100 percent of their needs," Aziz said. "Whether these are medical, hygiene, books, school supplies – all of that. Given the condition in which they live, you cannot just say, 'Here is the scholarship, the fact that you do not have clothes or transportation to go to class, that is your problem.' If we did that, it would be useless."
It is an extensive, hands-on endeavor, supported by volunteers both in India and the U.S., that has nurtured deep bonds. The Azizes refer to each woman as "betee" or daughter. It is a customary Indian endearment that cues to caring and familial relationships, which in the framework of the foundation have a nuance of contractual formalities intended to reap success.
Marriage while in school is out of the question. In a country where tying the knot binds together two families – not only two individuals, but also the in-laws wield substantial say over a woman's fate, her education and work.
"It is one thing for us to deal with her and her parents. It is very difficult to then deal with her in-laws on these issues," Aziz said.
Begunahi hands the women affordable smartphones, which it pays for, so that Aziz and the charity's board members can chat with them weekly to check on their progress at school and needs at home. The devices also open novel possibilities.
"Most Asian girls that live on that level of poverty, basically have a triangle lifestyle," Aziz said. "They have their school, they have their home and they have the local grocery store. They do not really do anything, or go anywhere, because financially they cannot afford any of it. At least, with a smartphone, they are able to explore outside."
The phones also enable financial prudence. The women snap photos of bills and receipts to send to the foundation, and keep track of the money flows in their bank accounts. The latter is another tool of independence that is part of Begunahi's written prerequisites.
"In the Western world, it is no big deal, but in India, the idea that a woman can have her own bank account is still new," said Aziz. "It is happening, but it is still new. It empowers you. It is not your husband's, your older brother's, your father's – it is yours."
The connection between the women and the foundation gets offline at least once a year when Aziz and board members travel to India to meet with them and their families. Aziz treasures those encounters that reveal enormous hospitality, despite even larger paucity. After numerous online conversations, they are a chance to truly get to know the world of these women and to convey the commitment of the Begunahi Foundation.
Going to the home of Varma, the graduate student from Uttar Pradesh, bared the scope of her perseverance. There was no running water and electricity often failed. The roof gaped with holes, which during monsoon season let the drenching showers inside.
"But in spite of all that, she is now pursuing her master's degree," Aziz said. "Imagine her family a generation back, people living on the borderline, almost hand to mouth. With her, we can stop it."
So can the foundation for scores of others. With donations through its website and Facebook page, which amount to $30,000 – $50,000 a year, it has not only made higher education attainable. This past January, it launched a vocational embroidery center in Lucknow, the capital of Uttar Pradesh, teaching a profitable craft to women who never completed high shool.
It also dispenses sanitary pads in villages every month, dispelling the still-persistent stigma around menstruation. It offers a self-defense class – an asset in a country that often makes international headlines for gruesome rape cases.
It is a lot of work for the past four years. To celebrate as well as to grow, the Begunahi Foundation is to host its first fundraiser. Aziz, whose family fully covers the operational costs of the charity, hopes to collect enough contributions to send 10 women to college and another 90 to the vocational program in 2018.
"For every woman that is educated in India, the probability that she will educate the next generation reaches almost 90 percent," said Aziz. "Now that generation recognizes the value of education and the wheel continues to turn."
Begunahi Foundation's fundraiser is to take place on Nov. 4, from 11am to 3pm in St. John Lutheran Church in Fargo. More information is available at www.begunahi.org.
IF YOU GO:
Begunahi Foundation's fundraiser
Friday, November 4, 11am to 3pm
St. John Lutheran Church. 1710 5th St S, Fargo. www.begunahi.org