​Government shutdown ends, the blame game picks up pace
by C.S. Hagen | .(JavaScript must be enabled to view this email address) | News | January 22nd, 2018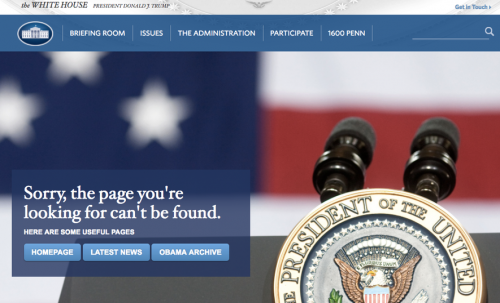 WASHINGTON D.C. – The federal government reopened Monday, but not after blame shifting and a reluctant agreement made on key issues. Republicans declared victory, and some analysts agree, adding it will be short-lived.
Short-lived because now responsibility lies with Republicans to live up to their promises.
Despite a Republican in the White House and current majorities in Congress, the federal government went into shutdown on the one-year anniversary of President Donald Trump's inauguration. Last Friday night, four Republicans voted against the bill needed to fund the government temporarily for 30 more days, and five Democrats voted against party lines to keep the government temporarily funded.
The White House indicated on Saturday it would not negotiate one of the key issues Democrats are concerned about, DACA, or the Deferred Action for Childhood Arrivals, while government was in shutdown. However, after Senate negotiations Monday morning, the Senate voted overwhelmingly to bring the government backup.
The DACA program was initiated in 2012 by President Barack Obama, to allow minors who entered or stayed in the United States illegally a renewable two-year period of deferred action from deportation, and the eligibility to obtain work permits. President Donald Trump rescinded the policy in 2017, and working with the Republican Party, has been attempting to pull the program's plug, which was considered one of the major obstacles to agreeing on a national budget.
While addressing media in Jerusalem, Vice President Mike Pence said Democrats were responsible for the shutdown.
"The American people know what happened, the minority in the United States Senate chose to shut down the government, denying our soldiers benefits and wages that they earned, jeopardizing government services just to advance an issue pertaining to illegal immigration," Pence said.
Straight from the White House's answering machine, blame was also placed solely on Democrats.
"Unfortunately, we cannot answer your call today because congressional Democrats are holding government funding, including funding for our troops, and other national security priorities, hostage to a unrelated immigration debate. Due to this obstruction, the government is shut down."
Senator John Hoeven R-ND, jumped on the blaming bandwagon as well.
"I voted for legislation to fund the government and prevent a shutdown," Hoeven said in a tweet. "The legislation would have prevented a shutdown. Unfortunately, Democrats blocked passage of the bill and forced a government shutdown because they want DACA added with no meaningful border security."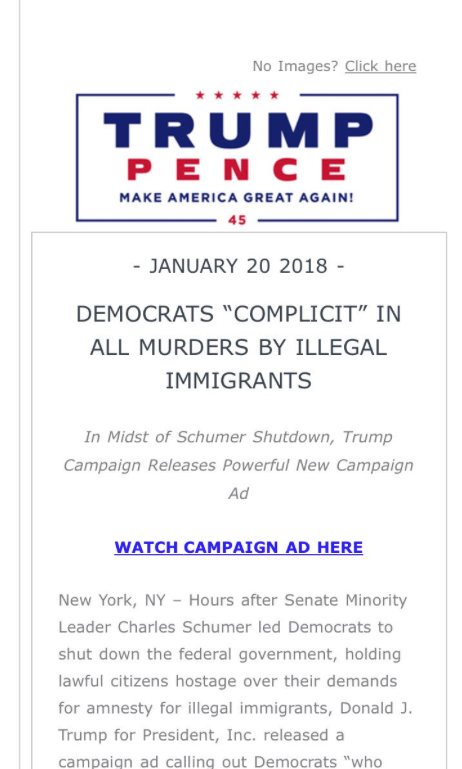 Taking a step further, an online article in Vox Magazine reported that not only are Democrats responsible for the shutdown, but they are "complicit" in all murders committed by undocumented immigrants.
The press release, entitled "Complicit," trained its sights on Senate Minority Leader Chuck Schumer D-NY.
Ironically, during a 2013 interview with "Fox & Friends," Trump said the most important person to blame during a government shutdown is the president.
"I mean, problems start from the top and they have to get solved from the top and the president's the leader," Trump said in 2013. "And he's got to get everybody in a room and he's got to lead… So I really think the pressure is on the president."
Some believe Democrats caved in to pressure too early, but the party is counting on promises made by the GOP that they will put issues such as DACA on Congress's menu with permanent solutions by February 8. Trump has promised DACA will end by March 5.
Despite the finger pointing, pre-shutdown polls from last week showed approximately half of the respondents would hold Trump and the Republican Party responsible for a shutdown, according to media outlets. Another poll managed by POLITICO/Morning Consult poll, said 41 percent of voters would blame Republicans and 36 percent blaming Democrats.
"There's reason to say that I'm pleased that the government is back up, or will be back up shortly, but we really need to negotiate and not operate under continuing resolutions," Senator Ben Cardin, D-MD, said. "I was very pleased that we have a commitment from the majority leader that by no later than February 8 that if we have not passed the bipartisan DACA dreamer protection bill, that we will have that bill on the floor of the United States Senate."
Other issues Democrats are concerned about are: opioid funding and recognition as a national crisis, Puerto Rico hurricane relief, western wildfires, children's health insurance program, which is still not permanent, community health centers, therapy cap laws, and pension issues.
Senator Heidi Heitkamp D-ND, worked with a bipartisan group of 13 senators known as the Commonsense Coalition to forge a deal to end the shutdown, she said in a press release. The group first came together in 2013 when the government was shutdown for 16 days.
"The single most important thing the Senate can do is govern, and today, we reached an agreement to help make that possible," Heitkamp said. "The Senate also voted to reauthorize the Children's Health Insurance Program for six years – an overdue long-term extension so that children and families across North Dakota can get the care they need."
During the upcoming weeks, Heitkamp plans to push issues such as pensions, funds for the opioid epidemic, and support for community health centers.
"And we must hold Leader McConnell to his word that the Senate will vote in the next few weeks to strengthen border security while enabling young immigrants who came here as children to stay in the only country they know."
For the second time, Heitkamp also introduced legislation to withhold members of Congress pay during a government shutdown last week.
The shutdown had a limited affect in North Dakota, and those effected should be back at work by Tuesday.
The North Dakota Office of the Governor reported 487 North Dakota National Guard federal employees were furloughed and about 350 National Guard members who reported for weekend training on Saturday were sent home.
North Dakota Adjutant Major General Alan S. Dohrmann reported an additional 606 federal technicians were furloughed.
"With the Senate's action today, the NDNG anticipates everyone being back to work Tuesday," Mike Nowatzki, communications director for the Office of the Governor said.
"A brief shutdown was not expected to have noticeable impact on the programs and services provided by the North Dakota Department of Human Services. In the event of a prolonged shutdown, the Department estimated there would have been enough funding to pay Children's Health Insurance Program (CHIP) premiums for eligible children through April 2018."