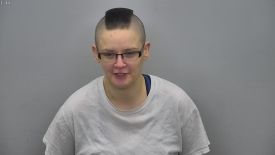 BISMARCK – A Minot woman was sentenced Monday to a total of 45 years imprisonment for the sexual exploitation of her own daughter, according to the Department of Justice.
Ashley Marie Moore, 29, was found guilty of the sexual exploitation of a child, and distributing images depicting sexual exploitation of children, according to Department of Justice United States Attorney Christopher C. Myers. Moore received 25 years imprisonment for the first charge, and 20 years for count two. Both sentences will run concurrently.
Between July and October 2015, on three separate occasions, Moore videotaped herself sexually exploiting her seven-month-old daughter while at her residence on the Minot Air Force Base. She then sold the cellphone videos for $50 each to Leo Greene, an Alabama man who recently passed away from cancer, according to the Department of Justice.
Family members found the videos on Greene's phone after his death, and the discovery was reported to Alabama law enforcement. The Alabama State Bureau of Investigation, the Air Force Office of Special Investigations in Minot, and Ward County Sheriff's Department investigated the case. Assistant United States Attorney Gary L. Delorme was the lead attorney prosecuting the case.
In addition to the two sentences, Moore was also sentenced to 10 years of supervised release.