By C.S. Hagen
DETROIT LAKES - The Detroit Lakes Shakespeare in the Park volunteer group was targeted this week with hateful criticism shortly after New York City began performing its contemporary version of "Julius Caesar."
In a week filled with partisan violence, which left five injured and the shooter killed during a Republican baseball practice at Simpson Field, Alexandria, Virginia, the online targeting left organizers of the 2017 Shakespearean comedy, "Much Ado About Nothing," at Detroit Lakes City Park, shocked.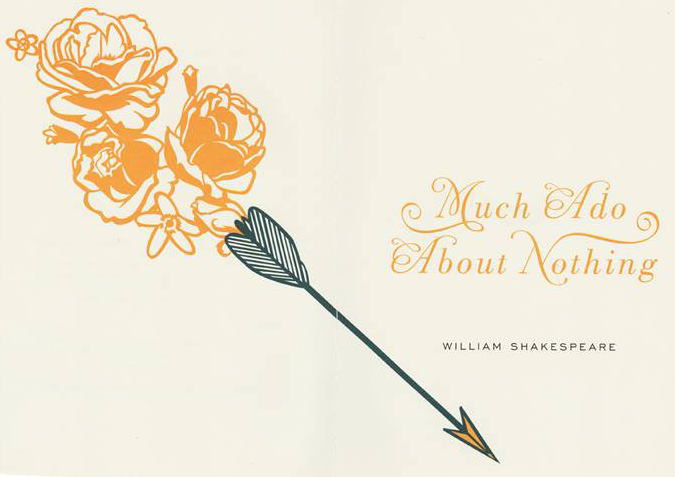 "The messages started Sunday morning," Nikki Caulfield, the director of the play said. "I woke up and thought, 'What the hell is this?' It took a little longer to figure out that it was backlash against the Central Park production."
"Just cancel this regressive leftist garbage already," one commentator wrote.
"I think you guys got your nerve to put anything out like that about our president," wrote another commentator between lines of gibberish. "You need to get your heart checked and see what's going on with your heart that's making it pump every day, it sure ain't you as our heavenly father, and I'm sure he's not happy with what you people are doing… If you can't say something positive about this man then keep your lips closed and get your heart right and Satan is really out there raging…"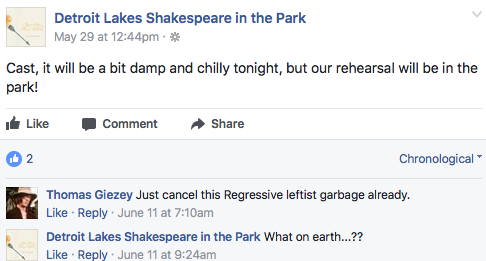 Some of the posts have since been deleted, Caulfield said.
Shakespeare in the Park Detroit Lakes has been performing for eight years in a row, making the 2017 season its ninth. The free play is set to begin June 22, and will continue until July 2.
"I've reached out to other theater groups in Minnesota and it sounds like no one else has experienced anything like this that I've heard," Caulfield said. "The thing that surprises me is that we are clearly an amateur community group, and from the photos you can tell we are not in Central Park."
The Detroit Lakes Shakespeare in the Park has never performed "Julius Caesar," which is a tragedy based on true events written by playwright William Shakespeare around 1599.
New York City's rendition of the play performed by the Public Theater depicts a blond man in a red tie being assassinated. Breitbart and Fox News were "aggrieved that the play appeared to show President Trump assassinated on stage under an American flag," the New York Times reported.
"The Public Theater in New York City's 'Julius Caesar' has garnered droves of negative attention because the contemporary rendition of William Shakespeare's classic features a Caesar — who with his blonde hair, suit and long tie — looks like Trump," the New York Times reported. "The play also has Caesar's wife, Calpurnia, speak in a Slavic accent very much like Melania Trump."
Even Trump's son, Donald Trump Jr., took to Twitter attempting to connect the shooting in Alexandria to the controversy surrounding the Public Theater's rendition.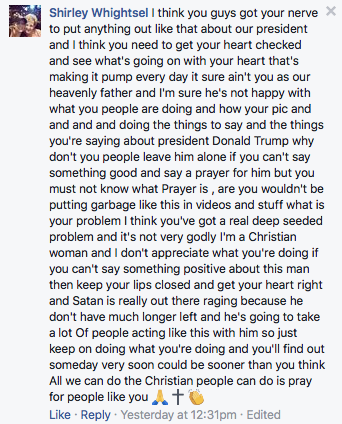 Caulfield said she doesn't understand why Detroit Lakes was targeted, other than its original name was simply Shakespeare in the Park. "I don't know if it's because I carelessly didn't put Detroit Lakes into Shakespeare in the Park, or what. We are clearly a community theater, and we're obviously not a professional group."
The group's Facebook name has been changed to Detroit Lakes Shakespeare in the Park.
The Shakespeare in the Park (New York) Facebook page is filled with hate speech, including calling Democrats communists and hypocrites.
"You have blood on your hands," one commentator wrote.
Pamphlets apparently found outside Trump Tower called for a protest at Central Park Theater in New York City today at 5 p.m.
Stephanie Murry, the artistic director of North Dakota Shakespeare in Grand Forks, has not heard of any similar incidents in North Dakota. She said she respects differing opinions, but does not want to make a strong political statement. "We want our shows to be as inclusive as possible."
Bill Lucas, a former Fargo educator, comedy company owner, and local director and actor, said directors have the right to select the shows they want to perform, but potential customers also have the right to protest.
"Julius Caesar is a political statement if you want to believe it was a political statement," Lucas said. "Just like nursery rhymes we teach children, which were directed at the kings of England."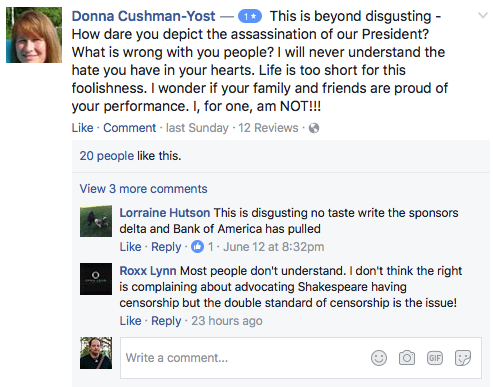 The only time plays should be stopped, he said, is if taxpayer money is involved in places such as schools: the criticism against Detroit Lakes Shakespeare in the Park is misdirected.
"It's a shame they're being threatened, and that people aren't doing more research.
"There's almost no show you can't find something controversial in, even though it's Shakespeare. If she was doing the same exact show as in New York City then they have the right to protest, but first find out what is going on before you start protesting."
Since Sunday, the group's Facebook page received a flash flood of one-star ratings and rants. Other criticisms were written into existing posts. One of the people who left a one-star rating was from Florida, another from Chicago.
"My take is that given the history of productions of this show, showing various political leaders as the Julius Caesar role, is nothing new," Caulfield said. "To treat it as something new, is a lack of understanding of how some of this stuff works."
YOU SHOULD KNOW
Much Ado About Nothing
June 22-July 2
Detroit Lakes Shakespeare in the Park
Detroit Lakes City Park, Park Blvd, Detroit Lakes, 218-844-4221
6 performances, weather permitting: June 22, 23, 24, 30, July 1, 7pm; July 2, 2pm
Tickets: Free and open to the public