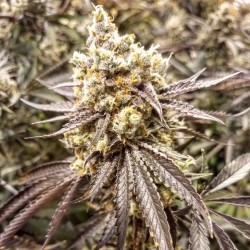 FARGO - A hesitant round of applause rippled across the Peace Garden State Tuesday when the North Dakota Compassionate Care Act became law.
Governor Doug Burgum, voted the nation's third most popular governor by the Morning Consult Governor Approval rankings, signed Senate Bill 2344 on Monday, making medical marijuana legal - to an extent - in North Dakota. The law began as an initiated measure and was passed by all state voting districts in 2016.
The road to becoming law was bumpy, as it was postponed, and then immediately drafted into self-defeating Senate Bill 2154 after the legislative body received pressure from advocates and the media saying government was dragging its feet. The new bill, SB 2344, was then proposed, passing both House and Senate, and health officials promise the state will have medical marijuana on the market within a year.
On a scale of one to 10, some proponents gave the new law 7.5 points, while others no better than a five.
"I just got a message that the governor just signed it," Representative Pamela Anderson said. "It's a good day. What the Senate sent over to the House was a bad bill, we amended it and and got it to 80 percent of the original measure."
Riley "Ray" Morgan, Measure 5's initiator, gave the law an approximate 7.5 points. "Let's not forget unless this didn't get forced down their throats by the voters of North Dakota, we have seen the Republican-led legislature turn down medical cannabis this session as well," Morgan said. Within a year, "If they don't have it ready to go by then, there is going to be hell to pay."
The fight for medical marijuana hasn't been easy, Anderson said.
"It's been two years, and the volunteers and compassionate care committee went out and obtained those signatures," Anderson said. "This is what North Dakota wanted, and they got it."
Although the law will not allow home growing, or edibles, and intoxicant THC-content will be lower than what the original measure proposed - no more than 2,000 milligrams of THC in a 30-day period - the law is "light years" ahead of the Senate's first bill, Morgan said.
Allowed: plant flower - up to 2.5 ounces per month, patches, tinctures, topicals, and capsules. Clear legal protections are now given to patients, caregivers, and medical marijuana businesses and staff. Patient identification card prices have been lowered to $50. Users will need authorization by a doctor or a nurse practitioner and be certified by the state.
Illegal: edibles, concentrates, and home growing. Seriously ill patients who live 40 or more miles away from a dispensary will have to travel. Written certifications by medical professionals still remain a problem. Minors, who are defined as anyone under the age of 19, will be limited to the use of pediatric medical marijuana oil, according to the Marijuana Policy Project.
The law resembles half of what the original Measure 5 wanted, Jason Spiess, longtime researcher and writer on cannabis issues, said.
"To me, the real story is that 65 percent of the voters can approve a measure and less than one percent of the state can literally cross it out and change it," Spiess said. "That's scary. This experience taught me that the people of North Dakota really have no power at all."
Spiess gave the new law five points - out of ten - and is concerned about the future price per ounce of medical marijuana.
"Honestly, I think the people who want the medicine will drive to Colorado to get it," Spiess said. "I have yet to see any projections from the state indicating what the price on an ounce will be under their model. I do not think anyone will pay $400 to $500 for an ounce. The poor cannot afford it and the rich will continue to use their black market sources they have had for years.
"I believe the new law will increase the black market."
As an owner of The Crude Life Media Network, and weekly energy columnist for the Bismarck Tribune, Spiess is also wondering who and how authorized growers will be selected.
"The word in North Dakota is the circle of powers at the state capital have already pre-selected the growers," Spiess said. No legislators will go on record saying as much, but "plenty of legislators are saying off the record."
The new law is not without its problems, Morgan said.
"I know the House worked extremely hard on this, and they did make more than 40 changes to what the Senate did," Morgan said. "The amount of cannabis purchased in a month by patients is troubling as is the amount of THC that is in medical cannabis," Morgan said. "The legislature and Department of Health are not the patient's doctor and shouldn't be limiting amounts and THC content."
House Minority Leader Corey Mock D-ND, a co-sponsor of SB 2344, said the law will improve as it rolls out.
"While not a perfect implementation of Measure 5, it is a good bill that makes medical marijuana, a federally illegal product, available to North Dakotans while complying with an official memo by US Department of Justice," Mock said. "It decriminalizes medical marijuana and gives flexibility to the Department of Health to make necessary changes to enact the law quickly and effectively.
"We've been assured that all rules will be in place and medical marijuana should be available by next summer, but we're well positioned to have everything in place by early 2018."
Paul Armentano, deputy director for the NORML Foundation, a nonprofit organization seeking to eliminate penalties and legalize marijuana, said North Dakota is not alone with its issues passing the Compassionate Care Act.
"We're seeing very similar efforts in other states, meaning lawmakers are significantly amending language and intent of the initiatives voters passed," Armentano said. "This is a very interesting situation, one that you tend not to see in politics, the will of the voters is sacrosanct, but in these particular instances the will of the voters is case aside.
"When it comes to marijuana legislature, they tend to over-legislate."
High dispensary fees, cracking down on home growing, and limiting the number of dispensaries will send marijuana prices skyrocketing, Armentano said.
"The state wants it both ways," Armentano said. "They want to cap the regulated market and maximize the profit, so their solution is to allow a very limited number of producers and dispensers, and then to exorbitantly charge fees to those producers and dispensaries."
Currently, law stipulates a $5,000 non-refundable application fee, a $90,000 dispensary fee and a $110,000 manufacturing fee to be paid every two years, according to Kenan Bullinger, newly appointed director of medical marijuana division for the North Dakota Department of Health.
"The price of cannabis is going to be a reflection of the level of regulation that is imposed," Armentano said. "If those individuals are forced to pay exorbitant application fees, then those prices are going to be passed on to the consumer."
Bullinger works out of a department of one, with no budget yet, he said. "And right now I'm getting tired of myself," Bullinger joked.
Some Department of Health employees thought the measure would not pass, but they prepared for it, Bullinger said. "There were a lot of commercials out there that tugged at the heartstrings of North Dakotans, and there is some benefit in this to people with these conditions. Why not give the people who have suffered a little bit of hope and relief? We thought it might not pass, but the people have spoken and we are going to listen."
Now that medical marijuana is the state law, he's preparing to hire staff, which will oversee application processes for the two companies that will be authorized to grow marijuana. Some of the stipulation and mandates will include: plans for growing without using chemicals, indoor growing, alarm systems, background checks for employees, and financial stability.
"We want these places to survive," Bullinger said. "And we really don't know how many qualified patients we will have in North Dakota. It's a crapshoot." The Department of Health could have thousands of patients at the get-go, or only a handful, he said.
"I know a lot of people have said we're dragging our feet, but we're not dragging our feet," Bullinger said. "Medical marijuana has to be produced and sold in the state here. We will get it done as quickly and efficiently as possible and make sure the product that gets on the market is safe. We got a lot of work to do."
Global move toward decriminalization
Every 37 seconds someone is arrested on marijuana charges, the American Civil Liberties Union reported. From 2001 until 2010, more than eight million people have found themselves on the wrong side of the law, costing law enforcers approximately $3.6 billion per year. Black people are also 3.73 times more likely to get arrested on possession charges than white people, the ACLU reported.
Political hysteria about drugs led to draconian penalties, which have filled prisons across the nation.
Since President Reagan's crackdown on drugs, incarceration of users has skyrocketed, according to the Drug Policy Institute. In 1980, nonviolent drug offenders numbered 50,000 nationwide, and jumped to 400,000 in 1997. As the drug war began running out of steam, George W. Bush threw more money into the programs, which ended in more than 40,000 paramilitary-style SWAT raids on Americans every year, according to the Drug Policy Institute.
Today, the pendulum has begun swinging the opposite direction, with Canada's Prime Minister Justin Trudeau promising to legalize marijuana, and with Uruguay becoming the first country in the world to legally regulate marijuana in 2013.
Countries including Portugal, Mexico, and Colombia, have decriminalized all types of drugs including weed, cocaine, even heroine, which are technically illegal, but those who are caught receive no jail time.
"Portugal decided to treat possession and use of small quantities of these drugs as a public health issue, not a criminal one," media outlet Independent reported in 2015.
Since Portugal's decriminalization, drug use and new HIV cases have fallen, according to the Transform Drug Policy Foundation. Today, Portugal has one of the lowest overdose percentages in Europe, with three drug overdose deaths for every one million adult citizens, compared to 126.8 deaths per million in Estonia, or 44.6 per million in the UK, according to The Washington Post.
In 2015 alone, the United States had more than 52,404 drug overdose deaths, according to the American Society of Addiction Medicine. Opioids claimed 13 lives in Fargo in 2016, according to the Fargo Police Department.
Although lower death rates cannot be attributed solely to drug decriminalization, at the very least the country has not seen the "severe consequences" opponents, such as the U.S. Food and Drug Administration, predicted. To this day, the US FDA has not approved marijuana as a "safe and effective drug," and proposes using synthetic versions instead.
In the USA, as of March 2017, 28 states and the District of Columbia have passed laws legalizing marijuana, according to nonprofit debate organization ProCon. Eight states, including Washington DC, have adopted recreational use, according to media outlet the Cannabist. Some states, including California, allow adults 21 and older to possess up to one ounce of marijuana and grow six plants in their homes.
California was the first state to legalize marijuana in 1996, with Alaska, Oregon, Washington, and Maine following soon after. North Dakota is the latest of three states to join more than half the nation in decriminalizing or legalizing cannabis.
Politicians including President Clinton, who said he "didn't inhale" in 1992, President Obama, who said he inhaled and enjoyed it in 2001, and Burgum, who recently stated he smoked marijuana while on a hitchhiking trip to Alaska, believe marijuana should be at the very least, decriminalized.
While more than half of the 50 states have decriminalized or legalized marijuana, the federal government is reluctant to take a stance despite presidential announcements of support. Federal monies have not been shifted into funding health-based approaches, and the war on drugs continues, although to a lesser degree. Each year, more than 700,000 people are arrested for marijuana offenses, according to the Drug Policy Institute.
"Progress is inevitably slow, but there is unprecedented momentum behind drug reform right now," the Drug Policy Institute announced. "We look forward to a future where drug policies are shaped by science and compassion rather than political hysteria."