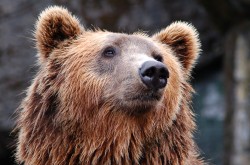 Despite wide opposition from the general public including many subsistence hunters, 52 members of the US Senate caved to special interest groups such as Safari Club International and the NRA and voted in favor of House Joint Resolution 69. If signed by the president, it will become legal for trophy hunters to kill Alaskan wildlife using cruel killing methods including the use of airplanes to spot bears, bear baiting, steel-jawed leghold traps, wire snares, and killing animals who are hibernating and at their dens.
These barbaric methods, which are not allowed almost anywhere else in the U.S., will be allowed on federal wildlife refuge land. Refuges should be places where wildlife can be left alone. In the whole United States, there is only about 5% of wilderness left. Over half of that 5% of wilderness is in Alaska. Because of ever-expanding human encroachment, wildlife has been forced from the vast areas they once inhabited and their numbers have reduced dramatically due to hunting and habitat loss. And now they'll be brutally hunted on lands Congress set aside for their safety.
Apex predators have a distinctly positive impact on the ecosystem. Even modern farmers who once shot coyotes and wolves on sight are now using alternative non-lethal methods due to the valuable contribution these animals make to ecosystem health.
The unique hunting style of a natural predator makes it possible for other life to thrive. Natural predators help regenerate forests which in turn creates optimal setting for rivers and life to truly flourish.
This observation was made after the reintroduction of wolves to Yellowstone National Park in 1995.
After years of killing the wolves of the park, there was a noticeable deterioration of the land as the unmanaged deer population over-grazed the plant life. For a look into this rather intriguing example of this trophic cascade, watch the short YouTube video titled, "How Wolves Change Rivers".
It has become apparent that wolves and other apex predators have the innate ability to hunt in such a way that is beneficial for the overall health of the planet in ways that humans cannot.
These animals deserve to be protected, not to be terrorized by selfish trophy hunters who care nothing about ecosystems or the animals who depend on them.
I thank the Minnesota Senators Amy Klobuchar and Al Franken for voting to protect Alaskan Wildlife as well as North Dakota's Heidi Heitkamp.
Senator John Hoeven, along with 51 other Republican senators voted in favor of the corrupt bill moving it forward and President Donald Trump has marked the bill with his approval.
The dishonorable hunting practices such as those named in HJR69 have no place in our modern society. Education, awareness, and action are needed to end these wasteful and destructive practices.