Of Pets And Politics
by C.S. Hagen | .(JavaScript must be enabled to view this email address) | News | February 22nd, 2017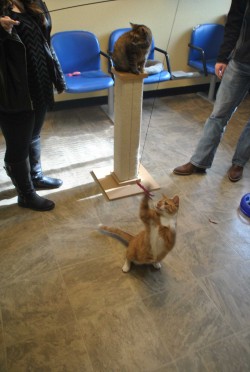 FARGO - Choose to be oblivious. Choose to learn. Choose a story. Learn a cause. Choose to read. Choose anger. Choose to reject glacier calving. Choose to believe in women's rights. Choose free speech. Choose big oil, big pharmaceuticals, America First, TV, alcohol, marijuana, fast cars, family, gay rights, indigenous rights, white power, terrorism…
Choose a pet.
From melting storied glaciers to I.C.E. deportations, fake news to alternative facts further polarizing political and social debates across the nation, many are turning to pets for comfort.
"We try to keep politics out of the shelter," Cats Cradle Shelter Founder and Executive Director Gail Ventzke said. "It's not something that people talk about, but many people have come in and said they need to reduce stress."
Shelter personnel don't ask about the issues behind client stress levels. They provide a natural antidote, Ventzke said.
"I think the numbers say something," she told me. "The numbers show an increase in adoptions over the past five years. You would think that with the economy and things hurting people would not take on a pet, but they keep doing it. It always amazes me, seems we just keep finding homes."
The Cats Cradle Shelter is a rescue and adoption center, primarily rescuing cats from local pounds. The shelter's adoption numbers are increasing every year, and they have not euthanized one cat since its first day. In 2016, the Cats Cradle Shelter rescued 673 kittens and cats, and 624 were adopted, the highest number the shelter has had in its near-five year history.
"We beat last year by about 100 cats," Ventzke said of 2016. "It's never climbed by this amount, this is the largest increment increase that we've seen. Normally we increase by 15 or 20, or maybe 50 if we're lucky. This was definitely the biggest increase that we've seen, both in intake and in adoption."
The shelter's records were broken despite closing its doors for five weeks because of a quarantine issue, and in early January, 17 kittens and cats were adopted in one day.
Michelle Smith, owner of the Natural Pet Center, did cat adoptions for them in January "and it was really busy. It was a busy adoption month for them last month.
"Typically during election years, the norm is that sales drop, because there is a lot of negativity," Smith said. In her experience, however, the pet industry is more immune to the negativity than other industries. "In a way it's almost catchy too, you get a new pet and you post on your social media, and then people say they want a new dog or a new cat too."
Mason Berg and Jordan Hanson traveled from Barnesville and Glendon to visit the Cats Cradle Shelter. They wanted a kitten, and found one named Abner. The couple is dating, live in different cities, but Berg brought Hanson into the shelter on Valentine's Day to decide if a kitten was what they wanted. Although they both have pets at home, another kitten is a comfort to them when stressed.
Beth Burdokki and Tyler Hill traveled from Bismarck to visit friends in Fargo and to decide if they wanted to adopt a cat. When asked if adding a feline to their lives was due to stressful politics, they said it was, at least on a subconscious level.
"I hadn't thought about it, but it makes sense," Burdokki said. They both find reading and listening to the news stressful, and pets help ease the tension.
"You gotta be careful what you say anymore," Hill said. "But it's always fun to play with cats."
"Cats are known to lower blood pressure," Ventzke said. "I do have clients that come in and say they need a stress reducer. I had one recently that said she needed a stress reducer, and another who said she had anxiety, and their doctors recommended them getting a cat."
"The fact of just having a cat there and having that companionship, and someone there to just take your mind off of things," is also more than a stress reliever, it's saving animal lives.
The Cats Cradle Shelter does not euthanize, there's no need to put animals down any longer, Ventzke said, not unless nothing can be done to save the cat's life.
So far for February 2017, adoption numbers have lowered, but only because there are not as many animals to rescue from local pounds, Ventzke said.
Jared Tandberg of Fargo said adopting a cat had nothing to do with politics. He chose a black cat named Foxtrot to adopt, but as he cradled it in his arms he admitted that pets were at the very least, a stress reliever.
"I felt like I just wanted one for company," Tandberg said. "I came in on Tuesday and met her, warmed right up to me. Then I went home, cat-proofed my apartment, and came here to pick it up today." The process was quick, the benefits countless, Tandberg said.
When Heather Clyde, a manager at the Homeward Animal Shelter, began working with animals in 2007, more than 780 cats alone were being euthanized in the Fargo/Moorhead area every year.
Since July 2012, however, no adoptable animals have been euthanized by the Fargo/Moorhead area pounds, Clyde said. Those that were put down were too far gone, either too aggressive to be adopted, terminally ill, or because they bit someone.
"It is so much better than when I first started, a huge difference from now compared to then," Clyde said. Although her shelter's adoption statistics have not jumped drastically, February so far, is above average.
"Now, there are more rescues in town, and the rate claim is really good in this area, well above the national average. Rate claim for dogs is 76 percent and cats is 22 percent. More people are adopting and we've really created a city where our animals are safer, and losing a pet is no longer a death sentence."
Area pound rules dictate that a stray animal has three to five days for an owner to pick it up, or it will be euthanized, Clyde said.
"Pets are always a great source of companionship. They're non judgemental. You don't have to worry how you feel around them, they're always going to love you. I think it's great that people are looking for that companionship."
Pets and the I.R.S.
Every year Americans spend more than $60 billion on pets, according to estimates from the American Pet Products Association. And when tax time arrives, pets can also help with a tax break.
Pets cannot be included as a dependent when filing taxes, but if they're needed as a guide animal for personal health, they can be listed as eligible medical expenses, according to the Internal Revenue Service. Guard dogs, if the proper breed, can also be used to deduct expenses for protecting business property. Pets included during a move to a new location can be declared, if the move is at least 50 miles away and can be considered a move for work purposes. Racing animals, showing animals, and breeding animals, also may be included as expenses if they're used professionally.
Adopting a pet from animal shelters, which are nonprofit organizations, can also be written off as a charitable donation, according to the Internal Revenue Service. In addition to pet food, veterinary bills, and supplies, a modest write-off can be included for vehicle mileage as well.