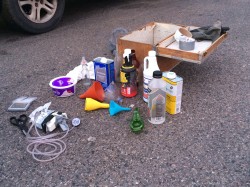 Hawley man arrested in mobile meth lab in Fargo
FARGO - Fargo Police "broke bad" early Monday morning after discovering a mobile meth lab along the 1800 block of South University.
The Fargo Police Department and the Cass County Drug Task Force found a man passed out behind the wheel of a Chrysler van, which was being used for manufacturing methamphetamine, police reports stated.
Paul Robertson, of Hawley, Minnesota, was awakened by police and agreed to field sobriety tests. A Police K9 sniffed out drugs inside the vehicle, and officers found methamphetamine, drug paraphernalia, as well as chemicals and equipment used in the drug's manufacturing, according to Fargo Police Sgt. Matt Christensen.
"The chemical combination and process utilized to manufacture meth create a very dangerous situation," Christensen said. "The chemical reactions can be highly explosive and flammable and the vapors given off during the process can be deadly."
Since the 1990s and 2000s, just before AMC's television series "Breaking Bad" was aired, meth use and laboratories were more common than today, Christensen said.
"This lab was not active when it was discovered, but the combination of the chemicals being stored together in an unstable environment in improper containers is still extremely dangerous."
Robertson, 51, was charged with methamphetamine manufacturing and possession, and with possession of drug paraphernalia, according to the Fargo Police Department.