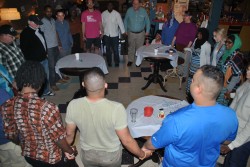 FARGO - Despite an announcement by the Fargo/Moorhead Refugee Advisory Council, the recall petition of City Commissioner Dave Piepkorn will go on.
"Everyone on the recall committee agreed to continue," Erin Buzick, an organizer for the recall committee, said. "After discussing the release from FMRAC with dozens of refugee and immigrant leaders we heard only one message. The press release was not agreed upon or discussed as a group. There were maybe a handful of FMRAC officers told about the letter and it was agreed upon last week that it would not go out."
On Thursday, FMRAC issued a press release advocating the immediate end to Piepkorn's recall.
"In light of the potential recall election of City Commissioner Dave Piepkorn, FM Refugee Advisory Council (FMRAC) recommends the recall committee end its recall efforts effective immediately. The decision to reach this conclusion has been made after meeting with ethnic leaders and other ethnic community members affiliated with FMRAC."
FMRAC has remained neutral on Piepkorn's recall issue, but stepped up last week reporting that volunteers involved with the recall have recently been threatened.
"Some of the volunteer ethnic members who have gone door-to-door collecting signatures, have been threatened and treated with profanity," FMRAC's press release stated. "This has resulted in the council to take a stand against this recall effort, solely, to protect individuals, and due to violence it may incite which might result in creating unsafe communities for refugees and their families."
The FMRAC announcement spurred former member Fauzia Haider to resign.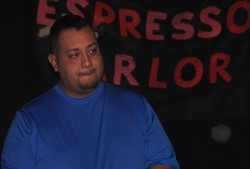 "Just wanted to let everyone know that that I am no longer associated with FMRAC," Haider said in a statement. "I have my own reasons, lack of communication and lack of trust is one of the major ones. People make decisions behind the scenes and I have no way of knowing who is doing what. Decisions are made on ad hoc basis on the spur of the moment, and I can't work in that environment."
Issues pertaining to violence and the potential for violence were discussed Saturday at the Red Raven Espresso Bar when the North Dakota Human Rights Commission and the Moorhead Human Rights Commission organized a meeting attracting more than 30 concerned citizens, professors, and community leaders. The meeting was organized shortly after hate posters targeting the "parasite class" appeared on telephone poles throughout the downtown area.
The fliers prompted Mayor Tim Mahoney to condemn the person or persons responsible.
"North Dakota has the highest per capita hate crime rate in the nation, second only to Massachusetts," Barry Nelson, of the North Dakota Human Rights Commission, said. Minnesota has hate crime laws; North Dakota does not, he said.
"Hate crime is a very difficult thing because you have to get inside the mind of the person who committed the act," Fargo Police Cultural Liaison Officer Vince Kempf said. He searched through the websites allegedly involved behind the fliers and found nothing that raised criminal red flags, he said.
"Where does the hate come from?" Paul Jensen, a commissioner for the Human Relations Commission, said. "How can we understand each other better? Both cultures must try to find middle ground." He asked about host families attached with Lutheran Social Services, organization contracted by the state to manage the arrival of refugees and immigrants to North Dakota.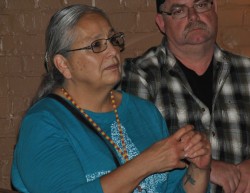 The recall began after Piepkorn's aimed speculations at Lutheran Social Services during City Commissioner meetings. His job, Piepkorn said, is to determine how much money LSS is spending on resettlement programs, how much immigrants are costing the city, and if New Americans are related to increased crime rates. Last October, reporters from Breitbart News, the "alt-right" online news forum formerly led by Steve Bannon, showed up at the meeting, a coincidence Piepkorn denied he had anything to do with.
After a six-month study, the Fargo Human Relations Commission released a report earlier in March declaring that although financial statistics focused on a particular class or race of people were at best difficult to obtain, refugees and immigrants were good for Fargo.
Tax records show that LSS received more than $11 million in federal grants in 2015, of which $3.9 million was allocated to refugee resettlement. Additionally, LSS received $500 from the City of Fargo to support an annual conference.
Foreign-born residents contributed $542.8 million to the city's GDP in 2014, and have a spending power of $149.4 million, the Refugee Resettlement in Fargo report announced. Police stated that although crime reports do not include immigration statuses, crime rates are not directly affected by immigrants and refugees.
North Dakota's resettlement program began in 1946 when the Lutheran Welfare Society, now known as Lutheran Social Services, began admitting Protestants fleeing Nazi Germany.
"Quite frankly, people are scared," Zeinab Egueh, from Djibouti, said. Recent hate speech included in the fliers has refugees worried not only for their own safety, but that the issue may be swept under the rug and forgotten.
"We're here to create jobs, we are trying to make the country great," Egueh said. "We came from far worse and we can do better."
"I want to mix cultures, I want to diversify myself," Samuel Frazer, from West Africa, said. "Yes, I am an African, yes, I have an accent, but I can read and write."
"In Minnesota, immigrants are an asset; in North Dakota immigrants are a burden," Hukun Abdullahi, of the non-profit Afro-American Development Association, said.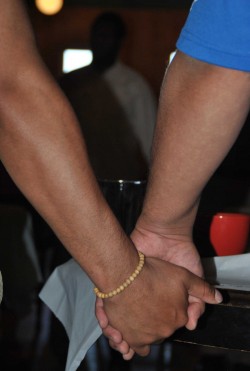 Denise Lajimodiere, an assistant professor at North Dakota State University who plans to retire soon said that prejudice against Native Americans in Fargo is one of the reasons she is leaving.
"It's killing my spirit to work here," she said. "It has not been a good experience for my family here and I don't know what the solution is. It's been pretty distressing."
A friend once took her to railroad tracks in Moorhead, informing her that the city had at one time been a Sundown Town, a city where all non-whites had to leave at the sound of a bell at sundown. Her parents went through "absolute hell" through boarding schools, and she testified to as much before the United Nations.
"There is still settler colonization here in North Dakota. We need to decolonize ourselves."
Zac Echola, a volunteer for the recall petition, said he became involved to give voice to those who are constantly marginalized. Volunteers go out seeking signatures in pairs, and he knows of no cases where threats have been involved.
"Direct action is a hard and necessary approach," Echola said. "The sort of things FMRAC brought up in their letter would sadly continue regardless of any recall. A recall is a direct action that acts as a check against all of that nonsense. It forcefully says 'we will not allow you to control this issue.' Of course that causes tension even among friends. It's unfortunate that opposition to the recall action have chosen to stoke that fear instead of standing in solidarity."
Buzick said volunteers of the recall petition have experienced intimidation tactics by those they consider allies, adding that on one occasion a Fargo resident told a volunteer that they didn't like foreigners. The petition is struggling toward filling half of the required signatures needed, Buzick said.
"Every time we gain momentum, there has been another white guy that writes about how we are hurting refugees and immigrants," Buzick said. "However, they all seem to have forgotten to ask people that worship at the masjid, that wear a hijab, or that were not born here what they think."
The only time Buzick has felt threatened was when a former city official yelled at her, she said. Buzick was cut off while questioning a former city commissioner, who stated he was against the recall effort.
"He pushed very, very hard for us to drop the effort," Buzick said. "I was not able to get to the end of my inquiry before he cut me off and started screaming. His tirade was so intense, that one member left the room to compose themselves. He then basically wrapped it up telling us we were naive idiots."
Attempts to contact the former city official were unsuccessful.
Despite the controversy the recall has created, the petition is necessary, Buzick said.
"It is important because of the very real and very enormous effort being led to stop us. This recall effort has revealed the cowardice of the 'white moderate' Martin Luther King wrote about decades ago. If we stop now, then we allow intimidation and underhanded tactics to win.
"This is a long game and we are not about to blink."
The North Dakota Human Rights Commission and the Moorhead Human Rights Commission plan to hold more meetings in the future to discuss methods for better community integration. In the meantime, Nelson said, smile and welcome New Americans. Knowledgable white people also need to step up and begin educating fellow white people not on "white guilt" but on mutual understanding.