​Rep. Cramer not running for Senate
by C.S. Hagen | .(JavaScript must be enabled to view this email address) | News | January 11th, 2018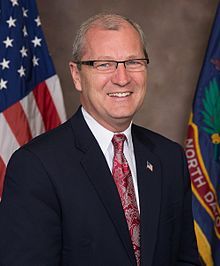 FARGO – Days after Congressman Kevin Cramer came under attack for nepotism and using taxpayer-funded Congressional resources to further a possible bid for a Senate seat, the state's only Congressman announced he will not be running for higher office.
Instead, Cramer, a Republican, will try to keep his seat in the House of Representatives, and will run against 'hard-charging Democrat opponent," Ben Hanson.
"He [Cramer] is seeking re-election to the U.S. House," Jason Stverak, Cramer's deputy chief of staff said. Stverak also confirmed Cramer will not be running against current Senator Heidi Heitkamp, D-ND.
Hanson, 31, is a real estate agent in Fargo, and is running a grassroots campaign with more than 500 unique individual donors, 75 percent of whom are from North Dakota, and believes he has a fighting chance.
"I've been talking about the issues that impact our state, and political process stories like this don't have any affect on that," Hanson said.
Conservative farmer Tom Campbell will run against Heitkamp, saying Cramer is a "committed conservative who plays an outsized role in representing North Dakota in the House.
"No one has been more instrumental in pushing President Trump's agenda through Congress than Kevin," Campbell said in a press release. "With today's announcement, now is the time for North Dakota conservatives to focus squarely on defeating Senator Heitkamp this November, and I am committed to doing exactly that."
Cramer, in his third term, is heavily sponsored by big oil lobbyists, with his largest donation of $31,050 from Energy Transfer Partners, the oil company behind the controversial Dakota Access Pipeline. Cramer also received a $20,000 donation from the Freedom Project during his reelection campaign in 2016. The Freedom Project is an affiliate of the John Birch Society, and calls Common Core an "absolute appropriation of Soviet ideology and propaganda," and that it is "mainstreaming homosexuality, promiscuity, and other practices," according to The Washington Post.
Other out-of-state companies supporting Cramer include arms giant Northrop Grumman and Syngenta, an agribusiness company cited by the United Nations for influencing policy makers.
On Monday, the Democratic-NPL announced it filed a complaint against Cramer with the Office of Congressional Ethics for a "clear pattern of unethical behavior," including using taxpayer dollars to promote a possible bid for the Senate after responding to a tweet posted by Mike McFeely, a North Dakota columnist and radio host.
Additionally, the Democratic-NPL says Cramer has a history of using campaign monies to fund himself and his family, with a total of more than $350,000.
"Congressman Cramer chose to forego a tough U.S. Senate race against a popular incumbent with a strong record of reaching across the aisle, building consensus, putting North Dakota first, and getting results," Democratic-NPL Executive Director Scott McNeil said.
"Congressman Cramer might think that running for re-election in the House gives him the best opportunity to continue running his campaigns like a family business and using political donations to line his wallet," McNeil said. "But given his disastrous record – voting to rip health care away from tens of thousands of North Dakotans, supporting the intentional sabotage of health insurance marketplace, and blowing up the deficit to give tax break to corporation and the rich – Representative Cramer won't be able to avoid being held accountable by countless North Dakotans who are sick and tired of the swamp and the politicians who sustain it."