​Senatorial eyes on missing person case
by C.S. Hagen | .(JavaScript must be enabled to view this email address) | News | November 8th, 2017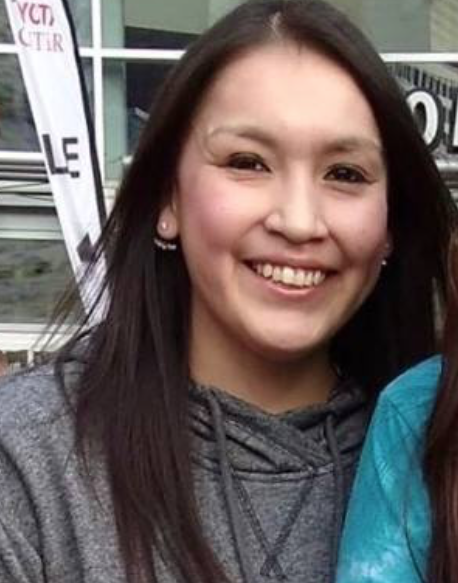 FORT BERTHOLD – Olivia Keri Lone Bear disappeared approximately 15 days ago, leaving friends, family, and scouts puzzled. Why was no statewide alert issued? Why are the relationships between tribal and state police so strained? Why are police saying they have "other things to do besides look" for a missing Indigenous woman, according to an investigator?
Why would one of Lone Bear's trusted friends speak only on the condition of anonymity, fearing retribution?
What is known is that Lone Bear borrowed a teal blue 2011 Chevy Silverado with a silver toolbox in the bed, on Tuesday, October 24. When she borrowed the truck, the owner, who works in New Town and asked that his name not be printed, didn't notice anything unusual about Lone Bear. She frequently used his truck.
"She's a great gal, she worked at the Legion, that's how I met her six years ago, and she's borrowed my truck for years," the truck's owner said. "We were just really good friends."
He discovered soon after her disappearance that she left a cell phone and a note behind, but assumed it was a simple letter to her children, whom he said she loved.
"The note is horrifying," he said. "The note is a goodbye note, it's not an 'I love you kids and see you in a little bit note.' It's in her words too."
She used words like 'maize balls,' a term of endearment she said to her children, and that she hoped her children would continue to be able to see each other, he said.
"The note says she's leaving forever," he said. "'I love you kids,' and that's it."
Because Lone Bear's disappearance is an ongoing investigation, police could not confirm the note's message. The vehicle Lone Bear borrowed is still missing.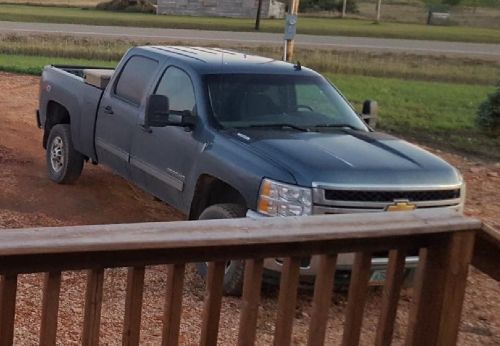 The truck owner received two alerts about Lone Bear's disappearance on Friday, November 3, which did not include her name, he said. "Why didn't they [alert messages] go out at least Friday, or Saturday, October 26 or 27?"
Lone Bear loved her children, and never spoke to him of anyone stalking her.
"If someone was giving her troubles she would have told me," he said. "It sounds like she's not coming home."
Olivia Keri Lone Bear, 32, is five feet six inches tall and weighs about 130 pounds, was last seen leaving Sportsman Bar on October 24, driving a teal blue 2011 Chevy Silverado with a silver toolbox in the bed and North Dakota license plate number 839BRC, according to investigators and the Dickinson Police Department. She was later spotted at the drive-through of a liquor store, an investigator said.
Lone Bear's brother, Matthew, said she was wearing a white and camel-colored jacket and blue jeans on the day she went missing. He's been searching for his sister every day since she disappeared. At first, volunteer helpers were in the 50s, then their numbers dropped to the 30s. On Wednesday, only 12 people were searching for Lone Bear.
The snows came to the Fort Berthold area the same day, increasing difficulties. Both Matthew and his sister are registered members of the Three Affiliated Tribes Mandan, Hidatsa, and Arikara Nation. "We're trying to put a call out to come help," Matthew said. "Our numbers have been so small lately we can't go door to door."
Although state and federal agencies, sheriff's departments, tribal police, the Belcourt Fire and Rescue, and the New Town Fire Department have been assisting in the search, Matthew said that initial police response could have been better, quicker.
"The core people who have been searching every day have been family," Matthew said. "Look at how much time has gone by until law enforcement got involved. We want to make the system better. This is right in the middle of the Bakken. We know the stories."
Stories of dozens, if not hundreds of missing Indigenous men and women have never returned home from North Dakota's Bakken oil patches.
Lone Bear isn't married, Lissa Yellow Bird-Chase, of the Sahnish Scouts of North Dakota, said. From her investigation she discovered Lone Bear – like most people – drinks on occasion, and sometimes had employment issues.
"It was common for her to stay out a day or two, but she always checked in," Yellow Bird-Chase said. "For her to be gone this long without contacting somebody is out of character."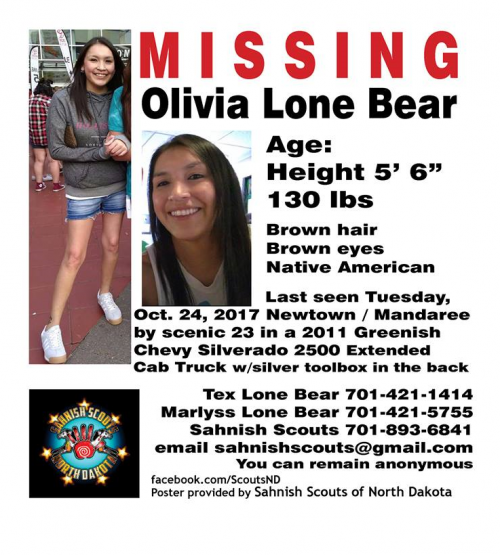 Yellow Bird-Chase traveled from Fargo to the Fort Berthold area to search for Lone Bear. She's a body hunter, who spent nearly six days in the rugged terrain. Being involved in dozens of missing persons cases across the state, she has been featured in articles from the High Plains Reader to the New York Times.
Frequently, she butts heads with law enforcement during her searches, because she puts her missing persons first, she said. Police, however, frequently have "better things to do," she said.
"The New Town Police Department – the tribal police – is not playing very nice. They feel threatened by me," Yellow Bird-Chase said. "They really have a terrible bedside manner."
She posted about Lone Bear reported missing and what she sees as police reluctance on Facebook, which attracted the attention of police detectives, who told her to take the post down. She refused.
"When the local PD tells a distraught family that they have 'other things to do besides look' for their missing loved one... Please call us directly or Sahnish Scouts number with any info/tips," Yellow Bird-Chase said on her Facebook page.
"That was an exact quote the very first day we started searching," Matthew Lone Bear said about the police response.
Emergency alerts from the North Dakota Department of Emergency Services were issued, but erratically, Yellow Bird-Chase said.
"An alert came out in that area, and I think it was geared toward Fort Berthold only, but I think it should have been statewide," Yellow Bird-Chase said. "To put a boundary between the tribe and the state is lame, I think. They limited the area. I was there, and some of the Sahnish Scouts people, and none of us got the alert.
"There's a broken system there. If we were in the area we should have got an alert and we did not. That causes some confusion for me, because a lot of oil field workers keep their phones attached to where they are from. If they use an out-of-state area code, does that mean they don't get an alert? There are a lot of foreign phone numbers in that area that could have been touched."
Tribal police have a difficult working relationship with state police and federal agents, Yellow Bird-Chase said.
"That is crystal clear to me. Some of these close-knit relationships we have as a culture have a negative effect when it comes to some of these processes, like the legal process. People are trying to protect their own. Some things get brushed under the rug. We need to call out nepotism professionally. If there is a direct family relationship here, you need to remove yourself from the process, and that's not happening."
Yellow Bird-Chase hopes clarification can be made with regard to emergency alerts.
Senator Heidi Heitkamp is watching Lone Bear's case. Heitkamp is the introducer of "Savanna's Act – 1940," a bill aimed to enhance all levels of law enforcement on Indian reservations by coordinating law enforcement agencies to better protect women and girls from violence, abduction, and human trafficking.
Heitkamp stated that incidents involving Native American women have reached a crisis, and named the bill after Savanna Greywind, an eight-month pregnant 22-year-old Spirit Lake Tribe member, who was abducted and murdered last August in Fargo. The bill has been heard by the Senate Indian Affairs Committee and is moving through the legislative process, Abigail McDonough, Senator Heidi Heitkamp's communications director, said.
"On some reservations, Native women are murdered at ten times the national average, and 84 percent of Native women have experienced violence in their lifetime," Heitkamp said on her website. "In 2016, North Dakota had 125 reported cases of missing Native women according to the National Crime Information Center, but numbers are likely higher as cases are often under-reported and data isn't officially collected."
Heitkamp posted Lone Bear's missing persons poster and updates on her official Facebook page.
"She's very concerned about Olivia, especially after everything that happened with Savanna Greywind," McDonough said. Heitkamp is receiving daily updates and watching the relationships between agencies in charge of the investigation, including the Federal Bureau of Investigation, BIA, and state and local police.
A separate bill, introduced in June by Heitkamp with Senator John McCain, aims at creating an Amber Alert system in Indian Country to help stop abductions, McDonough said.
"Currently, such alerts in many parts of Indian Country are limited to tribal lands – if they exist at all," McDonough said.
The North Dakota Department of Emergency Services Public Information Officer Cecily Fong said protocols for sending out alerts are included in the North Dakota State Alert and Warning Plans. Alerts can be sent throughout the entire state, if local and tribal public safety officials request activations of an alert in their jurisdictions.
"All smart phones capable of receiving a text message that are in or entering the alert targeted area will receive the alert message regardless of state prefix," Fong said.
If an alert is centralized, and a cellular phone enters the alert area late, but before cancellation, the cell phone will receive the alert one time.
"Cell phone users have the option to deactivate the capability of their individual cell phones to receive all alerts, except for Presidential Alerts," Fong said.
Matthew Lone Bear and family put out another call for help Wednesday, saying that all volunteers searching for his sister will receive a place to stay and food will be provided.
Those who can't travel to help can make donations to help with boats, hotels, and food, which can be made to a Paypal account listed on the Searching for Olivia Lone Bear Facebook page.