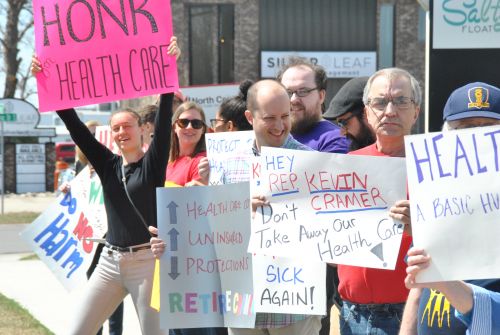 FARGO – One year after the state's only Congressman voted to repeal and replace the Affordable Care Act, concerned citizens protested his vote outside both his Fargo and Bismarck offices.
In Fargo on Friday, nearly a dozen people took a half hour from their lunch breaks to wave signs and attempt to bring attention that ACA, or Obamacare, has helped North Dakotans. They protested to remind current Congressman Kevin Cramer that the American Health Care Act, or AHCA, would have hurt North Dakotans.
"We're sending a reminder that we will remember what Cramer did when we go to the polls in November," Fargo resident Hallie Skripak Gordon said.
The cost of Epinephrine Auto-Injectors, or EpiPens, is what brought Matt Smit to the current Cramer's office on Fiechtner Drive.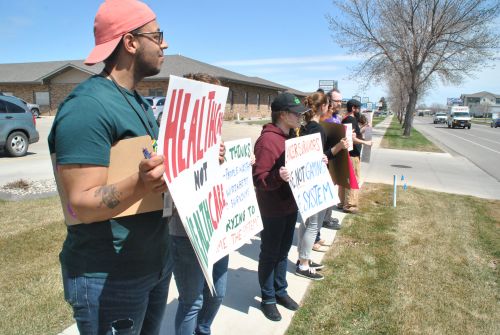 "In 2016, the cost of EpiPens that my sisters needs quintupled in just a couple of weeks, and she needs that to not die," Smit said. "Whenever Cramer or someone like him tries to get rid of the ACA, I will be there to protest them."
Amy Jacobson represented Planned Parenthood at the protest. She held up a sign that said "Do No Harm."
"People are more aware of the importance of ACA now," Jacobson said. "Stop playing politics with people's health."
Health care is a human right, Naquela Pack's sign read, meaning not an entitlement.
"I'm here to support the Affordable Care Act and it moving forward," Pack said.
In March 2017 after the Republicans lost their repeal and replace chance, Cramer called the Republican defeat a "missed opportunity."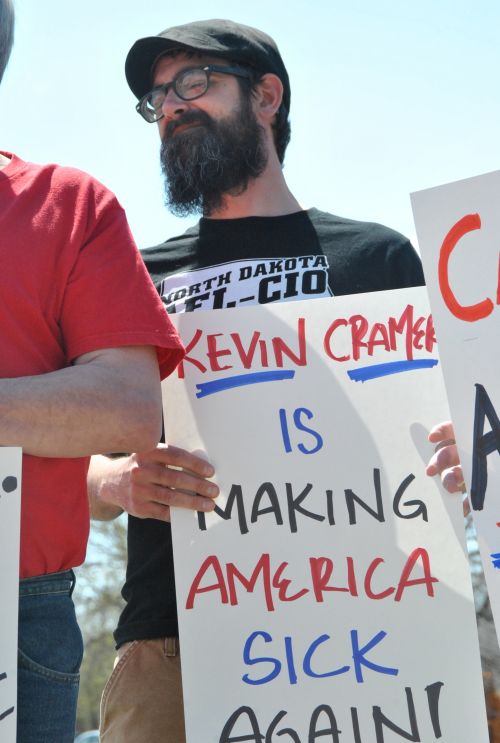 "It is a missed opportunity to save the American people from the death spiral of this very flawed law," Cramer said.
"One year after Cramer voted for a health care prescription for disaster, his policies are just as extreme, self-serving, and bereft of real solutions as ever," Executive Director of the North Dakota Democratic-NPL, Scott McNeil, said in a press release. "We can always count on Cramer to turn his back on North Dakotans when we need him most."
If the Republican-led repeal and replace Obamacare had passed, the North Dakota Democratic-NPL reported that health care coverage would have been stripped from 30,000 North Dakotans. Nationally, more than 23 million people would have lost health care by 2026, according to Congressional Budget Office estimates.
The AHCA could have kicked more than 300,000 North Dakotans off their health insurance policies, it could have placed an "age tax" on seniors, and raised premiums by nearly $1,000 for those who obtained insurance through the ACA, or Obamacare.
Last winter, protesters also showed up at Cramer's office to raise awareness on health care issues. Cramer offered a defense on his stance early Friday evening, but did not directly address protesters' and critic's concerns.
"My goal is to ensure that we have a better health care future for everyone in this country," Cramer said through his Communications Director Tim Rasmussen.
"Obamacare has been a failure. It fails because premiums have gone up – not down. It fails because instead of lower costs, health care prices went up. It fails because people have few choices instead of more. We are seeing that healthcare providers are pulling out of the exchange due to unsustainable costs coming from Obamacare. I have supported replacing Obamacare with a healthcare plan known as the American Health Care Act (AHCA) that would have replaced Obamacare with a patient-centered, affordable and flexible system. Provisions in this bill would have guaranteed coverage to Americans with preexisting conditions and banned health insurers from charging a patient with preexisting conditions higher premiums as long as they maintain continuous coverage or sign up for new coverage within 63 days of exiting a previous insurance plan. AHCA would have also given North Dakota more flexibility and more money for healthcare. Unfortunately, AHCA passed the House but failed in the Senate by a single vote. I am committed to passing common-sense healthcare legislature that is affordable, flexible and provides insurance coverage to all including those with preexisting conditions. To say otherwise is simply not true."
[Additions have been made to this story since it was first published.]