F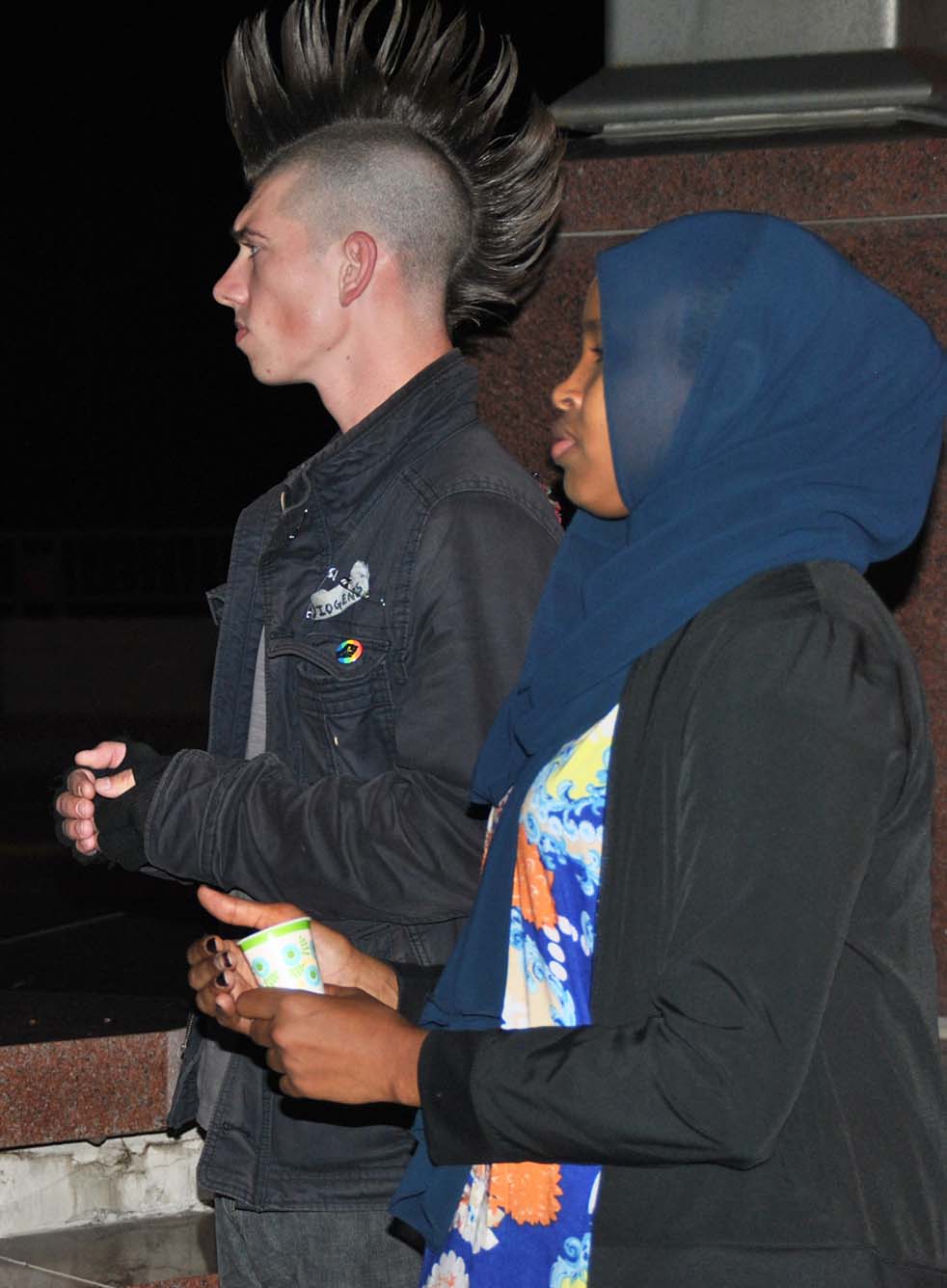 ARGO – Pete Tefft woke up Saturday morning in Charlottesville, Virginia, eager to march for what he believed in: white rights. The racist hors d'oeuvres from the night before – a torch lit march to the Confederacy's top general Robert E Lee's statue – was too small a sampling, and he wanted more.
Sure, fights had broken out Friday night. One of the fights occurred while being filmed by a Unicorn Riot crew. He was challenged, and a like-minded person nearby clobbered the journalist.
"Cite a source for what you're saying about white people being murdered in South Africa," the journalist said.
"Cite a source?" Tefft said. "On the Internet."
"That's a f*cking rabbit hole," a bystander yelled, and then punched the journalist.
"Hard to get excited about walking into a war zone," Tefft said after his return to Fargo. "Everyone needs to do their duty though. I'm still in shock from seeing our guys beaten, maced, and pelted with projectiles while the police stood by and did nothing."
Saturday night at 8:29, live updates published by the Daily Stormer, a white nationalist platform featuring the "Summer of Hate Edition," included congratulatory messages.
"To those of you in Charlottesville, go out and enjoy yourselves," the update stated. "If you're at a bar in a group, random girls will want to have sex with you. Because you're the bad boys. The ultimate enemy of the state. Every girl on the planet wants your d*ck now.
"And to everyone, know this: we are now at war."
The altercation Friday night didn't leave Tefft fazed, nor did the violence the following day alter his conviction about white rights.
"The AltRight went to an assembly that was peaceful and legal," Tefft wrote early Monday morning on his Facebook page. "The AltRight went to assemble in order to advocate for the rights of white people to exist and protest the erasure of American culture, history, and to uphold the First Amendment. We followed every legal measure and were cooperative with authorities…"
"The state violated our Constitutional rights and let Antifa and BLM do the knife work for them. Any blood is on the hands of the police, the city of Charlottesville, and the state of Virginia."
Tefft continued by saying the rally was not a Ku Klux Klan or neo Nazi rally, but an AltRight rally.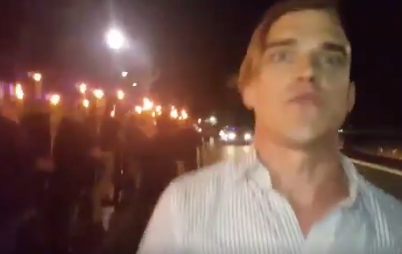 "This was a rally by people advocating for white identity. And it was brutally shut down. The media sees the deaths as a godsend so that the tyranny of the government can be forgotten and retroactively justified," Tefft said.
"It was a trap, plain and simple. But let us be clear. Ultimately, this was a victory for us. Our movement will be emboldened by Charlottesville. The 'Unite the Right' rally legitimized our struggle.
"The is the beginning of the white civil rights movement."
Since Tefft's turn to white supremacist ideals, friends and family have denounced him, yet he still remains loyal to his cause. His father, Pearce, recently published a letter condemning his son's beliefs.
"I, along with all of his siblings and his entire family, wish to loudly repudiate my son's vile, hateful, and racist rhetoric and actions," Pearce Tefft wrote. "We do not know specifically where he learned these beliefs. He did not learn them at home."
The Tefft family has remained mostly quiet since Fargoan Luke Safely identified Tefft as a Nazi last February.
"Peter Tefft, my son, is not welcome at our family gatherings any longer. I pray my prodigal son will renounce his hateful beliefs and return home. He once joked, 'The thing about us fascists is, it's not that we don't believe in freedom of speech. You can say whatever you want. We'll just throw you in an oven.'
"Peter, you will have to shovel our bodies into that oven, too. Please son, renounce the hate, accept and love all."So far, the Charlottesville tragic events have spurred little response from the state's Republican leadership. Senator Heidi Heitkamp D-ND, tweeted Sunday evening. "Yesterday was a terrible and tragic day. The KKK and neo Nazis have no place in our country."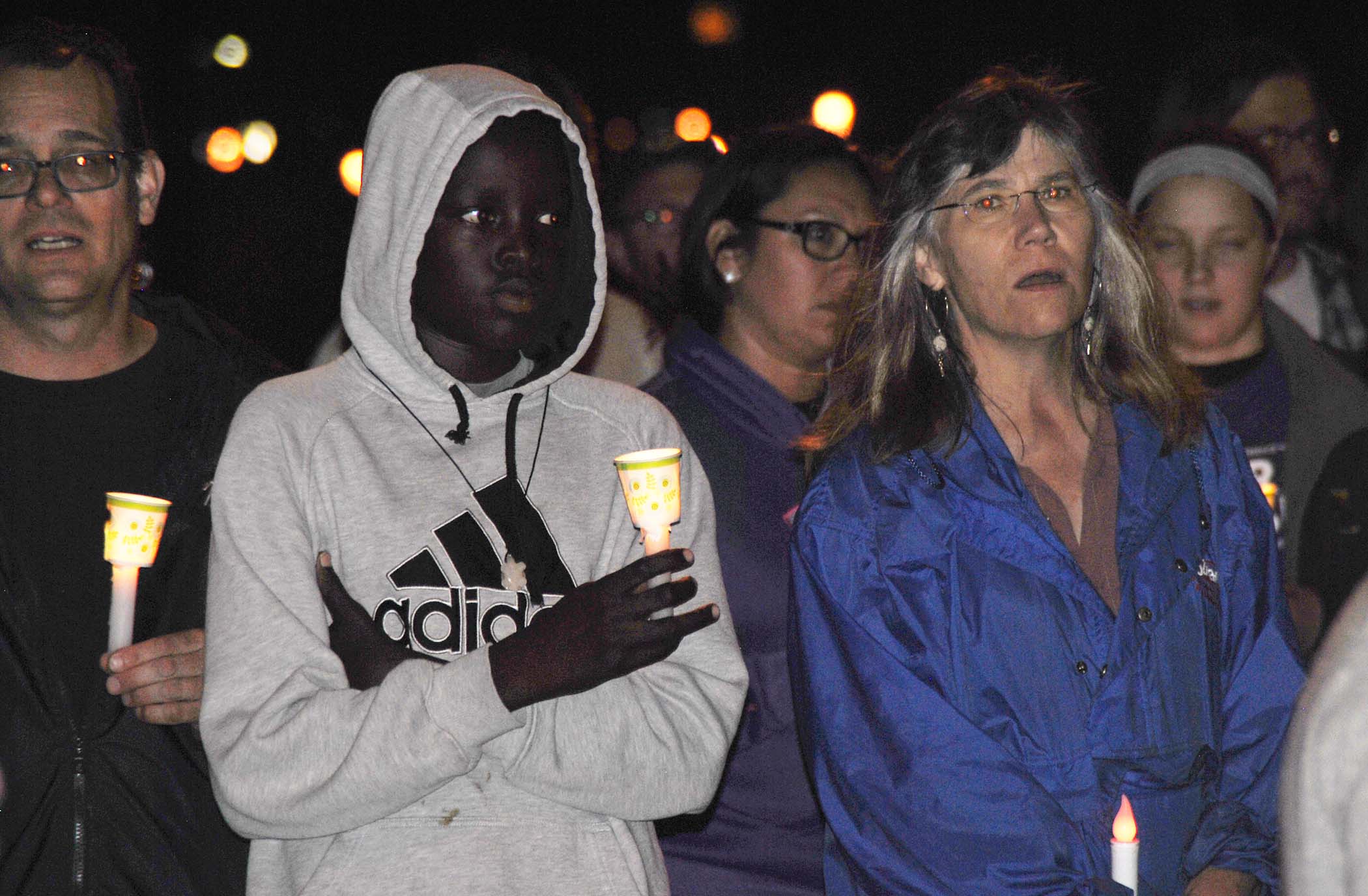 On Sunday, Congressman Kevin Cramer R-ND, re-tweeted a post by Paul Ryan, speaker of the House of Representative, saying, "The views fueling the spectacle in Charlottesville are repugnant. Let it only serve to unite Americans against this kind of vile bigotry."
Former Ku Klux Klan leader David Duke pointed to President Donald Trump as the bedrock for the "Unite the Right" Charlottesville rally.
"Today will be a historic day, remembered as the moment everything changed," Duke tweeted.
"This represents a turning point for the people of this country," Duke said in a video uploaded to Twitter. "We are determined to take our country back. We are going to fulfill the promises of Donald Trump. That's what we believed in, that's why we voted for Donald Trump. Because he said he's going to take our country back. That's what we gotta do."
Later, Duke reminded President Trump on Twitter on exactly who his greatest constituency was. "I would recommend you take a good look in the mirror and remember it was white Americans who put you in the presidency, not radical leftists."
Shortly after one woman, Charlottesville resident Heather Heyer, 32, was killed when a car allegedly driven by James Alex Fields Jr., 20, of Ohio, plowed into a crowd, and two police officer were killed when their helicopter crashed, Trump gave a press conference weakly condemning the violence.
"We condemn in the strongest possible terms this egregious display of hatred, bigotry, and violence, on many sides," Trump said. "On many sides. It's been going on for a long time in our country."
At least 19 others were also injured during the rally.
Tru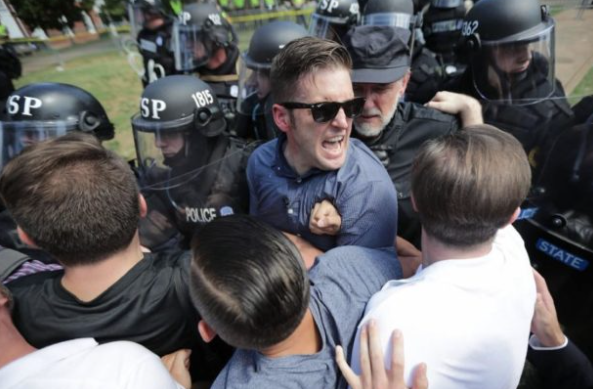 mp's vague statement spurred Merck CEO Ken Crazier to quit the president's manufacturing business council, according to the USA Today. His casual remarks also inspired a question from Richard Spencer, a white supremacist and president of the National Policy Institute, a white nationalist think tank.
"Did Trump just denounce Antifa?" Spencer tweeted.
Heyer's death prompted a Fargo/Moorhead response late Sunday night, when nearly 100 people gathered for a candlelight vigil on Veterans Memorial Bridge. With only a few hours of preparation time, Fargoan James Bergman wrote the song "We'll Still Stand," which he performed for the first time Sunday night.
"If I stand up against hate (in spite of all my fear), and someone strikes me down, the ground might be bloody but my conscience will be clear," some of the song lyrics stated.
"The idea that people who marched in Charlottesville believe they are Christian, that is disgusting to me," Bergman later said before the crowd. "We can't afford to be silent right now. We need to show up, we need to stand up, and we need to speak up against hate."
Moorhead Mayor Del Ray Williams spoke at the event.
"I don't know if racism or hatred has necessarily increased in our community," Williams said. "It is a hard thing to measure. What seems to have changed is the nationalists seem to feel emboldened to speak o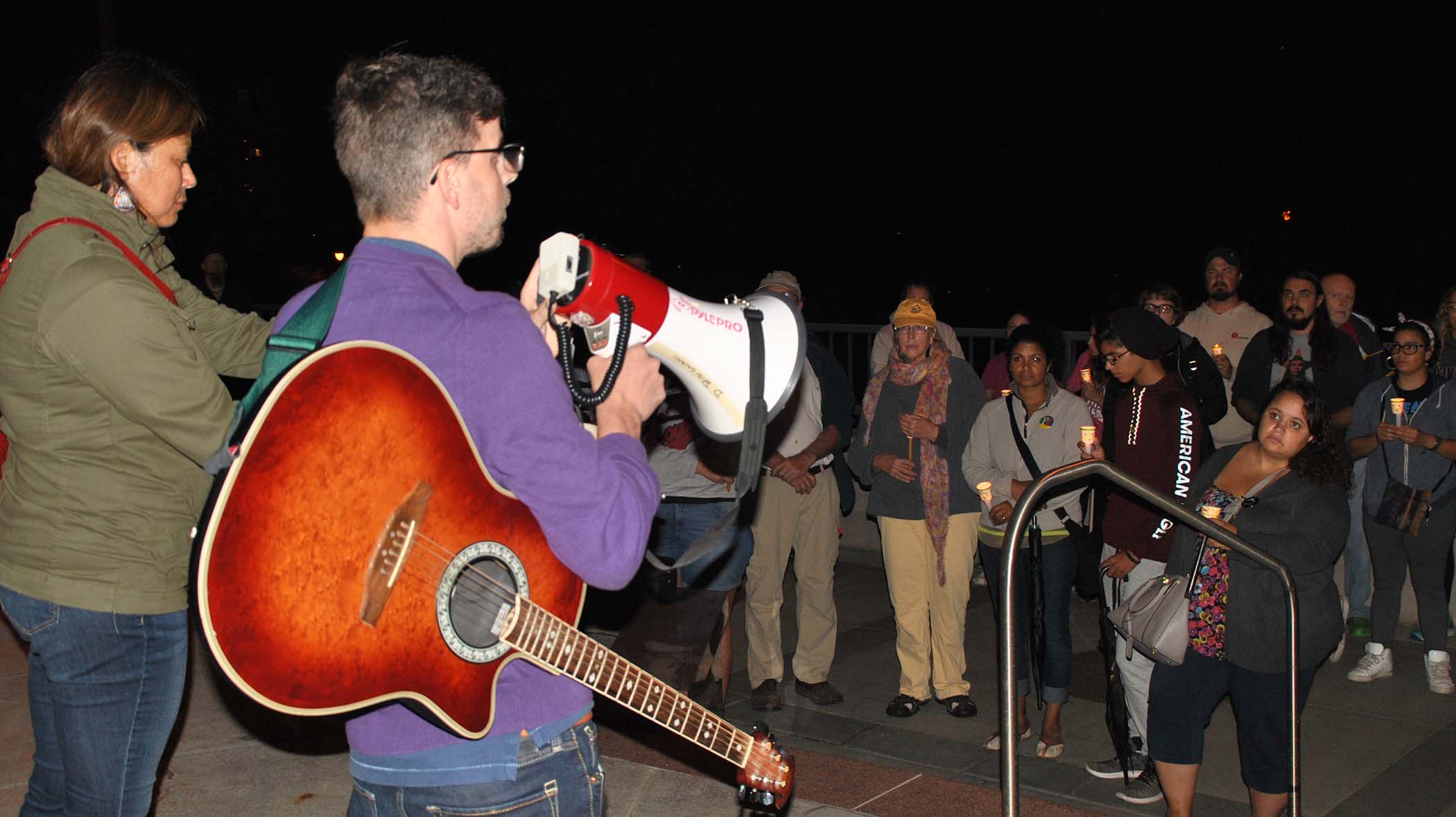 ut publicly. I am proud of our community members that came out to the candlelight vigil last night to offer support and love to counter the nationalist movement."
Ruth Buffalo, an event organizer, encouraged people to speak their minds. "This is a brave space, to step forward and take action," Buffalo said.
"We need to be kinder than is needed," Jen Welle, of Moorhead said.
"This has been happening in our country for a long, long time and Heather is another name on that long list," Melissa Gonzalez, of Fargo said.
"We are called to speak for those who are voiceless," Martin Avery, of Fargo said.
Amal Dei, a former refugee from South Sudan, spoke about how her heart was torn apart when she heard of Heyer's death. "But love will always win no matter what."
Dana Bisignani, of the Red River Valley Democratic Socialists of America, quoted Welsh socialist Raymond Williams. "To be truly radical is to make hope possible, not despair convincing.
"Part of the reason we have so much hate is because of decades of decimating our public schools," Bisignani said.
Shaun King, senior justice writer for the New York Daily News, condemned the violence in Charlottesville.
"I see Heather as a martyr in this modern day movement against injustice and oppression," King said. "I've said it many times, but if you ever wondered what it would be like to be alive in the Civil Rights Movement, you are living in that time right now. And if you ever wondered who you would be or what you would do in those circumstances, the best indication is what you did this weekend."
During a North Dakota United Against Hate rally in early August, Tefft said he planned to first attend the "Unite the Right" rally in Charlottesville, and then begin planning rallies in the Fargo/Moorhead area.
"I want to bring awareness to a lot of these issues, and the only way to do it is out in the public square," Tefft said. One of the issues he plans on focusing on is mass immigration into North Dakota, which he claims is an anti-white policy.