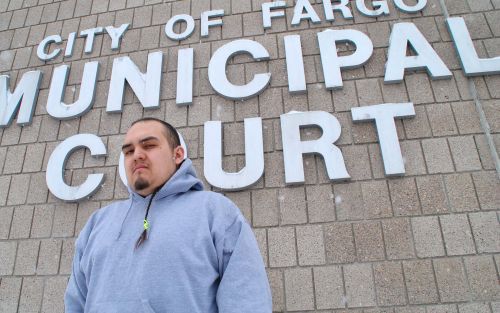 FARGO – Zebadiah Gartner worked with family over the weekend to raise money for a fine and court fees to pay for an extra piece of sample chicken he took from Cashwise Foods in January 2017. Family and community pitched in; proceeds from an Indian Taco event helped Gartner raise the needed $500.
On Monday morning, however, expecting Mayor Tim Mahoney's weekend plea for leniency in his case to have some effect, Gartner was hoping for a lower fine. Fargo's Municipal Court Judge Stephen Dawson did throw out the $100 bench warrant fee, and Gartner paid the additional $400 to stave a possible 10-day jail sentence.
The extra piece of chicken was a boneless Buffalo Wing taken from the sample counter at Cashwise Foods, Gartner said. An undercover shopper followed him around the store and approached, telling him customers could only take one piece, he said. Gartner threw the extra piece away, never guessing that the store would file a complaint against him.
Mahoney said over the weekend that Cashwise Foods was not interested in pursuing the matter, but because Gartner's plea of guilty last year to the theft, the judicial process was already underway. Gartner spent a night in jail after his first arrest on February 23, 2017, and spent a second night in jail because of the bench warrant for failure to pay last week.
Gartner learned about the theft charge after he was arrested during last year's sweat lodge incident, he said. At the time, Fargo Police stated they were unaware of the spiritual significance of the sweat lodge, and after seeing a fire, and what they perceived to be a tent with homeless people, ordered participants – young and old – and in little more than undergarments or light clothing, into the cold.
Gartner was arrested for resisting police that night, and the charges were dismissed the following day, but not after he spent the night behind bars.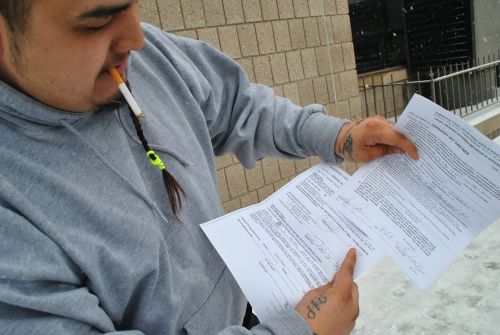 Before the judge on Monday morning, Gartner stated that although he pled guilty to theft on iTV court in February, he did not sign the documents."There's no proof of me stealing this chicken," Gartner said. "That was a hard day last year."
Although he pled guilty on iTV in 2017, Gartner plans on filing a motion to change his guilty plea, he said.
"I didn't write guilty on the paper," Gartner said.
"So you appeared from jail on this? Originally?" Dawson said. "You must have been in jail for something unrelated."
"Yeah, I was arrested for resisting an officer."
"So, is this your signature?"
"No, sir."
"That's not your signature," Dawson said. "At the jail you would have received some papers: a rights form, a plea form, and a confidential information form… So you are suggesting someone else signed the guilty form?"
Dawson said the signatures appeared to match; Gartner disagreed.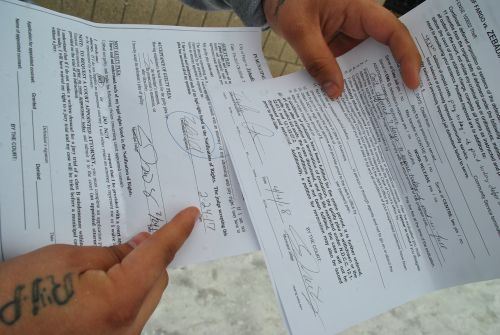 Gartner, an Anishinaabe, who received the familial ceremonial pipe known as the chanupa after the sweat lodge incident, has been on a spiritual journey ever since the incident. Receiving the chanupa means that he must lead a righteous life, he said.
He is studying Indigenous ways, frequents rallies and marches, and can often be seen singing traditional songs while beating a Native drum. He has been instrumental to Fargo's only Indigenous sweat lodge ceremonies during the past year; each event takes hours to prepare. There's wood to cut, red-hot stones to carry, and water to pour. A sweat lodge ceremony can be compared to a Christian going to church.
Before the sentencing, he talked about spiritual occurrences during sweat ceremonies that help keep him growing, and sometimes help heal those who are injured in body or spirit.
Despite having no criminal record, Fargo's Municipal Court would not lower Gartner's initial fine, even after a plea from Mahoney for leniency.
"If the city may be heard on this matter," the prosecutor for the City of Fargo, Stamate Skliris, said. "The city recognizes from the outset that the court is a separate and independent entity, and that it is unusual for the city to weigh in on sentencing matters. Ultimately we recognize that the court is going to make its decision and we respect that, but we've heard from a number of witnesses in this case and the nature of this case that the defendant was arrested last year… and subsequently the day after he was charged with shoplifting."
The city asked for $400 to be paid off over a period of time.
"It's our understanding at the city that the defendant is unable to pay the fine, and the city does not object the conversion of the $400 and/or the 10 days that was told by the court last Thursday for a jail sentence and run if as a second period of deferred imposition sentence for 11 months," Skliris said.
If he could not pay the fine, Gartner could have faced jail time.
"If he couldn't pay the $400, then it was 10 days," the prosecutor said.
"A $500 fine would usually equate 10 days in jail," Judge Dawson said. "The original cost was $400, and there is usually a $100 bench warrant fee, just to keep the deferred intact, and again, you always have the option of reopening the case. If you did not sign this, and you want to straighten her out, you have a signature that certainly appears to be yours, but if you're indicating it isn't, then you have those options."
"I feel there are some other words supposed to be said, but why do I have to pay such a high amount?" Gartner said.
Dawson did not accept the prosecutor's recommendation or Gartner's petition to lower the fine.
"You were charged, you appeared, and you pled guilty," Dawson said. "On the books this is still a deferred imposition sentence."
"Thankfully I have support from the community," Gartner said. "That's the only reason that I have any kind of cash right now."