​Dark glasses darkly comedic
by Särah Nour | .(JavaScript must be enabled to view this email address) | Writer's Block | September 27th, 2017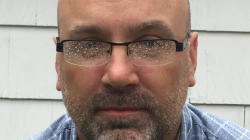 Last week in the back room of Zandbroz Variety, local author Dan Hendrickson read from and signed copies of his latest book, Dark Glasses, a collection of short, absurdist, darkly comedic poems.
Prior to reading, Hendrickson gave his audience a preview of his self-deprecating sense of humor. Of his poems, he admitted, "Some of them will probably work, some will not. I like to say they're kind of like bugs hitting a windshield, so if one splatters and doesn't go anywhere, just hit the wipers and just keep moving."
The recurring themes and ideas throughout the collection include clinical depression, clowns, lemon trees, and childhood anecdotes, which either had the audience laughing out loud, chuckling uncomfortably, or taking a moment to understand the joke before settling on a reaction.
Tributes to loved ones included the poem Gran-Gran Always Said, which stated, "Had you told me many years ago I would become a poet, I'm not certain I would have believed you. But one person always believed in me, and that was my Gran-Gran… Okay, that's not exactly true. Gran-Gran told me I would most likely be a rodeo clown, with any luck at all, and if the good Lord was willing."
A shorter poem, Keeping Them in Suspense, was dedicated to Hendrickson's grandfather. He noted that although it was a favorite among readers, audiences often felt guilty for laughing at it. "My grandfather was a magician," he read, "but he wasn't very good. It took him eighty years to disappear."
Hendrickson often referenced nearby locations, including towns like Dilworth and Grand Forks, and the local Hector International Airport. For example, the poem "Rabbit's Foot" related the time Hendrickson drove past the airport, "towards the end of another brutal winter… and lying in the very middle of the road was the body of a thoroughly deceased rabbit… a mangled front paw was left sticking up rather grotesquely, as though it were saying, to all those driving over its corpse, 'Hey there, how's it going?'"
The poem "The Year We Made Contact" jokingly hinted at a preview of Hendrickson's upcoming work, particularly an autobiography. "It's about 420 pages long," the poem stated, "and I'm just at the part where I hit puberty."
The autobiography has three potential titles: The Swordfish Chronicles, The Patty Duke Story, and Songs for a Dying Planet, though Hendrickson added, "I might actually save that last one for the title of my debut album, which should drop sometime around 2027."
Under the name Henry Rifle, Hendrickson has previously self-published four poetry collections entitled Shooting Gallery, Bullet Train, A Bullet West, and Ballistics Report, as well as a book of short fiction entitled The Portland Stories. He currently lives in the Twin Cities.