​Dead on Dead Mountain
by Nanci Nelson | .(JavaScript must be enabled to view this email address) | Writer's Block | August 30th, 2017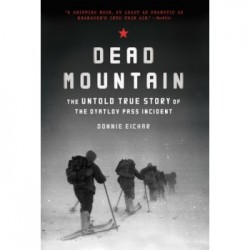 Mysteries fascinate us, especially unsolved ones. Our curiosity is piqued and we investigate the available information and come to our own conclusions about what may have happened.
An unsolved mystery that has been consistently disturbing and inconclusive is the disappearance of nine Soviet hikers in 1959 in the Ural Mountains.
The Dyatlov Pass incident is fascinating because of all the theories about what may have happened, theories that range from aliens to rocket ships to political intrigue to personal madness to stellar dislocations to top-secret missile launches to high winds.
We will probably never know. Wow. Why is it that this incident remains so confusing and unsolvable to this day?
1959 USSR was a playground for the budding youth. More artistic and educational opportunities were encouraged than in the past, and the generation quickly adopted song-writing, poetry, and travel within the country as means of communication and pastime.
The cold Gulag winter, isolated steppes and valleys, and the Ural Mountain range is not the vacation spot that many would turn to. But in 1959, nine students (or recent graduates of) the Ural Polytechnic Institute departed for a lengthy ski tour of this area in a quest to achieve an award designation of Grade 3, the highest difficulty badge in Soviet hiking/outdoorsmanship/survival skills.
Each member was highly competent in the art of outdoor camping in tundra conditions, skiing, and hiking. Their gear was well prepared, the trip was planned, and the participants were versed in survival skills. The only non-essential item they brought with them was a mandolin.
Something went wrong the night of February 1, 1959. Some incident occurred that resulted in all nine seasoned hikers running from their tent into the frozen -25 below Gulag, barefoot and with a modicum of clothing.
Rescuers found the tent first, meal still on the table. Then, the bodies. Each body was found at least one-half mile from the tent, and none wore shoes. Something caused their faces to turn deep brown, but not burn.
What happened in or outside that tent to cause nine people to run to certain death in the elements? To this day, although geographical disturbances (like an avalanche) have been ruled out, no one has any conclusive answer to the Dyatlov Pass mystery.
Although I have read many books on this incident, I find 'Dead Mountain' by Donnie Eichar, to be the most trustworthy account. Mr. Eichar was given all of the Soviet documentation released about the incident, travelled to Russia twice for information, met with the remaining family members and colleagues of the hikers, and in this book includes photos and journals taken from the hikers' effects.
Mr. Eichar also camped and hiked in the Gulag Dyatlov Pass area to get a feel for the weather conditions, bless his warm Los Angeles heart.
As always, people, read and discuss! Information makes for interesting conversation.
Let your backpacks be light,
Weather always fine,
Winter not too cold,
And summer without heat.
By Georgy Krivonishchenko, excerpt from New Year's poem, 1959