​'Dedicated to the 99%'
by Nanci Nelson | .(JavaScript must be enabled to view this email address) | Writer's Block | August 2nd, 2017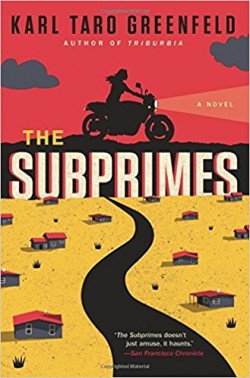 Let's begin with the first sentence of this novel.
"Two dozen bodies lay in duct tape patched nylon sleeping bags atop cardboard folded for padding against the pebbled, cigarette and bottle-cap littered earth."
Home sweet home. Imagine every liberal's fears come true. In this dystopian novel, all aspects of life are privatized, including the "police force." Citizens are crippled by their credit scores, unemployable and hounded by the credit police and the looming debtor's prisons.
If your credit score is below 650, you cannot travel across a state line, or receive medical attention (if its emergent, they just watch you die). Minimum wage is outlawed, so finding a job that provides a living wage is impossible. Renewable energy is strictly banned so as not to cut into the oil companies profit lines. Everyone is frightened and displaced. Political dissent has been squashed. The line between the "haves" and the "have nots" has been clearly and forcefully drawn.
Even the whales are pissed. On both coasts, they begin to beach themselves, committing suicide in great numbers. In the midst of this tragedy, a corporation fences off the dying whale beaches and charges patrons to look, smell and feel their putrid flesh. But let's one-up that. A reality crew films the suffocating whales and achieves the highest viewership ever.
But, ta-da! Here comes Sargam, flying in on her motorcycle, clad in a white, fringed, leather jacket. She reforms an abandoned subdivision and builds a community, a school, and an urban garden. She names it Ryansville (after Paul Ryan, douchebag extraordinaire)? It becomes a village, a community where citizens rely on each other to survive, to find peace.
"God bless you" one of the characters says to Sargam. She replies "Not God. It's just people. People helping people. That's all we got." And that formula worked for awhile. But of course, word gets out, and the powers that be are not pleased with this community.
Minerals are found on the land and it is slated for land mining. Pastor Roger, celebrity preacher and idiot extraordinaire, teams up with an investment banker in their pursuit of sweet, sweet moola. They end up in Ryansville for personal and financial gain. The mining corporation brings in a monster of a machine, the Joshua Extractor, and sets the date for the destruction. Mayhem ensues.
Is Ryansville saved, and by whom? Think of David and Goliath and slingshots. Intrigued? That's all I'm going to give you, fellow bibliophiles. No matter your politics, books and discussion are essential for a civilized society. Books are what we have in common, books are freedom. I would encourage any peaceful discussion about the politics this novel highlights.
Please read, beautiful people.
YOU SHOULD KNOW
The Subprimes
Karl Taro Greenfield
Copyright 2015, Harper