JACQUELINE BUSSIE: 'OUTLAW CHRISTIAN'
by Särah Nour | .(JavaScript must be enabled to view this email address) | Writer's Block | April 20th, 2016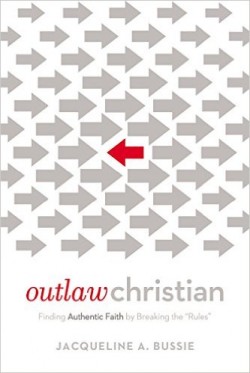 Today at 6:30 PM, Concordia professor and local author Jacqueline Bussie will debut her new nonfiction book, "Outlaw Christian: Finding Authentic Faith by Breaking the 'Rules'" at Zandbroz Variety. This event will be free and open to the public, with refreshments provided.
Bussie, a professor of religion, also runs Concordia's interfaith center and is the director of The Forum on Faith and Life, a group that promotes discussion and understanding of differing theologies.
"With the work that I do in the interfaith community, I've everywhere," Bussie says. "I take my students to the mosque in town, to the Hindu temple down in Minneapolis—we do that kind of stuff all the time, and we just learn so much from it."
The book's main theme is the unspoken "laws" of religious faith that don't allow doubt or speculation, and why those rules should be broken. Throughout her career, Bussie has encountered people of different faiths who all have one thing in common: judging themselves for questioning their beliefs.
"I decided I need to write the way I teach, and the way I teach is through storytelling, through engaging the students," she says. "These are stories I'm telling my students to try to make a point about why doubt is good, or why it's okay to be angry at the universe, or angry at God. That's not always bad. Sometimes it's from compassion."
"Outlaw Christian" was published by Nelson Books, a subsidiary of HarperCollins that specializes in Christian nonfiction. Their publications range from promoting conservative ideals to breaking ground with new ways to interpret religious principles.
But despite its main focus on Christianity, Bussie intends the book to be accessible to readers of different faiths, or no faith at all.
"I wanted to share things that I've learned from other religious traditions, because I teach world religions, and there's so many rich and amazing things I've learned from it. One of the laws that the book says we should break is the idea that Christians don't have anything to learn from people of other faiths. That's absurd. There's so much to learn. These are things I've learned that changed my life."
Bussie's previous book, "Laughter of the Oppressed: Ethical and Theological Resistance in Wiesel, Morrison, and Endo," was published by Bloomsbury Academic and intended for a smaller, more scholarly audience. With "Outlaw Christian," Bussie seeks to reach the general public on their level.
"The thing about academic writing is that I enjoy it and I think it's really important, but it has a limited readership. I want to be bilingual—I want to be able to speak that academic discourse and be able to do that when I need to, but ultimately I need to speak the language of my students and the language of the people. I need to speak the vernacular."