​Murder on the Red River at Plains
by Särah Nour | .(JavaScript must be enabled to view this email address) | Writer's Block | August 16th, 2017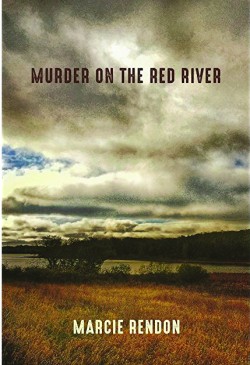 Next Thursday, the Plains Art Museum will host Fargo author Marcie Rendon of the White Earth Anishinaabe Nation for a public discussion of her novel, "Murder on the Red River," which was published by Cinco Puntos Press back in April.
Rendon's protagonist, Cash, is a 19-year-old Native American woman who grew up in foster care and makes a living as a farm laborer and pool shark. As a toddler, she was rescued by Sheriff Wheaton, who pulled her from the car wreck that killed her mother and two siblings.
One morning Wheaton discovers the body of Day Dodge, a resident of the Red Lake Reservation, in a wheat field on the Minnesota side of the Red River. Cash begins having psychic visions of Dodge's house and family, and uses this ability to help Wheaton solve the murder.
However, the central focus of Murder on the Red River is not the murder mystery, but rather the abuses suffered by Native Americans in both the past and present. Rendon has included a two-page author's note about American policy on Native American children, including the forced removal of Native children from their homes going back to the early 19th century.
A review in the Star Tribune: "Rendon uses the novel as a vehicle for shameful reminders, political and cultural lessons about the devastation that American policies have rained on Indian families and children…Rendon has drawn numerous accolades for previous works… But in this, her first mystery, she finds new depth and an ample storytelling platform for her informed views on the historic persecution of Indians."
Rendon is an accomplished poet, playwright, and children's book author. Her work has appeared in several collections, including "Nitaawichige: Selected Poetry and Prose by Four Anishinaabe Writers" (2002), "Sky Blue Water: Short Fiction by 15 of Minnesota's Great Children's Writers" (2016), and "Contemporary Plays by Women of Color" (2017).
Back in 1996, Rendon founded Raving Native Theater Productions in the Twin Cities, which supports the creative efforts of Native American artists.
In a 2009 interview with The Daily Planet, Rendon said, "People and organizations in Minneapolis and St. Paul have now seen the name Raving Natives enough times that they have [an] idea of the type of work we do—humor, pieces that counteract stereotypes…My goal was to put Native theatre on the map here in the Twin Cities. I also had a goal to move us out of the feathers-and-beads category, beyond history into current-day existence."
Copies of Murder on the Red River will be available for purchase at the Plains Art Museum. A limited amount of copies will also be at the Fargo Public Library's Downtown location.
IF YOU GO
Marcie Rendon: reading, discussion, book signing
Thursday, August 24, 6 to 7pm
Plains Art Museum, 704 1st Ave N, Fargo
701-551-6100