​One book, one community
by Särah Nour | .(JavaScript must be enabled to view this email address) | Writer's Block | October 18th, 2017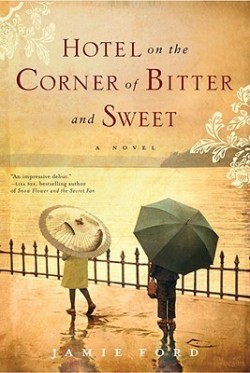 The Fargo, Moorhead, and West Fargo Public Libraries have once again teamed up for the One Book, One Community Program. Last year's selection was 'The Latehomecomer,' by St. Paul author Kao Kalia Yang. The selection prior was 'Fractured Land: The Price of Inheriting Oil,' by Minneapolis author Lisa Westberg Peters.
This year the book they've selected is 'Hotel on the Corner of Bitter and Sweet,' winner of the 2010 Asian/Pacific American Award for Literature. On Tuesday the 24th, author Jamie Ford will conduct a presentation and book signing at Concordia College. Due to limited seating, arriving early is highly recommended.
Taking place in Seattle, 'Hotel' focuses on a Chinese-American man named Henry Lee who uncovers an old Japanese parasol in the basement of a boarded-up hotel. The story flashes back to the 1940s as Henry remembers Keiko, a Japanese girl he befriended when he was twelve, and who was shipped to an internment camp during World War II.
Kirkus Reviews has described the book as "A timely debut that not only reminds readers of a shameful episode in American history, but cautions us to examine the present and take heed we don't repeat those injustices."
Garth Stein, the best-selling author of 'The Art of Racing in the Rain,' has said that 'Hotel' "gives us a glimpse of the damage that is caused by war—not the sweeping damage of the battlefield, but the cold, cruel damage to the hearts and humanity of individual people… a beautifully written book that will make you think."
'Hotel' has been translated into 35 languages and spent two years on the New York Times bestseller list. It was named the #1 Book Club Pick for Fall 2009/Winter 2010 by the American Booksellers Association.
Ford's second novel, 'Songs of Willow Frost,' takes place during the Great Depression. The protagonist is a Chinese-American boy named William Eng, who becomes fascinated with an actress he believes is his long-lost mother. Bookreporter has described the novel as "remarkable" and "likely to appeal to readers who enjoy the multi-generational novels of Amy Tan."
His third book, 'Love and Other Consolation Prizes,' is about a half-Chinese orphan named Ernest Young, who is auctioned off at the 1909 World's Fair and becomes a houseboy at a brothel. The Historical Novels Society said the book "achieves a multi-faceted emotional resonance… by turns heart-rending, tragic, disturbing, sanguine, warm, and life-affirming."
Copies of 'Hotel' are available for check-out at each participating library, in print, e-book, and audiobook format. For more information on Jamie Ford's author visit, contact Lori West at lwest@fargolibrary.org or call 701-476-5977.
IF YOU GO
One Book, One Community Event: author visit with Jamie Ford
Tuesday, October 24, 7-8pm
Knutson Campus Center Centrum, Concordia College
901 8th St S, Moorhead