Review: "American Pain"
by Nanci Nelson | .(JavaScript must be enabled to view this email address) | Writer's Block | September 20th, 2017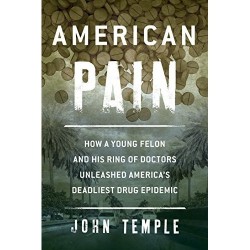 How a young felon and his ring of doctors unleashed America's deadliest drug epidemic
Unless you have been living with that undocumented Amazonian tribe for the past ten years, you are aware of the opioid epidemic that is killing our people.
The number of kilograms of oxycodone manufactured in the United States in 2014 was 149,375 kg., up from the previous decade by over three times the amount. The opioid drugs manufactured for use in the U.S. must be approved by the DEA before they are distributed. Why are they approving this amount when the CDC has declared that opioid deaths are an official epidemic?
Pain control research has proven that short- term use of opioid medication can be ideal for pain relief. However, long-term use of opioids is another story. Long-term use has been shown to increase pain, alter reaction times, dull the senses, cause depression, and the addiction rate is sky-high. Control of chronic pain has been widely studied, but the results of these studies propagate controversy and disagreement in the medical world.
So where does that leave us? I've read many books on addiction, trying to find an answer to what turned out to be a personal battle against the opioid nemesis. I won, for now. But once I found out that I was just a statistic, a demographic, I was curious about how the epidemic evolved.
This book is both informative and well-researched. And bonus! It reads like a well-paced novel.
In 2008, Chris George opened the first of a series of pain clinics in Florida. Chris was a felon, fresh out of prison, and looking for a way to make a cool buck. He had previously owned and managed a store-front operation known for distributing steroids, but saw the opportunity to make more money by instead legally distributing opioids. Luckily for his enterprising mind, Florida law in 2008 allowed doctors to both write patient prescriptions, and to sell bulk prescription opioid medication to clinics, with orders approved by the DEA before distribution.
This loophole, partnered with the right doctors, allowed Chris George and his minions to open rogue pain clinics, and to flourish doing so.
But the addiction. The sad stories of people flocking to Florida to avail themselves of what basically turned out to be self-serve opioid "clinics," and dying on the roads or train tracks on the way home. People standing in long lines to acquire what would become their undoing, and not knowing why. The overdoses. The Opioid Trail snaking throughout the country. These clinics were prescribing opioid medication in amounts that would keep even a hardened junky happy. This book is smart enough to give a personal tone to the clinic customers, or "patients", and give them and their families a voice.
"American Pain" tracks the Pill Mill frenzy that began in Florida, and spread insidiously throughout the U.S. Although this book traces the likeliest of offenders, other Pill Mills were in operation in 2008. But, statistically, Chris George moved the most money and opioid medication through his pain clinics. He and his merry crew are all serving penitentiary time (some have completed their sentences as of this writing).
This is such a timely read, since we are still very much enmeshed in the Opioid Epidemic. I won't cite statistics here, since I can't convey them as smoothly as Mr. Temple does in American Pain. He slips them into this book and makes them relevant to the times we live in; and addresses whose hands might be dirty with money made from this narcotic genocide.
Read and decide for yourselves. Knowledge is free.
"If you want to know what God thinks of money, just look at the people he gave it to". -Dorothy Parker
John Temple, "American Pain: How a Young Felon and His Ring of Doctors Unleashed America's Deadliest Drug Epidemic." Lanham, Maryland: Roman & Littlefield, 2015