Food for thought
by Sabrina Hornung | .(JavaScript must be enabled to view this email address) | Editorial | November 29th, 2017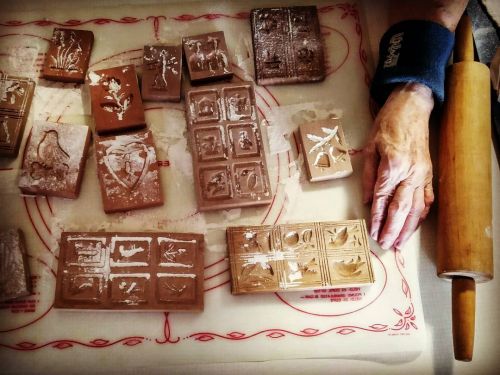 Our opinion: Culinary traditions are passed from one generation to the next.
There's something communal about food, whether it be the preparation or consumption. It's a matter of working together and enjoying the fruits of our labor. It's nourishing your loved ones, it's sustenance, and it's love, whether it's a decadent meal or a grilled cheese sandwich.
In fact Prince Harry proposed to his now fiancée while preparing a roasted chicken.
Food history and traditions are fascinating and that is what intrigued us about this week's cover story.
I grew up with my grandparents. My grandma was and still is a domestic goddess. She came to the United States in the mid 50s and carried her tradition and stories with her. She still uses the same cookbook that she has used for the past 65 plus years, now yellowed with age filled with notes and a light dusting of flour.
She still cooks traditional German meals and bakes traditional German goodies. In fact this past weekend we made cookies called springerle, with hand-carved wooden forms, some of which have been in our family for over 100 years. The first step is to combine the eggs and sugar and to mix for a half hour with the electric mixer or an hour if you mix it by hand.
Each year she smiles as she remembers how the whole family would sit around the table passing the mixing bowl so each member had a hand in preparing the cookies. She also smiles when noting how proud her father was of his springerle.
My grandpa's sister (who also happens to be one of my favorite aunts) still makes her grandmother's strudel recipe that she brought with her from Austria in the early part of the 20th century. I remember her stretching the paper-thin dough across a card table. She passed the tradition to her daughters, and now they carry the torch and tradition of Grandma Rosza's strudel.
Last year I had the opportunity to participate in the "Art for Life" program through the North Dakota Council on the arts. We worked closely with both the Jamestown Arts Center and state folklorist Troyd Geist.
The art component consisted of my papercutting mentor Meridee Erickson Stowman and I working with a number of individuals at Ave Maria Nursing Home in Jamestown. Each week we did a different papercutting project that addressed a certain theme, and gradually created a 7'x7' tree of life.
One day we created acorns and shared our family's origin story, another day we made flowers and talked about celebrations and the traditions that came with them.
Aside from the visual art and story-sharing component, the kitchen at the nursing home collaborated with us and we had a snack with a similar theme. It was one of the single most rewarding experiences in my art career. Of course the snacks would get the memories flowing and provide a whole new topic of conversation about food traditions they grew up with, and some that were picked up along the way.
Now we ask you, Reader readers, what's your favorite food tradition?
Dim lights, thick smoke, and loud loud music...minus the smoke
What makes a bar a good bar? We all have our preferences but I like a bar with low light and a certain level of sadness and revelry coating the walls; a place with character and plenty of characters occupying its barstools, and a memorable face behind the bar. A good jukebox and a pool table doesn't hurt either.
We're sad to see another entertainment destination close its doors. We've watched many a friend play the stage at The Nestor as well as many a touring act. The Nestor was a downtown fixture and had its last last call this past Sunday; and will be missed by misplaced barflies and local music enthusiasts.
If there's a dive bar heaven, we like to imagine the Nestor just pulled up a stool.