Keeping calm in an age of uncertainty
by Sabrina Hornung | .(JavaScript must be enabled to view this email address) | Editorial | March 21st, 2018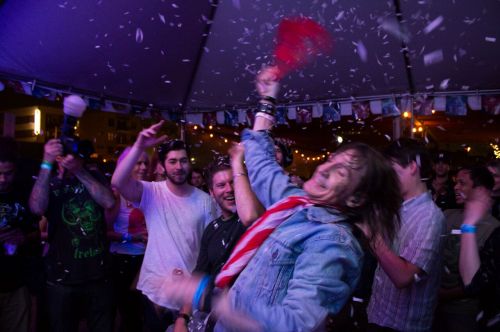 As we eke out our final hours in Austin, the quiet is almost stifling. It's the combination of a collective citywide sigh of relief after the storm that was SXSW and the anxiety and uncertainty of the anonymous package bombings that have been rocking Austin for the past three weeks, killing two and injuring four.
One package exploded early this morning (Tuesday morning) in a Fedex facility located in Schertz, Texas, near San Antonio and was believed to be Austin-bound.
As festival goers, however, the only alerts we received were amber alerts. Attendees were glued to their phones making or checking social media posts, requesting express passes or seeing what the next act was…
How would an alert have affected the event? Would the shows have gone on? Would it have created sheer pandemonium, a stampede scene from the classic 1972 John Wayne film "The Cowboys?" Who knows, but it didn't end well for the young hungover cowpoke that fell off his horse mid-stampede.
Though we did find out from The Rolling Stone that the Roots and Friends show was cancelled on Saturday due to a "security concern." @budlight tweeted, "Due to a security concern we have made the hard decision to cancel tonight's event. Your safety and the safety of all fans at SXSW is our most important priority."
That "security concern" was later released as a bomb threat. The young man who had made that threat used his own email and was quickly apprehended. He is not believed to have had any connection to the string of package bombings.
Prior to all of this I had a good conversation with a friend of mine and it created a good analogy for the basis of my rant. We were standing under a canopy at one of the many outdoor parties during the festival. He calmly told me to hold still and removed a small spider that had made itself cozy in my mullet. Naturally, after I realized what was in my hair--I frantically tousled my hair hat and anything else I could shake, nearly spilling my drink on myself and him after I realized what he plucked out of my hair.
He told me that even if it had been the biggest baddest bug, he would have done the same, so it could be quickly and calmly removed, and a scene would be avoided.
Stay safe Austin. You're in our thoughts.
Restoration and revival for parts of the "Castle on the Hill"
In a press release sent out on March 20, the city of Fergus Falls announced that on March 19 they are "to enter into a Letter of Intent for the redevelopment of approximately 124,000 sq. ft. of the Regional Treatment Center."
American Covenant Senior Housing Foundation proposed a project for the redevelopment of two of the facility's outbuildings, and they would be rehabilitated and converted into 80 housing units. Thus the city is re-examining or rather amending their request to the Minnesota legislature.
The press release also states, "The revised request would seek a clear path forward for this development project while continuing to reduce the footprint of the campus to a scope that is manageable for redevelopment."
In order to successfully implement this plan the city will continue to work with the State Preservation Office, The National Park Service -- which oversees buildings on the historic register, the Minnesota Legislature, and Minnesota Housing.
According to the press release, "The City will continue to entertain development proposals for the remaining property."
We'd like to borrow one of Teddy Roosevelt's terms and say bully for Fergus Falls and Minnesota Housing. We're happy to hear that steps are being taken to redevelop parts of the Kirkbride. It's a beautiful building and campus with a lot of history.
We've said it once and we'll say it again. It's the crown jewel of Fergus falls. We like to think that the future is brightening up for the Kirkbride and certainly hope to see more redevelopment proposals.