​Our opinion: Is the resolution dissolution?
by Sabrina Hornung | .(JavaScript must be enabled to view this email address) | Editorial | June 27th, 2018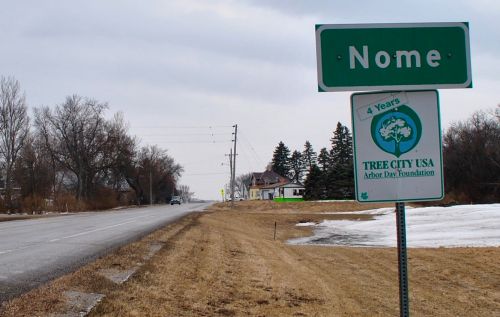 "Some people say I am trying to shut it down and that is what will happen if it gets voted through, but ultimately what I'm trying to do is preserve the legacy of the town," said Ryan Schock, mayor of Leith, North Dakota, in an interview with KFYR-TV.
Schock made a move to disincorporate the small town of Leith in order to stop write-in candidates Michael Bencz and Deby Nelson from joining their city council. The two are believed to have white supremacist leanings and were elected to the Leith city council. Schock feared that the two would open up old wounds.
Though the two deny these ties, they moved to Leith around the same time as Cobb and bought property from him.
"We have to dissolve the town because that idiot showed up," Schock told The Bismarck Tribune. "He wanted control of it, and now he can't have it."
The idiot Schock was referring to is Craig Cobb.
Remember five years ago when Cobb bought up a bunch of lots around Leith with plans of starting up a white enclave, inviting those who shared his twisted views to join him in a weird white "utopia"? He eventually got four years probation for terrorizing the citizens of Leith as he and his little buddy Kynan Dutton paraded around the small town with rifles in hand. Dutton answered Cobb's call and relocated to Leith with his wife and two children and moved into Cobb's house which had no sewer or running water.
In my family we jokingly refer to that as "move-in ready."
According to the Southern Poverty Law Center, Dutton was recently arrested for assault in Knoxville during a Tennessee Pride event. Dutton, now identifies himself as the head of the National Socialist Movement in Tennessee. Let's hope he learned his lesson up north and stays out of North Dakota.
Schock made mention that under his plan the town of Leith will still exist, but will instead be run by the county rather than a mayor and city council. The signs will still be there but the city government, won't an action that was inevitable in a town of 18.
Though Schock collected 12 out of 18 signatures to dissolve the town government, not all is said and done, Leith residents will vote on July 23 on whether or not they'll shut it down.
Since Cobb tried to take over Leith he's popped up in a few other small towns including Antler and Nome. The buildings he looked at in Antler were promptly demolished and the church he purchased in Nome was torched.
A path of destruction seems to follow this man and along with it we lose aspects of our rural heritage. He and his cronies are an embarrassment and exemplifies why North Dakotans don't trust outsiders.
Granted, some of these buildings are destined to fall into disrepair or become occupied by vermin in one shape or another, but I'd take a handful of skunks over neo-nazis any day.
According to the Washington Post, Schock wants to maintain the heritage of the town and urges citizens to remember their local history. The dances that brought the community together, the creamery, and memories of movies shown at the community center. In that same interview Schock said, "I just hope those are the memories that are preserved," the mayor said, "instead of the Cobb saga."
A good person would say that there's a place for everyone here, but there's no place for these hateful ideologies and those who perpetuate them. Please keep them out of our neighborhoods and our state. The North Dakotans I know and love live and work together. It's too cold to be hateful. Hate doesn't pull us out of the ditch when times get tough.
Happy Independence Day!
We won't be issuing a paper next week due to the fourth of July holiday. Have a safe and happy holiday.