Small business incubation
by Tom Bixby | .(JavaScript must be enabled to view this email address) | Editorial | March 9th, 2017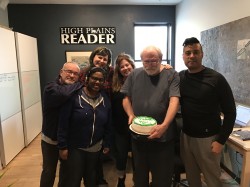 Liz Gelardi of the Denver Channel was In the kitchen of the Comal Restaurant, talking to Silvia Hernandez, who was singing as she made tostadas.
Hernandez is inspired by her mother's recipes, but she receives restaurant training at Comal. '"It's not books, it's not reading, you have to do it every day. So it helps me a lot, because when I'm going to open my business, I'm going to be ready,'"
According to columnist Laura Shunk, the restaurant is part of a community outreach program by the Focus Points nonprofit organization. The Globeville, Elyria and Swansea neighborhoods are the poorest and most blighted in Denver. The program gives low-income women job training, teaching participants skills in marketing, financial literacy, computers, and English, as well as culinary arts, setting the women up to launch their own ventures. Each instruction cycle lasts eight months, and then another group of learners comes into the Comal Heritage Food Incubator.
Executive chef Tim Bender, with experience in some of the best restaurants in Denver, agreed to help the Comal group, "bringing their kitchen skills up to high-quality standards. Upon greeting his team of 15, he said they didn't need much assistance with recipes, rather his focus would be on learning operations, ingredient sourcing, safe cooking, presentation, timing, and standardizing dishes for a restaurant setting."
Silvia Hernandez and her colleagues make dishes they learned from their mothers and grandmothers. They're from Mexico, El Salvador, and Peru. Reporter Gigi Sukin found out that 60 percent of all revenue is paid to the women for their time and effort. The other 40 percent covers operations and educational costs.
They use the traditional griddle to cook tortillas, as in Mexico and Central America. The regular menu offers homestyle combo lunch platters, including a choice of soup or salad, one of three daily entrees with rice and beans, and grab-and-go options, such as pupusas, tamales and burritos, and of course, Silvia's tostadas.
Focus Points is helping the women to plant a garden, with beds for hard-to-find Latin American spices and chiles.
Why are we telling you all this? Do we want you to travel to Denver? Not really. We just couldn't help noticing what wonderful facilities Fargo-Moorhead has for conducting such a program.
We have the expertise in the North Dakota Small Business Development Centers. Looking at their websites, they seem tech-oriented, but they help other categories as well. They helped Sonja Stromswold get started with Sonja's Bake Shop in Minot, where she "is preserving those old Norwegian family recipes through homemade old-fashioned delicacies."
SBDC helped Megan Wold open the Meg-A-Latte Coffee House in Williston, and now she has three locations. In Grand Forks, they prepared Rachael Eider for her presentation with the bank.
It wouldn't take much, North Dakota SBDC, for you to expand your mission just the least little bit...
We also have some of the best chefs in the Midwest, people who would be successful anywhere. Ryan Nitschke, Andrea Baumgardner -- every time they announce a one-day-only menu they sell out. Eric Watson of Mezzaluna and Rustica. All of them are very busy and haven't the time for something like this -- but maybe they know someone who does.
MSCTC Professor Eric Daeuber's smartphone probably has enough in it to organize such a venture!
The last and most essential ingredient: starting last September, we have a number of new Americans from Syria in Fargo.
Syrio-Lebanese is one of the world's great cuisines. Examples: In the Cities, the excellent Emily's Lebanese Deli, and the Filfillah Restaurant. The Baraka Pita Bakery in Winnipeg, which also makes delicious shawarma. Some of the best meals we've ever eaten, makes us hungry just to hear the names! Hey, we need one here, at least one.
We're living through a historic tumult, a turning point, and one of the engines running it is the empowerment of women.
Can we be accused of ethnocentrism, lack of respect for Middle Eastern cultures? Frankly, my dear, we don't give a damn. Most of the women coming here need more than empowerment; emancipation is a better way to say it. We can help.