Super proof
by Diane Miller | .(JavaScript must be enabled to view this email address) | Editorial | May 15th, 2014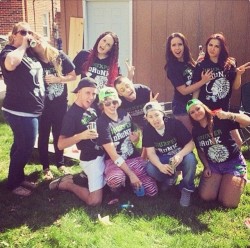 Our opinion/ "Siouxper drunk" shirts directly relate to the former UND mascot controversy
A group of UND students caused quite an outrage on social media by wearing T-shirts that depict a Native American (similar-looking to the former UND mascot) drinking from a beer bong accompanied by the words "Siouxper drunk."
The students made the shirts for a yearly non-campus event called Springfest, where getting "super drunk" and acting foolish is a goal for a number of Grand Forks residents.
Clearly, the students thought they were just having fun, showing school pride and being clever – without realizing the strong severity of their "cleverness." They weren't thinking, "How can we disrespect Native Americans?" They were mostly thinking of the high-fives and attention they'd receive for making such scandalous Sioux-logo-pride shirts. It was shallow and immature at best.
Sure, there are worse things than flaunting an offensive "just for fun!" t-shirt. But, clearly, not all of us have ability to turn and look the other way when we know this seemingly harmless "joke" can cause irreparable damage.
We empathize with those who are angry and outraged. This is a perfect example of how our society tends to overvalue labels, image, beer, Facebook posts and "things," and undervalue community and culture. It's proof that the UND mascot did further generate racism and disrespect towards Native Americans. It's proof that many glorified the logo, so much so that it blinded people of its harm.
UND president Robert Kelley said in a statement: "The message on the shirts demonstrated an unacceptable lack of sensitivity and a complete lack of respect for American Indians and all members of the community."
To an extent, of course, we have to accept people's faults and wrongdoings and move on. If we don't, we'll waste our energy constantly fighting, being angry and getting defensive. It's no way to live. It's exhausting. It barricades us from reaching our own goals because we are too busy trying to change people that are not worth our time and energy.
While we have the right to feel angry, remember that feeding this cycle of disgust, disdain, prejudice, dishonor, immaturity and naivety cannot prevent further damage. Those who went as far sending those students hateful, contemptuous mail, stooped just as low – really.
We commend those who spoke out reasonably, sincerely, meaningfully – and without strife. We commend those who stand up for those who don't have a voice. We commend those who set a great example of kindness, broadmindedness, compassion, respect and maturity.